Most of the infltables you see at lakes or beaches are fun boats. This kind of inflatables is very popular due the low prices. In this article we explain you for what uses the fun boats are designed for and for what uses not. At the end we show you some of the popular fun boats.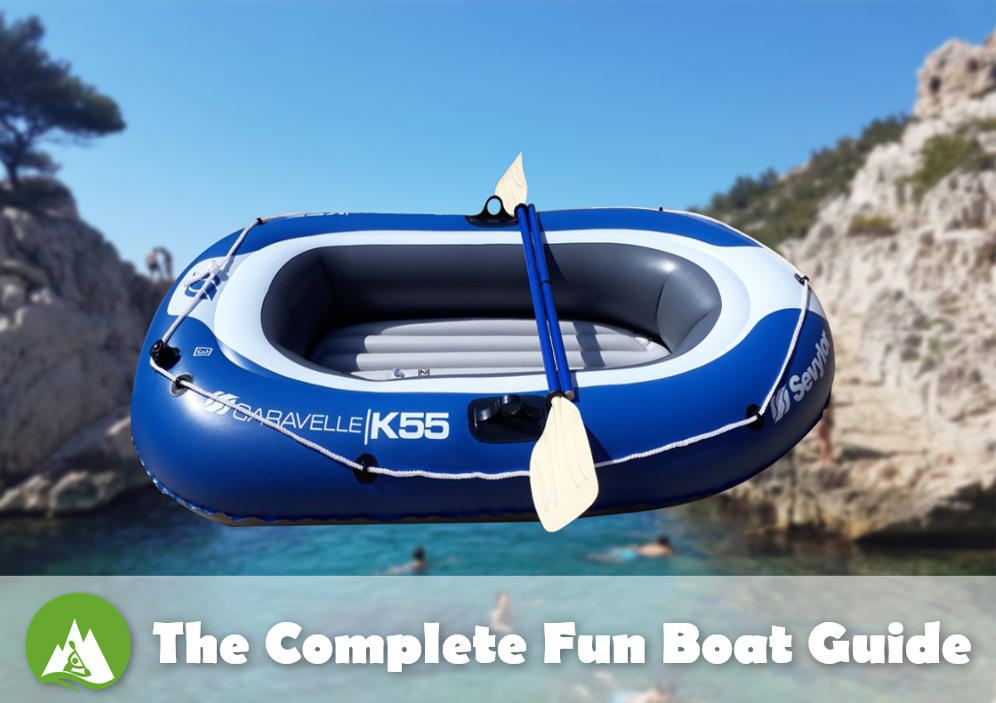 Fun boats are inflatable boats for bathing fun on the lake or at the beach. It's driven by one seated person facing the opposite direction of travel by using a pair of oars. Fun boats are available in different sizes, from one up to 5 persons. They consist of durable PVC but no strong woven fabric material used for high-quality inflatable kayaks and canoes. Woven fabric materials are very durable and resistant to grounding. When buying a fun boat, you should only buy a fun boat which consists of several air chambers. This kind of construction makes sure that even if one air chamber deflates, you will still be able to reach the shore safely.  This can happen by grounding, for sure very more likely on river than on lakes. That's why fun boats should be used for the bathing lake and close to the beach only.
Uses of fun boats
Fun boats, as the name already indicates, are about fun which you can enjoy with others. They are great when you like to swim directly from the boat and to spend good time together with your family or friends on the water. Some fun boats can be equipped with a motor if you don't feel like rowing. A fun boat equipped with a motor can reach a speed up to 5mph. There are different sizes of fun boats available. Especially small fun boats are perfect for kids since they are very light and can be easily handled.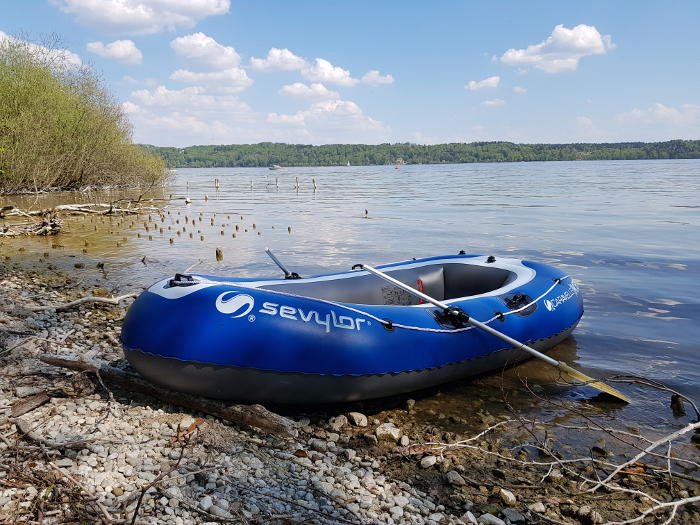 Not recommended uses of fun boats
We don't recommend using fun boats on fast flowing rivers. They are not constructed for this kind of water conditions. There are several reasons for this: fun boats are sensible to groundings, not very well maneuverable and too bulky to pass narrow passages. Some people use their fun boats on these waters anyway and it happen very frequently that they capsize in the first curves. In some cases, the boat is no longer usable and the rest of the trip must be walked. If you are interested in paddling on fast flowing river or even whitewater you are better off with a rafting boat or an inflatable kayak or canoe, such as the Gumotex Twist or Gumote Palava.
Fun boats are also not well suited for longer trips on big lakes or th ocean water since they have a quite low air pressure. You would feel each wave going underneath you which is quite uncomfortable and makes rowing hard. In contrast, good inflatable kayaks for seas and lakes have 3- or 5-times higher air pressure. Fun boats are designed for rowing very short distances. Another reason are the voluminous side tubes which make rowing longer distances kind of difficult.
Advantages and disadvantages of fun boats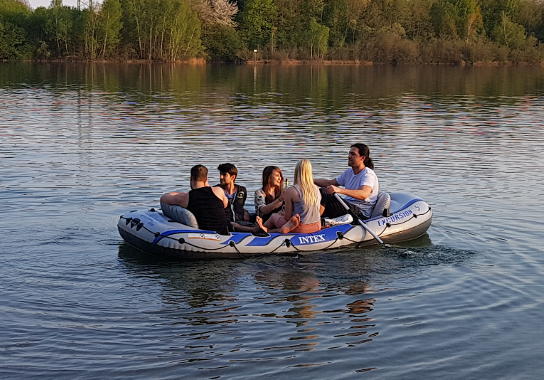 Fun boats are very affordable compared to other inflatables. They are very spacious and comfortable. You can relax a long time in these boats but not making long distances. For that these boats are not designed for. A lot of different models of fun boats are available on the market. There are fun boats which fit up to 5 persons, for example the Intex Excursion 5. This inflatable is heavier but still easy transport in a trunk of car and storable in the basement. Another advantage of fun boats are that they are mostly offered in a complete set. When buying a fun boat you should always bear in mind that they are made for the use on bathing lakes or water close to the beach. They are not designed for white water rafting or for large waters because fun boats are too slow, not very maneuverable and not resistent enough for this kind of usage.
Advantages of fun boats
+ high fun factor
+ low purchase price
+ easy to transport and space-saving storage
+ very comfortable
+ often in a complete set available
Disadvantages of fun boats
– limited use (bathing lakes or close to the beach only)
– slow and less manouverable
– less resistent material
The right fun boat
Well known brands of fun boats are Intex and Sevylor. Especially Intex has got a wide range of fun boats and mostly offers its boats in a complete set. All boat of these two brands have multiple air chamber for extra safety. We will introduce you to some of the most popular fun boats available on the market.
Fun boats for kids
Fun boats for kids are small and light inflatables. They have bright color and therefore clearly visible on the water. Prices start from $15. The Intex Explorer Pro 200 is the most affordable fun boat for kids. It offers space for two small kids or one adult and a kid. Beside this boat, there is also the challenger serie from Intex which offers more space and is also suitable for kids.
Fun boats for adults
Fun boats for adults have a higher air pressure and a greater loading capacity. The inflatables are available at prices from $50 depending on the size of the boat. The Intex Seahawk is a good entry-level fun boat. It's recommended for two persons so that some space for gear is left. Those who like it larger and more comfortable should have a look at the Excursion line from Intex. The excursion boats offer great space and feature comfortable seats with backrests. The Intex Excursion 4 is a popular fun boat for 4 persons and has a good value for money. The Excursion is also available in one size larger, the Excursion 5. The Intex Excursion 5 is the largest inflatable and is also available with an electrical motor, perfect for an excursion tour with 5 persons on the water during a nice summer day.
Conclusion
Fun boats are already available at very affordable prices. We don't recommend buying the cheapest boat from a discounter which usually consists of one air chamber only. Brands like Intex or Sevylor offer more value for money and especially more for your safety due to their mutiple chamber construction. Using fun boats on bath lakes really enriches your time. They can also be used on slowly flowing river. Compared to Sevylor, Intex offers a greater value for money because accessories, such as oars, are already included.