Manufacturers of inflatable canoes have improved materials and construction a lot in the past years. That's why inflatable canoes  are considered as fully adequate canoes nowadays. This article explains you in more detail what an inflatable canoe actually is, the differences to full-solid and folding canoes and the preferred uses of an inflatable canoe. No matter if hobby or enthusiastic paddler, we show the best available inflatable canoes for every need at the end.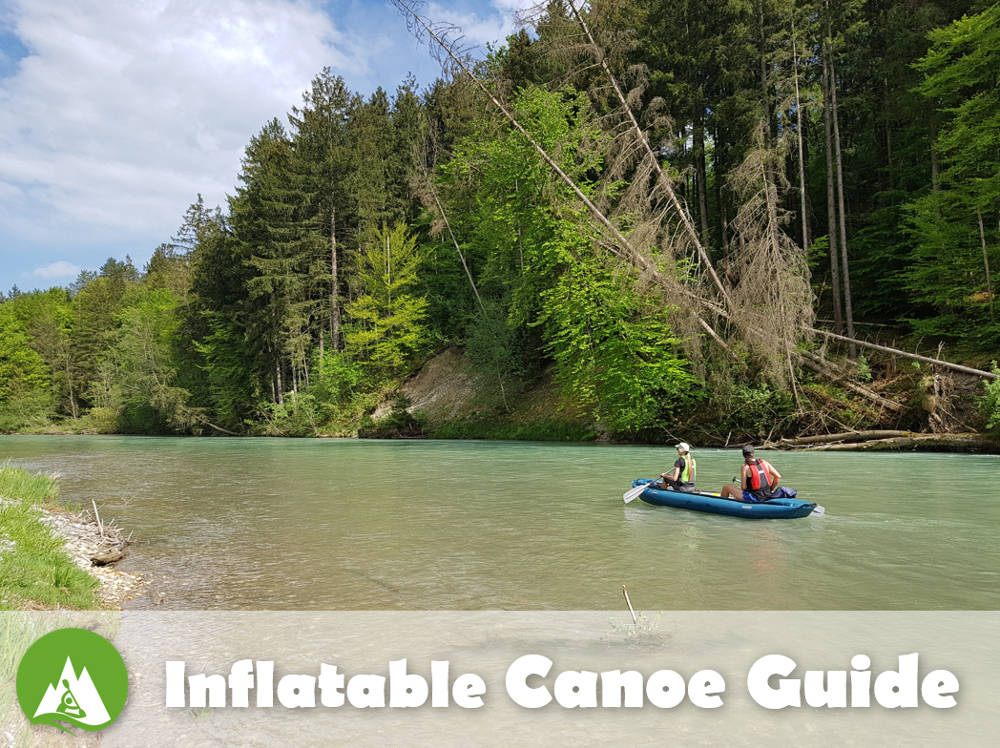 Content:
1. What is an inflatable canoe
2. The uses of an inflatable canoe
3. The pros and Cons of an inflatable canoe
4. How much is a good inflatable canoe
5. The right inflatable canoe
6. Conclusion
What is an inflatable canoe
A canoe is boat which is driven by one or more seated or kneeing paddlers facing the direction of travel and using a single-bladed paddle. Originally, canoes were used by north American Indians as a means of transport and is known as a recreational boat all over the world today.
Inflatable canoes consist of several air chambers that are inflated with a high output air pump to obtain the right form and stiffness. Even though inflatables never reach the same stiffness as solid-hull canoes, inflatables offer other advantages due its small pack size and weight. Canoes are usually paddled by two people. The person in the front is a sort of motor and the person in the back supports with paddling and is responsible for steering the canoe. Solo canoeing is possible as well but requires more practice. Inflatable canoes consist of tear-resistant tissue material which are coated with a rubber material.
Inflatable canoes are equipped with two or more seat benches where the paddlers either sits or use it to knee on the floor of the boat. Canoes are spacious and perfect for longer trips with a lot of gear. Today canoes are especially for camping- or family excursions, expeditions or white-water adventures. Canoes mainly attract paddlers who like to paddle in company and to explore the nature on longer trips. But canoes are also well suited for adrenalin junkies willing to paddle whitewater up to level 4.
Uses of inflatable canoes
There are different uses among canoes. Basically, the uses can be categorized as follows:
Inflatable canoes for whitewater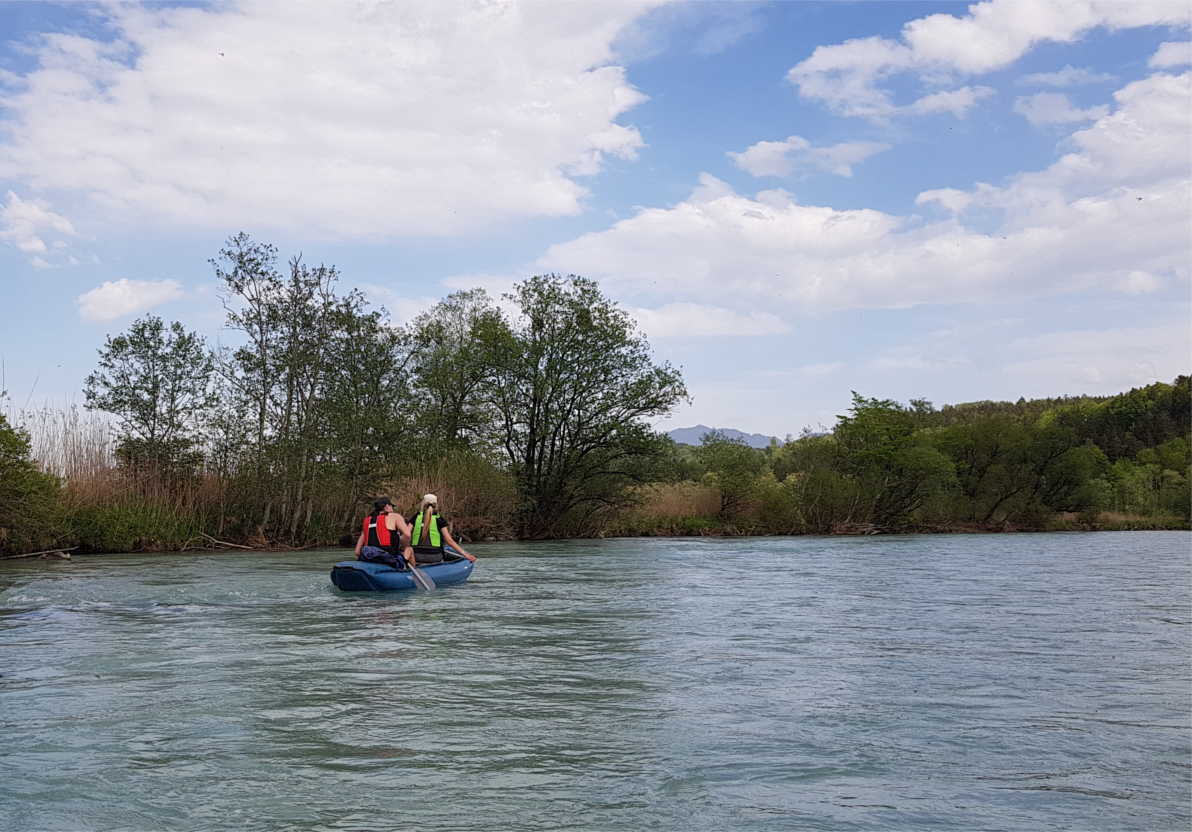 Inflatable canoes are great for white-water paddling. Due to its wide hull and thick inner tubes, canoes are very stable. Compared to hard shell canoes, the material of inflatables is more elastic and can easier pass over obstacles. For whitewater, only high-quality inflatable canoes should be used. These are characterized by a tough material. In whitewater a firm hold in the boat is required. That's why most of these canoes feature thigh straps, best with safety clasp. The use of the thigh straps should be always practiced before using them, to make sure you can quickly get off the canoe in case of flipping over. Inflatable canoes with a raised rectangular bow and stern are made for difficult whitewater (up to group 4) and inflatable canoes with a pointed bow and stern are better for longer trips on rivers and lakes. They reach a higher speed due to its pointed hull.
Inflatable canoes for camping trips and expeditions
Inflatable canoes offer a quite spacious inner room for your gear on camping trips and expeditions. Paddlers sit on seat benches and there is no cockpit covering the boat. For these reasons, you have more space for your equipment, compared to kayaks. That's the reason why a canoe is better suited for multiday trips. Since an inflatable canoe is easy to transport, you can also take your own canoe on holiday. You can explore different regions. The focus of a canoe is not the speed but to explore the nature and make longer trips on waters. It's for sure that paddling in a canoe is a more relaxing paddling. Getting in and off the boat is quite easy, the same with packing your gear into the boat.
Inflatable canoes for family trips
Inflatable canoes are very stable and therefore perfect for family trips. You must be very clumsy go capsize your inflatable canoe. As well, inflatable canoes have high side tubes which keep kids safe in the boat. Kids can even sit on the floor of the boat and are even more safer against dropping into water. Nevertheless at least one parent should sit behind the kids to keep an eye on them. Finally, families have much more gear with them on a trip. That's another reason why a canoe is best suited for families. In comparison to kayaks, canoes are available in sizes up to three and more persons.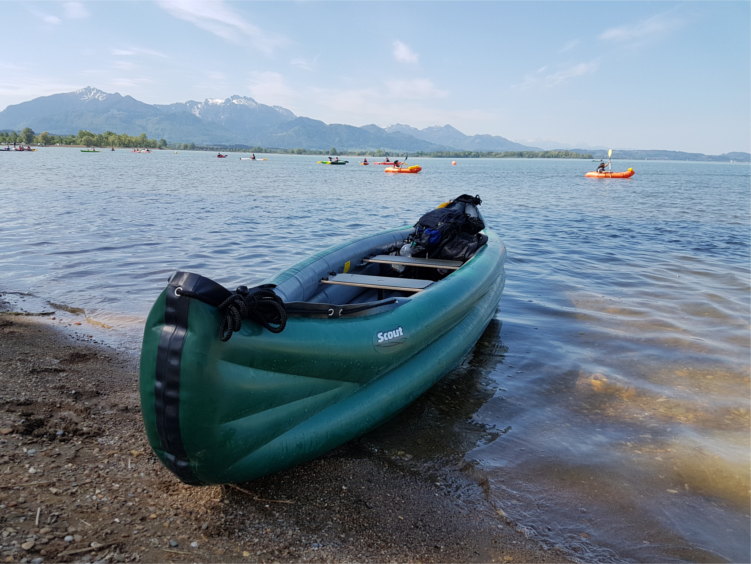 Pros and cons of inflatable canoes
Everyone who buys an inflatable canoe will be impressed how extremely practical it is. An inflatable can be stored in the apartment or in the basement with no need of a huge storage areas. In case of transporting the canoe to the lake or river, you can just load it in the trunk or take it with you on public transport. Before deciding for the right canoe, you will probably wonder if a hard shell or folding canoe is not the better choice. A hard shell canoe is only the better choice if you have a car and enough storage space at home or in your backyard. In this case, a hard shell canoe is the better choice. It's more durable and resistant. But don't forget that you need a roof rack for your car or a trailer to transport your boat. The same with holidays abroad. You can just take an inflatable much easier on your flight to your next holiday destination and explore new areas. Folding canoes have better performances on water regarding speed. But folding boats are much more sensible to groundings. A folding boat also require more assembling and dismantling time as well as maintenance. One disadvantage of inflatables compared to folding and full-solid boat is the sensitivity to head and side winds due its lower draught and voluminous air chambers.
Advantages of inflatable canoes
+ easy to get in and off
+ high loading capacity
+ easy to load luggage
+ easy to transport and space-saving storage
+ very comfortable to paddle kneeing
Disadvantages of inflatable canoes
– High purchase price
– relatively slow
– sensitive to wind and waves
– majority of models are pretty heavy for an inflatable
How much is a good inflatable canoe
Compared to inflatable kayaks, there are no inflatable canoes for beginners available. There are inflatables, such as the Intex Explorer K2 or the Sevylor Riveira, that look like a canoe at the first glance, but they are actually no canoes (even though they are delivered with single-bladed paddles). These inflatables feature neither seat benches, nor spacious inner room. Those who are not sure about paddling as a serious hobby, might be better off with the beginner inflatable kayaks mentioned above. Prices for inflatable canoes in the proper sense start at $900. These inflatables have a high loading capacity and a very rough material. The boats shown below are especially designed for longer trips on flowing waters.
The right inflatable canoe
Gumotex offers great inflatable canoes starting from $900. The Palava is the most affordable canoe from Gumotex designed for whitewater up to level 3 and trips on flowing waters. Those who want to paddle rougher whitewater should have a look at the Gumotex Baraka. The Gumotex Baraka can be used for whitewater up to level 4 and offers even more space for gear. Paddlers intending to make camping or family trips as well as expeditions may be interested in the Gumotex Scout. The Gumotex Scout is the largest canoe among these canoes. It offers great space for up 3 persons or 2 persons and with a lot of gear or 1 kid. All Gumotex inflatable canoes are equipped with solid seat benches and fabricated of strong material.
Palava
Gumotex

Baraka
Gumotex

Scout
Gumotex

Conclusion
Inflatable canoes are available at higher prices only. But inflatable canoes fit 2 or 3 persons and are characterized by high quality and ruggedness. You don't have to look for rental stations and can make your expeditions in all waters, independently of season and opening hours of the rental stations. Additionally, an inflatable canoe can be taken on holiday without any extra effort and costs. Everyone who is not sure about buying either an inflatable canoe or kayak, should read the article Canoe, Kayak or Canadier – Where is the difference?. And if you are not sure about the size of the boat you should buy, we definitively recommend you to read our article 1, 2 or 3 person canoe – What is the right boat size? which provides you some helpful tips.