Inflatable boats are very practical, better than their reputation and good alternative to hardshell boats. I was also quite sceptical about/ of inflatable boat until I have tried them out. The most convincing point is definitely feeling of freedoms which comes with an inflatable.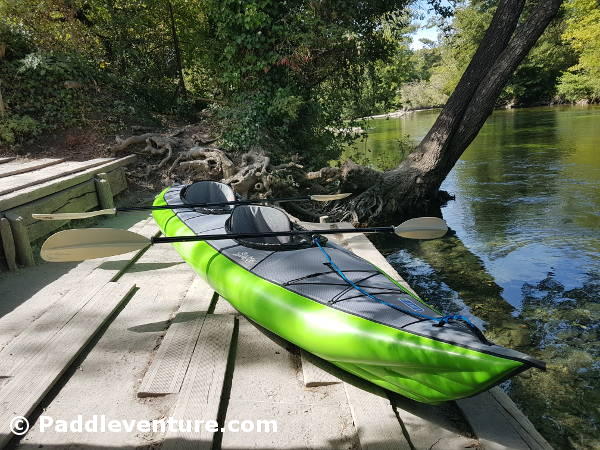 The unique feeling of freedom of inflatable boat
An inflatable boat is an uncomplicated way of exploring the landscape of your region or of your next holiday. In good weather I can just take my inflatable kayak and go to the next exciting nature spot. Once arrived inflate and prepare my kayak within 15 min and get with it on the river or lake. The best about it is that I can completely decide on the entry and exit point. I don't depend on any rental stations. Hours later, when finishing the tour, I don't have to go back to the start point because I have nothing to return. The next time I could also take my bike right after work and go to the nearest lake with the kayak in my backpack to do a little tour. There are countless of possibilities to discover my own region in a new way and to plan a holiday completely different.
Since I don't depend on any rental stations I can also go paddling off-season. Because nothing is better than having the lake just for yourself on a beautiful day in autumn. In addition to that, I only have only once the acquisition cost and no rental fee. I don't have to worry about the time for returning the boat either.
The easy handling of inflatable boats
Another big advantage is the transport and the storage of the boat. Most of inflatable boats fit into a backpack and you can easily take them on any public transport or in the trunk of your car. You don't need a roof rack or a trailer. Especially, the usage of public transport gives me the possibility to do one way tours. I could also take the boat on an airplane and discover foreign countries with my boat from the water. People living in big cities will appreciate and love inflatable boats since it requires a little corner in the cave or the space under the bed.
Everything I need to set up my inflatable kayak is a air pump. With a quality air pump the complete set up is done in 10-15 min. Due to the air in the chambers inflatables are very comfortable and they insulate well against cold water.
Which inflatable boat?
The choice of inflatable boats is huge. If kayak, canoe, fun or fishing boats, there is for every application the right boat type. The difference between a fun and fishing boats is quite obvious. A fun boat is mostly for kids or adults that like to use it for bathing. The difference between kayaks and canoes is not that obvious at the first glance. However, there are quite a lot of difference if you take a closer look (see our comparison on kayak vs canoe).
Do you prefer going paddling alone or together with a friend or even with the whole family? Inflatable boats come in different sizes and no matter your need there is the right boat for everyone. You prefer calm lakes or wild rivers? On our site you find reviews and comparisons of boats regarding their features, driving characteristics, application in order to help you making the right choice.