Maybe you have already thought about going on a vacation to a great paddle destination, with your own inflatable. But, before you book your trip, there are a few important things you should consider:
Inflatable as carry-on baggage
Small inflatables, especially 1-person boats, which are compressed packed, usually meet the carry-on requirements. The only problem is that the paddles or rows are not allowed as carry-on baggage. They could be used as "weapons". That's why your inflatable with its equipment is checked baggage.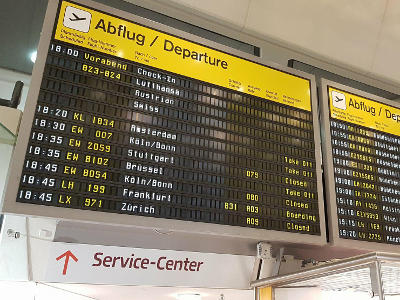 Inflatable as checked baggage
The inflatable should not weight more than 44 lbs / 23 kgs. Most of the airlines have a maximum weight limitation for checked baggage at 44 or 50 lbs / 20 or 23 kgs. Additional weight must be payed extra with high fees or is not possible to check in.
The packing size should not exceed 126 in / 158 cm. Exact measures can be found in the airlines' baggage policy. Oversized baggage must be checked in as bulky luggage which causes extra costs.
The paddles or rows must fit into the inflatable's transport bag / backpack or into any other check-in baggage. In case of rows or single blade paddles there are no worries. But it can be quite difficult with double blade paddles which have a length between 220 – 240cm. In this case one- or two-piece double blade paddles are too long. It's better to have a three- or four-piece double blade paddle which breaks down into smaller pieces and is easier to store than one-piece paddle.
Inflatable as special baggage
Special baggage can cost from 70 up to more than 200$ per one-way flight, depending on airline and destination. Considering these costs, renting a boat at the holiday destination might be cheaper. Except you intend to paddle in waters where there are no boat rentals.
Protecting your inflatable when traveling
Sensitive accessories (e.g. pressure gauge) should be stored in the carry-on baggage. Your inflatable should be carried in a robust transport bag or backpack which protects your boat from external disturbances. If possible, paddles and air pump should be extra padded, for example wrapping them in clothes or wrinkled paper. In cases of heavy point loads (yes, unfortunately, luggage is not transported carefully at airports), the air pump and paddles break and get dinged at most. That's why this equipment should be well packed.
In case luggage is damaged
In case luggage is damaged or even lost, the airline usually takes over the responsibility. After receiving your luggage, you should better check your equipment for damages. If the luggage is damaged, immediately report the damage at the airline's luggage counter. If the damage is noticed later, you can still report the damage online within seven days after receiving your luggage. Generally, the airline refunds the damage as current value, provided that the damage is in relation to luggage transport by the airline.
Final thoughts
When reading this article, it seems complicated to transport your inflatable but it's worthwhile. You are completely independent with your own inflatable on your vacation. You will discover the holiday destination from another perspective. The advices provided in this article just help you to prevent unexpected extra costs and damages caused by the transport. Enjoy your vacation with your inflatable =)