For some of you the answer is clear which boat size is the best because you have very precise ideas how your canoe should be like. But some of us are not sure which size might be the right one. In the following we give you a short overview of the advantages and disadvantages of the most common boat sizes in order to help you making the right choice at the end of the day.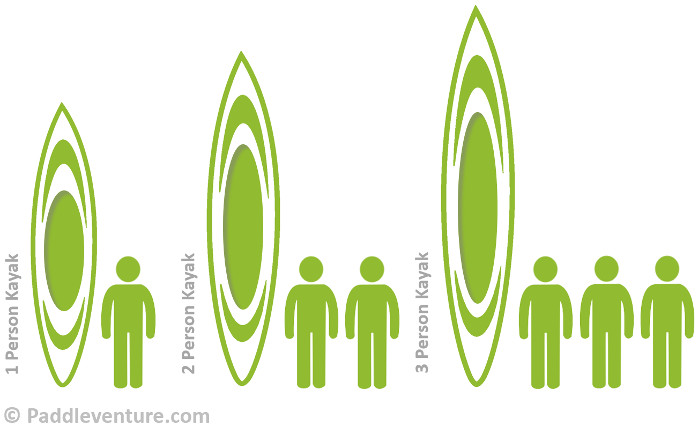 1 person canoe
If you prefer paddling on your own, then you should go for a 1 person canoe. The weight distribution is optimal and you have a better performance on the water. Thanks to the lower weight you can easily transport it anyway you want without any big effort. A 1 person canoe are mainly available as kayak. For a kayak the paddler uses a double-blade paddle which is much easier than paddling alone with a single-blade paddle as it's typical for Canadian canoes.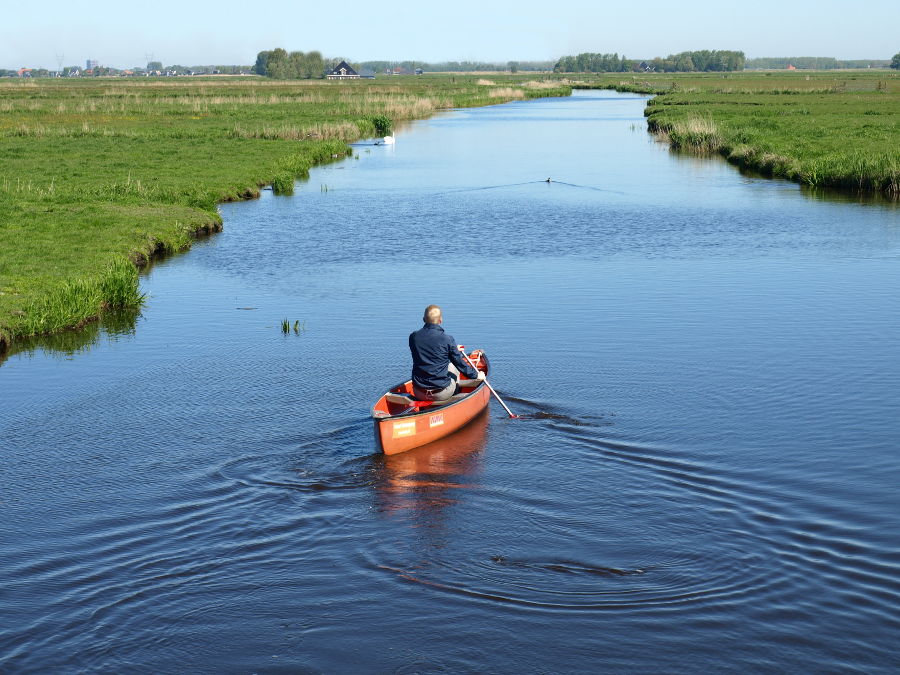 If you want to read more about the difference between canoe and kayak, we highly recommend you our article Kayak vs Canoe.
Even if you want to paddle with other persons, a 1 person canoe can be still sometimes the better choice. Paddling your own boat gives you an additional feeling of freedom. Everybody has its own paddle rhythm and perhaps a different paddle technique. Moreover, you can decide on your own to go an extra mile in the other direction to discover something. When paddling with another person, it's easier to talk with each other when being next to each other and not behind.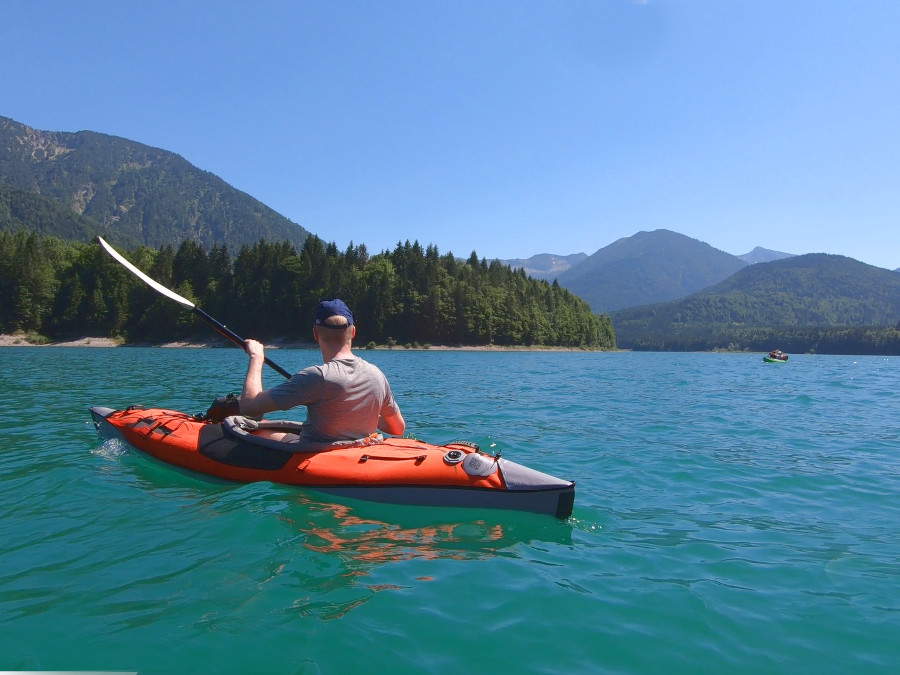 INTEX CHALLENGER K1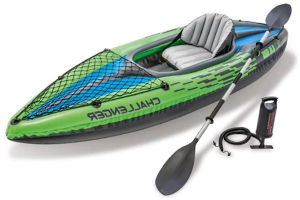 for 1 person
pump and paddle incl.
front deck
ADVANCED ELEMENTS ADVANCEDFRAME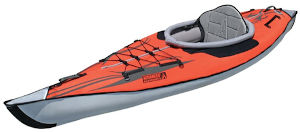 for 1 person
integrated deck
good workmanship
2 person canoe
If you like sharing the paddle experience with someone else in all situations then a 2 person paddle boat could be the better choice for you. In this case you have the acquisition cost for only for one boat. A 2 person boat costs slightly more than a 1 person boat. Moreover, a 2 person kayak gives you the opportunity to alternate. If you feel a bit tired you can make a pause and your friend continues paddling for example. However, a 2 person boat requires more coordination. The person in the back has to navigate and should adapt his paddle frequency to the person in front. Especially, for couples a 2 person paddle boat is often a good choice. In most cases men are stronger and have more energy. With a two person canoe you have never the situation that one is falling too much behind the other one. In addition to that, you'll be also faster with a 2 person boat since it's longer. However, you should consider that you have less space for luggage.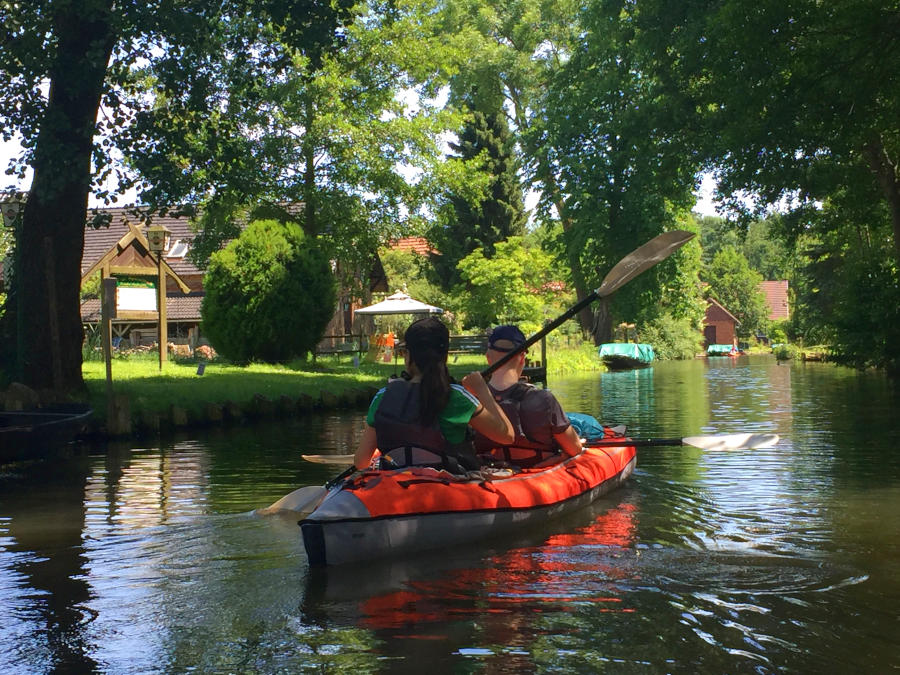 There are also inflatable boats with adjustable seat positions, so that you can use a 2 person canoe as a 1 person canoe. In this way, you have always the optimal seat position and consequently a good weight distribution in the boat. Especially sports enthusiasts appreciate it to have enough space for all their luggage on long distance tours. In case you can adjust the seat position, you can still use it as a 1 person canoe. The paddler has to sit in the back and all the luggage go to the front. Nevertheless, the drive characteristics are not as good as in boat with an adjustable seat.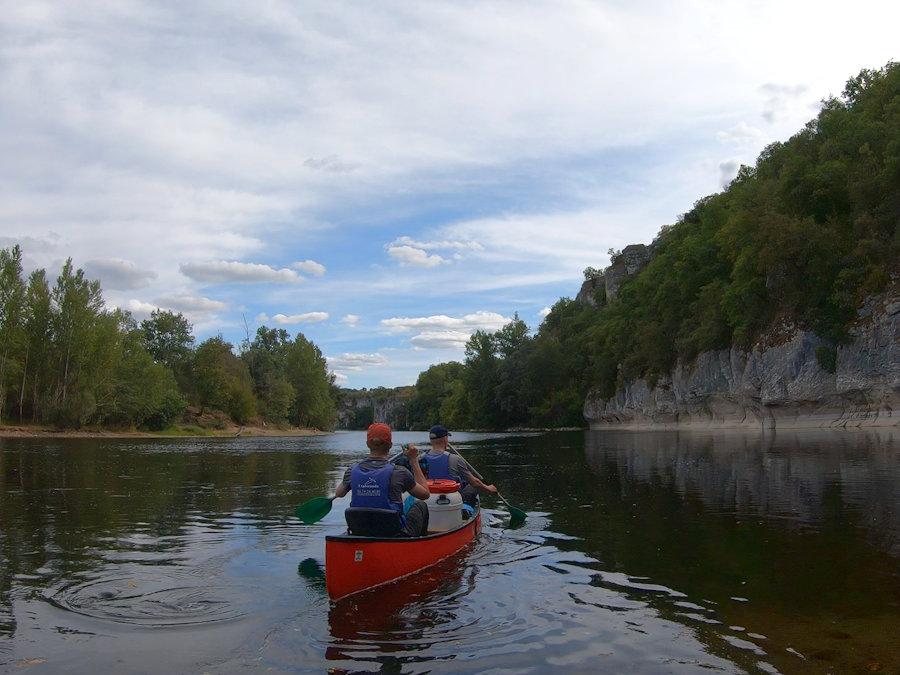 INTEX EXPLORER K2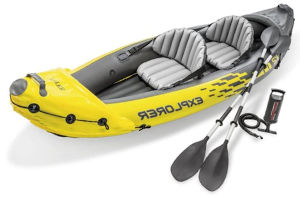 for 2 persons
pump and paddles incl.
easy access
AE ADVANCEDFRAME CONVERTIBLE ELITE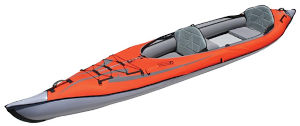 for 1 or 2 persons
very stable and fast
highly configurable
3 person canoe
f you want to paddle with your family, then a 3 person canoe is the only option. The third seat has normally less legroom is therefore intended for children. This seat is optional and you can use the boat also for 2 or only for 1 person as well. However, since the boat is quite long it's less maneuverable. This means that it takes a bit more time that the boats reacts to your steering manoeuvres.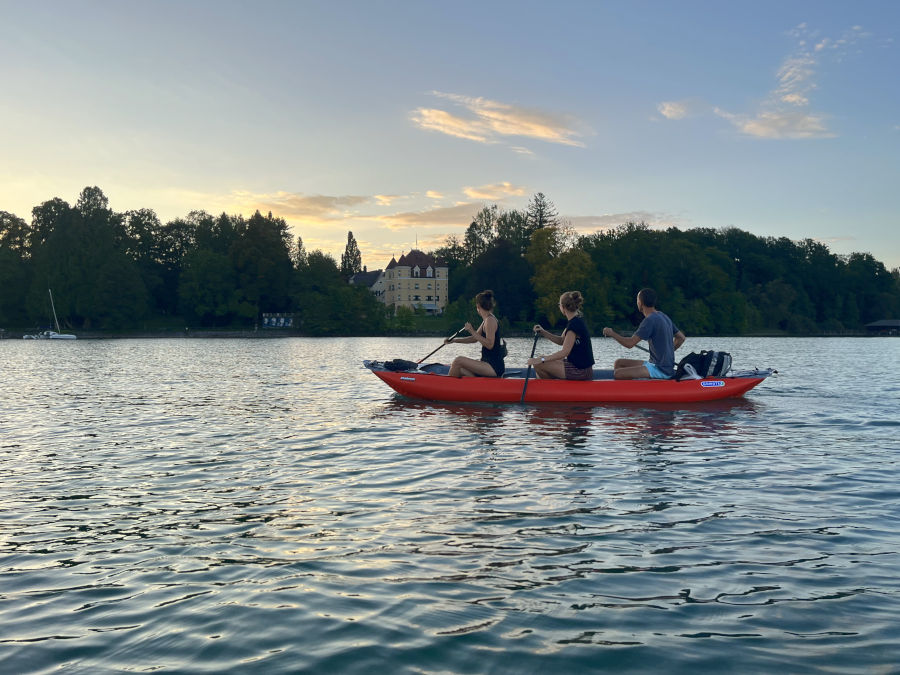 All in all each boat size has its particular pros and cons. If you are still unsure then you should maybe go to a shop and try them out to see with what boat size you feel most comfortable. In any case, you should be aware that nowadays there are also really good inflatable kayaks and canoes. Their quality is much better than years ago and they can really compete with hardshell boats. The advantages of an inflatable boat such as the big flexibility that comes with an inflatable are definitely worth reading more about it.
SEVYLOR ADVENTURE PLUS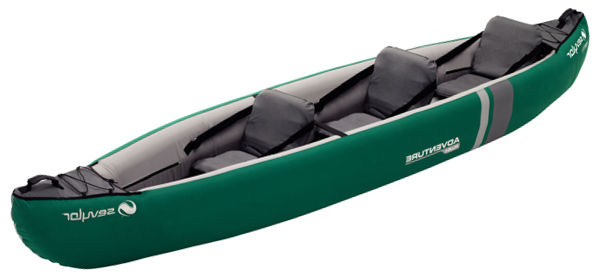 1 – 3 persons
entry-level boat
kayak seats
ITIWIT X100 3 SEATER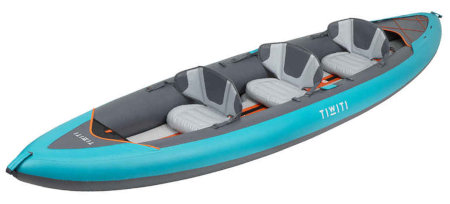 for 1 – 3 persons
separate drop-stitch floor
very stable on the water