For an inflatable boat, an air pump is an indispensable accessory. For the majority of inflatable kayaks or canoes on the market (with the exception of a few brands), the air pump is not included and must be purchased separately. In this article, we'll go over the different types of air pumps for inflatable kayaks and canoes, and explain the differences to you. We also give tips on choosing the right air pump.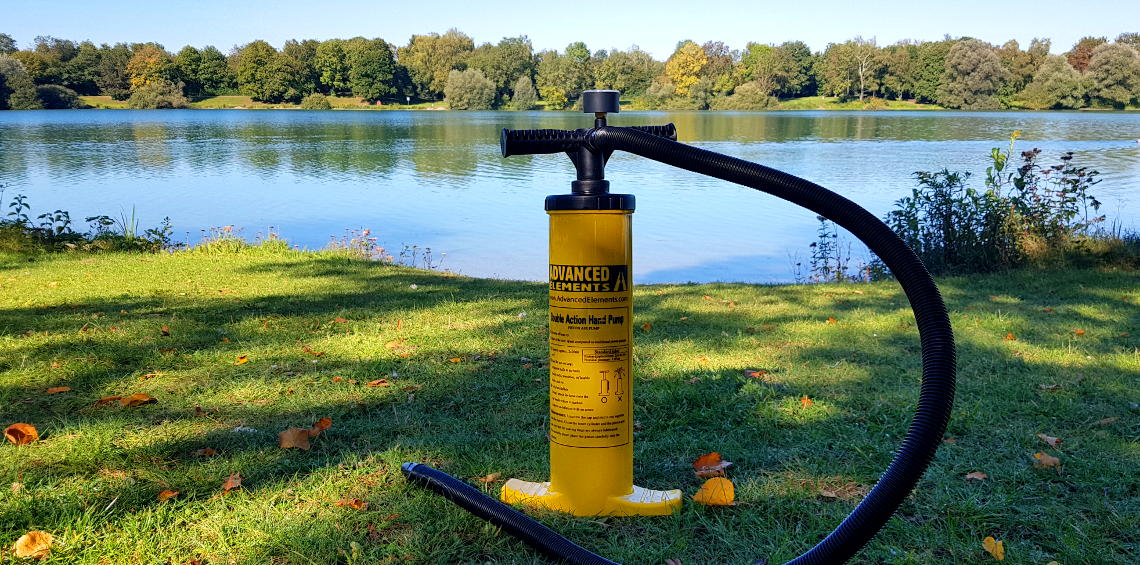 How to find the right air pump?
The right air pump depends on numerous factors:
Do you prefer a hand, foot or electric pump?
How important is it to you to inflate your inflatable quickly?
How easy should it be to pump with the air pump?
How much pressure do the air chambers of your boat have?
How big is the boat, so how much volume of air do you need to pump in?
How much space do you have in your backpack and in the boat to carry the air pump?
Do you need a deflation function for the pump?
Does the pump have the appropriate adapters for your boat valves?
Pumps of any kind are already available for between 10$ and 20$. Higher priced air pumps usually have more (e.g. integrated pressure gauge, change between single and double action mode, can generate higher air pressure, have a higher build quality, …). We have a double action pump for 20€ and have been using it regularly for over 3 years.
If you want to inflate your inflatable boat as quickly as possible, an air pump with a high pumping volume (at least 4 liters) is important. You can achieve this with a voluminous double action pump. Especially for large inflatable boats, such an air pump is highly recommended. In addition, the required air pressure of your boat is crucial when choosing the right air pump. If your inflatable boat consists of drop stitch (or high pressure air chambers), you should make sure that the air pump can handle the increased air pressure.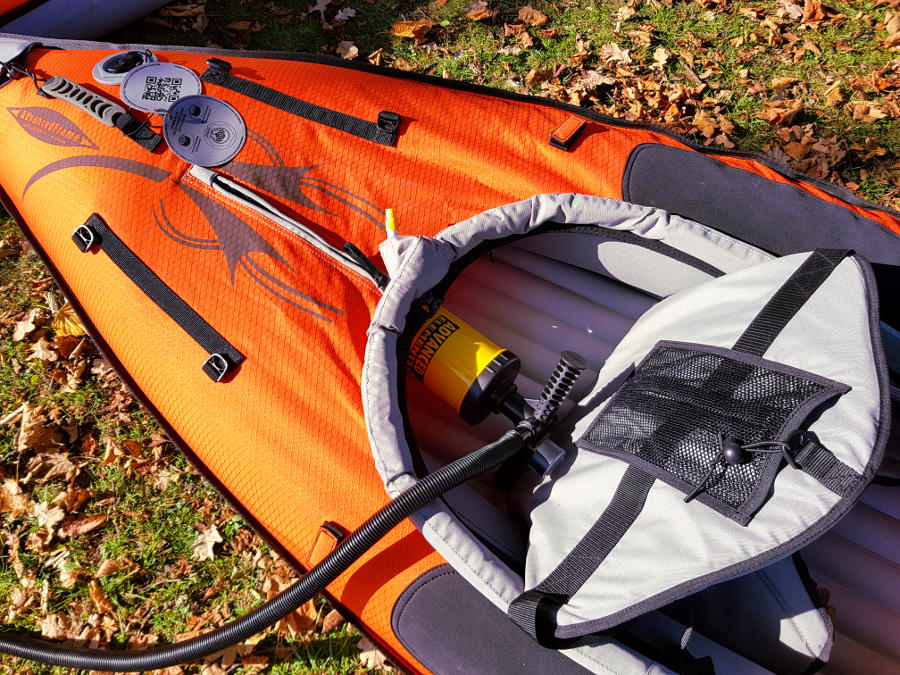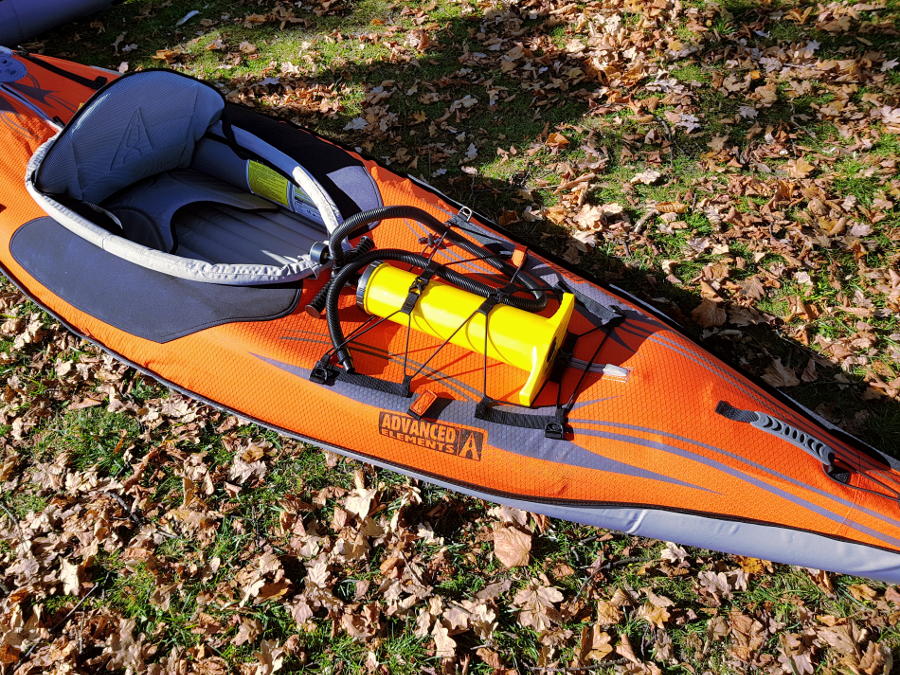 With an air pump, you can not only inflate your inflatable boat, but also, depending on the model, pump the air out again. This is particularly practical, because when you open the valves, only part of the air escapes from the air chambers by itself. Therefore, when buying, make sure that the air pump has a deflation function. Such air pumps have two sides, usually marked "Inflate" and "Defalte". Depending on the function, the hose is switched. This is especially convenient for getting out the remaining air before folding the boat. The boat is then easier to pack and you get the original packing size when folding the boat properly. Otherwise, you will have to push out the remaining air when folding the boat. To do this, start folding the boat with the opposite side of the valves. This way the valves are exposed and the air can escape when folding the boat.
If you transport your inflatable kayak or canoe by car, the dimensions of the air pump are not really important. In addition to a repair kit, the air pump belongs in the boat on every paddling trip. If a hole gets in an air chamber or after inflation the valve was not closed correctly, the air pump is needed on the tour. Also, during long breaks in the middle of summer, paddlers let out air from the boat to protect their boat against overpressure. Read more in our article: 6 tips for proper inflatable boat use. For paddlers who transport the boat and equipment in a backpack via public transport, a compact pump can save some space.
The different types of air pumps
There are a variety of air pumps for inflatable boats available. Basically, these can be divided into hand pumps, foot pumps and electric air pumps.
Hand air pump
Hand pumps have a cylindrical piston inside, and are therefore also called piston stroke pumps. The air pump is operated with both hands. During pumping, the feet can be placed on the side feet of the pump.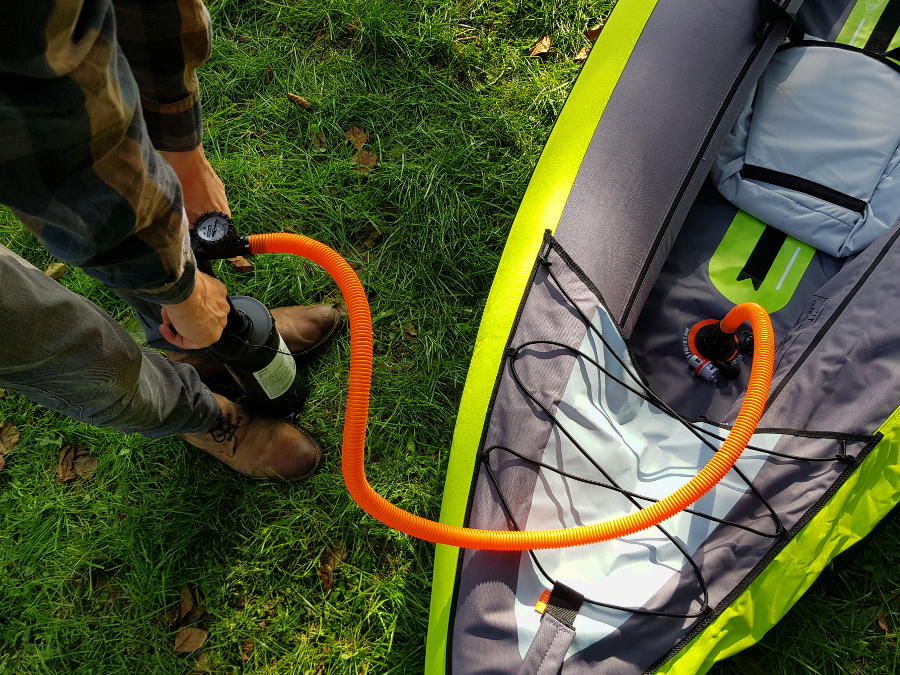 There are both single and double action pumps. A double action pump is particularly effective because it pumps air into the boat not only when pushing but also when pulling the piston. In addition, there are air pumps that can be switched between single-action and double-action modes.
Single action hand pumps are easier to use because you only have to apply force (partly from your body weight) when pushing the piston. However, this requires you to perform twice the number of movements. We generally use double action pumps for inflatable boats, as they are particularly effective and quickly fill the inflatable boat with air. In our opinion, the increased effort required to raise the piston is hardly noticeable. It only becomes noticeable when the air pressure exceeds 0.3 bar (4.4 PSI). This is why the double action pump with a wide piston shows its limits with high-pressure chambers (e.g. with drop stitch), as pulling up the piston becomes very energy-consuming from a pressure of 0.4 bar (5.8 PSI). This is exactly why there are air pumps that can be switched between single and double Action mode. At the beginning, the double action mode is used to quickly get a lot of air into the air chambers. From a higher pressure is then switched to single action mode. However, if you only need to get a pressure of up to 0.5 bar (7.3 PSI), you can also do it with a simple large (4 liter) single action pump.
For inflating inflatable boats, we recommend an air pump with a thick piston. These generate sufficient pressure and have a high volume so that the inflatable kayak is quickly inflated. Thin and tall piston pumps can also be used in general, but are primarily intended for inflatable SUP boards. They have a much smaller volume, but can generate a very high pressure. The most efficient way to inflate is to keep your arms extended, stand vertically over the air pump and inflate in squats.
Bicycle air pumps cannot be used for inflatable boats because they do not have the correct valve adapters. Even if you have a valve adapter for your inflatable boat, they won't attach to the tube of a stand-up bicycle pump. Not to mention how long the pumping process would take.
Foot air pump
Foot pumps are foldable and can therefore be better stored in the backpack as well as in the boat. A foot pump in the folded state has a size of a DIN A4 sheet and a thickness of 5 – 8 cm. As a rule, foot pumps are less powerful than hand pumps. They also take longer to inflate compared to a double action hand pump, as they do not have a double action function.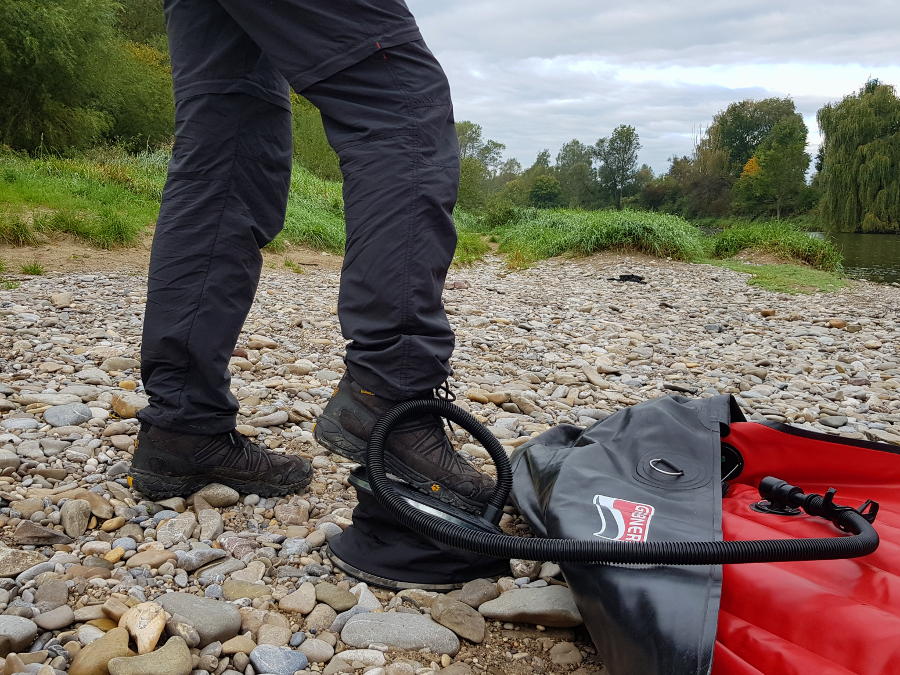 In general, inflatable boats can be pumped up to 0.1 bar without any problems and up to 0.2 – 0.25 bar with foot pumps. From a higher pressure, a high-pressure foot pump is recommended, which then pumps with a lower volume. Foot pumps are also a good alternative for people with back problems. With a foot pump, you don't have to bend over, and the movement comes exclusively from your leg. In addition, most foot pumps are more space-saving to store than hand air pumps.
Electric air pump
Who wants to buy an electric air pump for his inflatable boat, should pay attention to a 12 V connection for the cigarette lighter in the car, or better buy a battery-powered air pump. Then you can use the electric air pump anywhere regardless of an existing power connection.
With an electric air pump, manual inflation should be eliminated, at least in part (depending on the air pump and the required air pressure of the inflatable boat). This is because a majority of compact electric air pumps with rechargeable batteries do not have the necessary power to generate a sufficiently high air pressure. Unfortunately, such pumps too often do not specify what air pressure they create. However, for inexpensive inflatable boats with an air pressure below 0.1 bar (1.45 PSI), an air pump powered by rechargeable battery is sufficient. At an air pressure of 0.1 bar (1.45 PSI), you usually have to pump a little more with a hand or foot pump.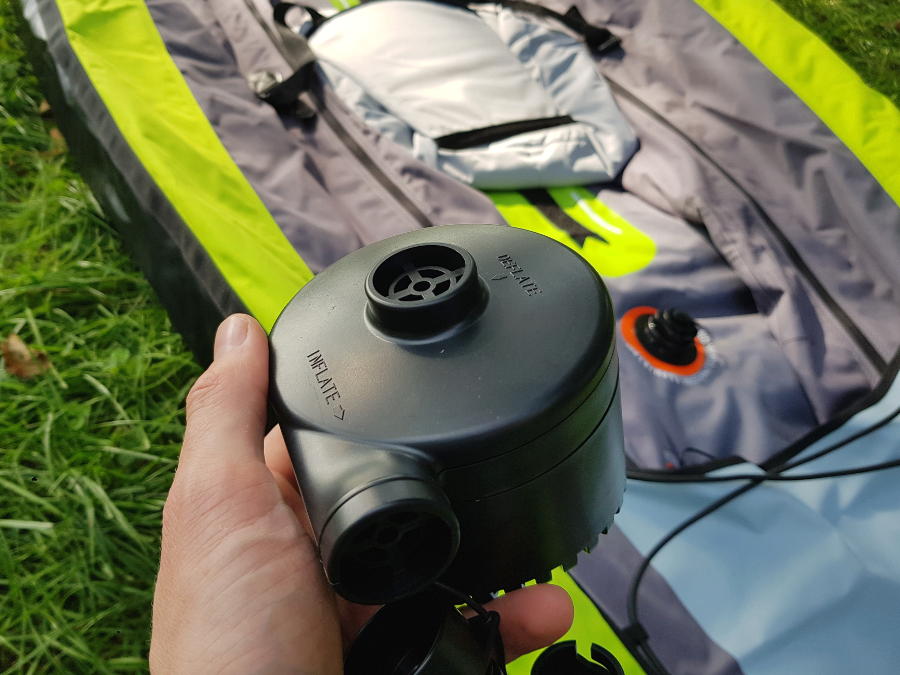 Even if the electric air pump does not have sufficient power for the required operating pressure of your boat, such a pump can still be a useful addition. At an air pressure of 0.2 bar, you need to pump about 2/3 to 3/4 less. This is because the air chamber is already mostly filled with air by the electric pump. You only have to pump a little more with a hand air pump to get the final pressure.
We like to have such an electric pump for kayaks in the basement when we unfold our boat again to dry after a paddling trip. The inflatable boat simply dries better when the air chambers are a little filled with air.
Careful with compressor air pumps!
However, do not use an electric compressor air pump for your boat. Compressor air pumps are much more powerful and not suitable for inflating inflatable kayaks or canoes. The risk of overpressure is very high and will burst the chamber of the boat.
A battery air pump is a comfortable alternative to the conventional hand pumps. Nevertheless, we use exclusively or additionally a double action pump for inflating our inflatable kayak by the water. From our point of view, hand air pumps are much more resistant and essential to create a sufficiently high pressure. An electric battery air pump is quickly unusable if it falls on the ground or even into the water, or if the battery was not sufficiently charged.
Valves and valve adapters
The air pump is connected to the valve of the inflatable boat via a valve adapter. There are a variety of different valves. In this section we would like to discuss the most common types.
Plug valve: The plug valve is the simplest form of valve on inflatable boats. This valve is very rarely found on inflatable boats. For higher priced inflatable canoes, this valve is not found at all. The big disadvantage is that it can be opened accidentally.
Boston valve: Boston valves are 2-way screw valves. The top screw cap is removed for inflation. If you take off the air pump adapter after inflation, no air escapes because a flap inside closes the valve hole, and only opens during inflation. Nevertheless, the top cap should be screwed on for safety. If you want to release the air, unscrew the lowest cap. Due to the large valve opening, the air escapes very quickly. Both Intex, Bestway and Sevylor inflatable boats have Boston valves.
Military / Push Push Valve: Some European brands like Gumotex/ Innova and Grabner use these valves and call them Push Push valves. The American brand Advanced Elements inflatable calls them Military valves. The valves are characterized by a spring that can be operated very easily with a finger using a push-turn knob. If you push the spring in, air escapes. When you inflate, you push the spring out. When connecting the valve adapter, no air escapes either. Compared to the Boston valve, a twist-lock valve allows you to deflate very precisely if a little too much air has been pumped up.
Twist-Lock Valve: Twist-Lock valves are used by Advanced Elements for its air tubes under the canopy and for the coamings, or Gumotex/Innova for its inflatable seats, among others. The valves can be inflated with a Boston adapter or inflated by mouth. The handling is very simple. The twist cap also makes it very easy to adjust the air pressure.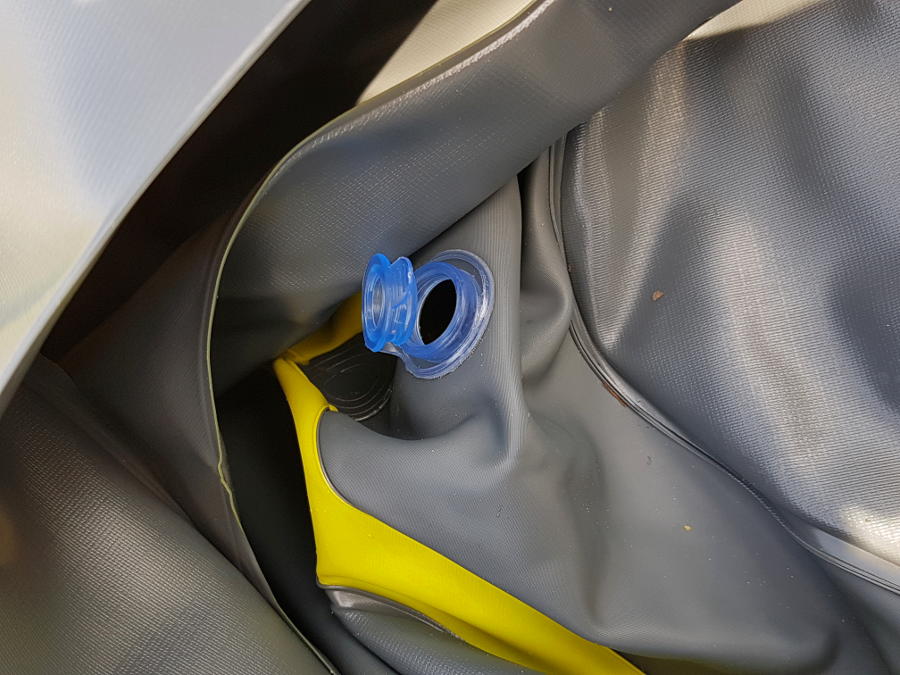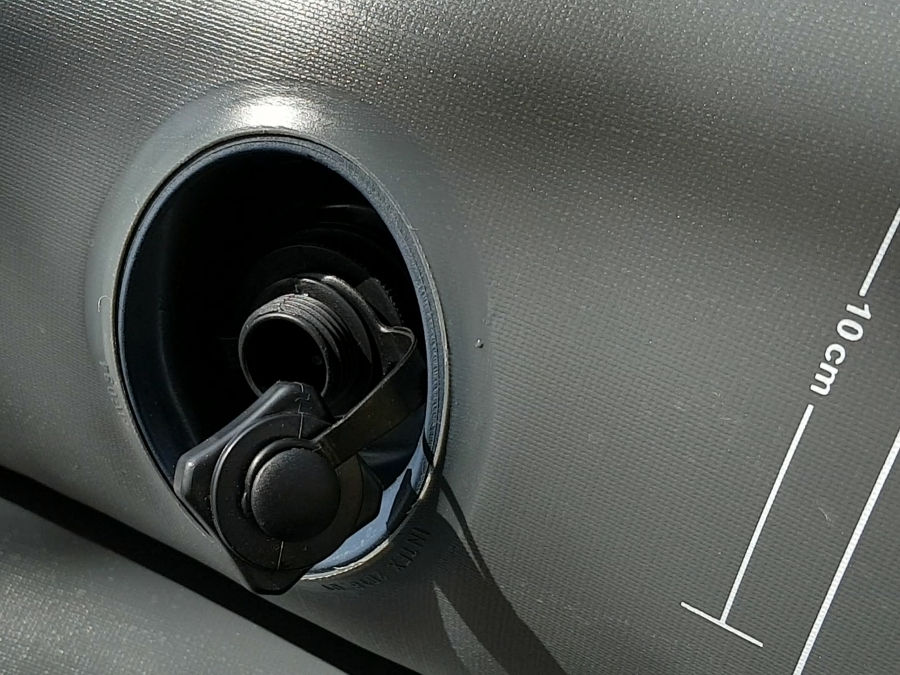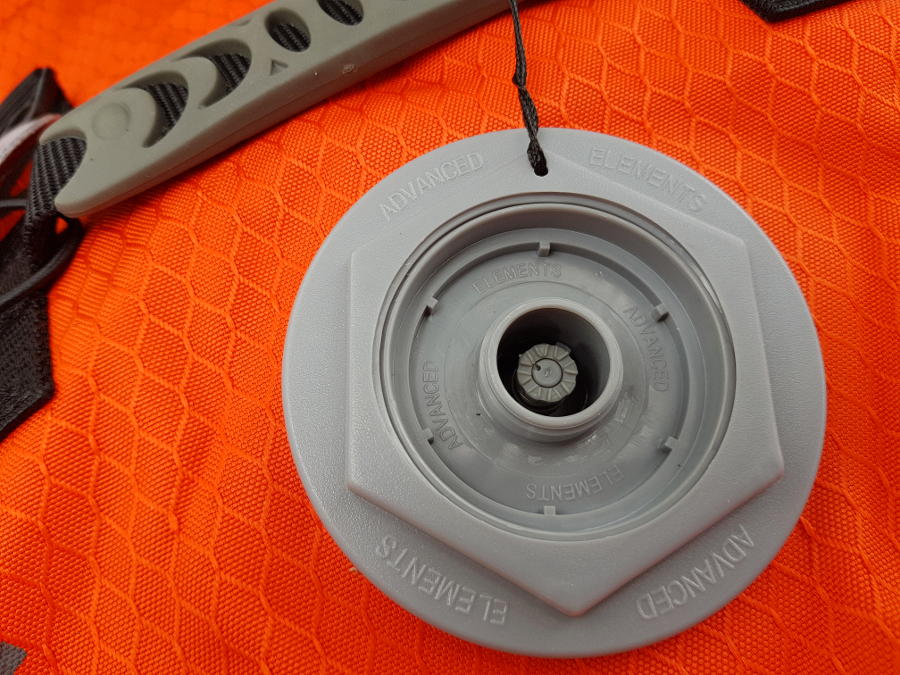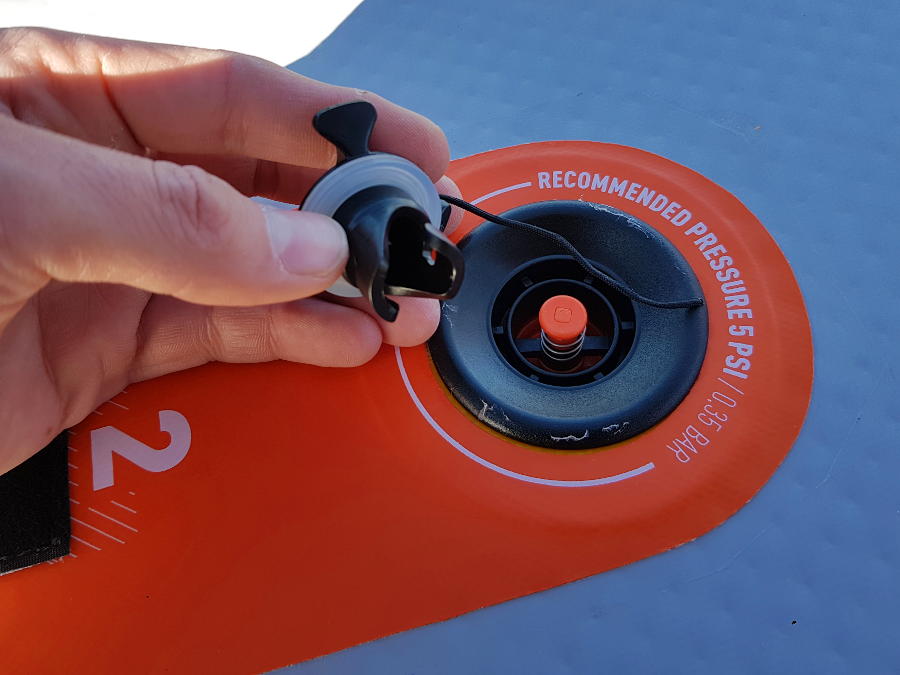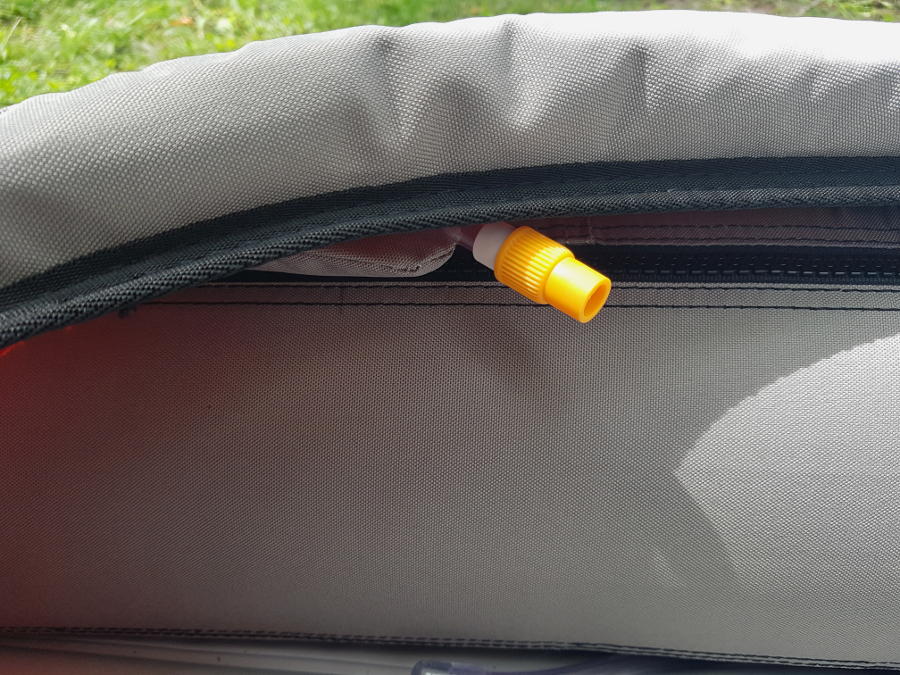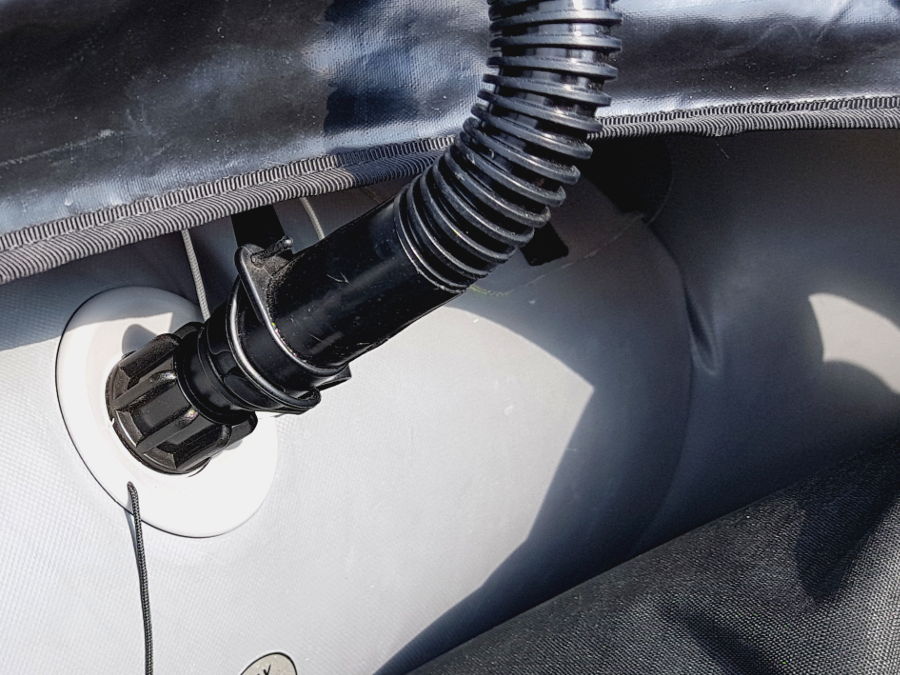 Manometer for kayak and canoe pumps
A manometer is an air pressure gauge to measure the pressure in the air chamber of your inflatable kayak or canoe. This is the only way to know how much air you still have to pump into the air chambers. As with the air pump, the pressure gauge must be suitable for the valve, otherwise air pressure measurement is not possible. Some people pump up the boat by feel. We always check the air pressure with a pressure gauge, because defects due to accidental overpressure are excluded by the manufacturer's warranty.
Relief valves
Some inflatable kayaks or canoes have a pressure relief valve built into the air chambers in the bottom chamber. This valve allows air to escape from the chamber in case of overpressure. Some manufacturers even offer a pressure relief valve for the air pump. This is then screwed onto the pump hose and this already prevents overpressure during inflation.
Nevertheless, a separate pressure gauge is not always necessary. Some air pumps have an integrated pressure gauge so that you can read the air pressure during inflation. Some inflatable boats (e.g. Intex and some Sevylor inflatable boats) have a measuring scale printed on the air chamber. This way you can check if there is too little or too much air in the chamber.