Intex is a well-known manufacturer of inflatable boats and inflatable kayaks in the low-price segment. In this article, we would like to introduce you to the manufacturer's product series and discuss for whom these affordable entry-level products are suitable and what alternatives may be available.
Manufacturer profile of Intex
About the company Intex Recreation Corp. can not be found so much on the Internet. There is an official website of the manufacturer. Here, however, the product presentation is in the focus. But you can't find any information on the website where and how Intex manufactures its products.
The American company has been on the market for over 40 years. At first, it was still called The Wet Set® and mainly produced water balls and air mattresses. Later, the company changed its name to Intex, started producing its first inflatable pools in 1997 and now sells its products in more than 100 countries worldwide.
Since most of Intex's products are very cheap, it is safe to assume that they are not produced in the USA. The Intex kayaks we've paddled have always labeled with "Made in China". This suggests that Intex is mass producing the products with a partner in China and then selling them in numerous countries around the world. The boats are also not available in outdoor or paddling specialty stores, but are primarily available through Amazon and other online stores.
What is the quality of Intex boats and who are they suitable for?
Since we have already paddled several Intex boats ourselves, we can judge the quality of the products quite well. Intex primarily uses a PVC film for its boats, which strongly resembles the material of an air mattress. Nevertheless, this is significantly thicker than conventional air mattresses. Other inflatable boat manufacturers, however, tend to use coated fabric materials or give their boats an additional nylon cover.
Here, however, we also have to be fair and say that for the price, you can't expect more than that. Finally, it must be taken into account that Intex offers its inflatable boats and kayaks in a complete set, which means that a paddle and an air pump are already included. And this is exactly the target group that the manufacturer is aiming at with its products: entry-level paddlers who want to start paddling immediately and rather enjoy small tours on sunny days on the lake.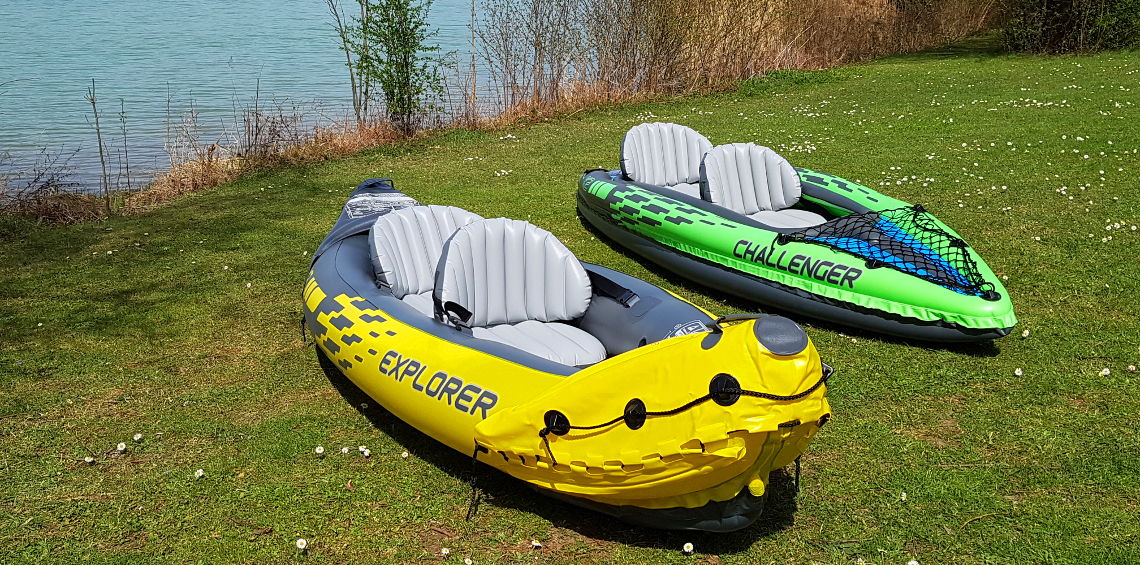 Inflatable boats from Intex
Inflatable boats from Intex are extremely popular. They are handled much like a rowboat. If you simply want to get out on the water on a small lake with your family or friends and then relax in the sun, you can't go far wrong with an Intex inflatable boat in most cases. Intex clearly dominates the market here, as there isn't really any other manufacturer offering such inflatable boats in this segment either. Similar inflatable boats are only occasionally on offer at Walmart, Aldi or other big stores.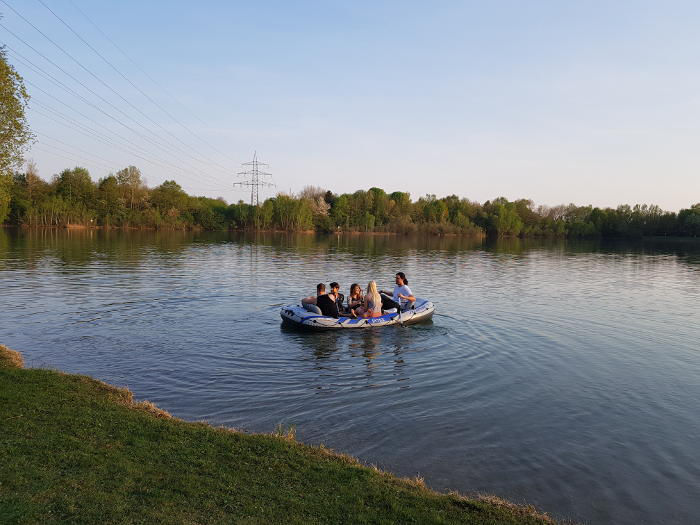 Among the inflatable boats Intex has mainly four different product series: Challenger, Seahawk, Excursion and Mariner. The first three product series are aimed at beginners and are also very affordable in price. The Mariner inflatables, on the other hand, are already more high-end and cost more, although they are still cheap compared to many other inflatables.
INTEX EXCURSION 4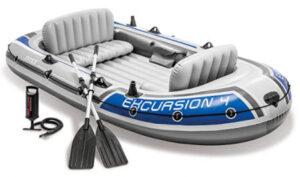 for 4 persons
pump and oars incl.
seat with backrest
INTEX SEAHAWK 3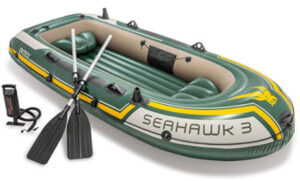 for 3 persons
pump and oars incl.
seat cushions
INTEX CHALLENGER 2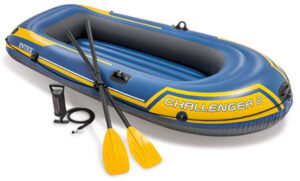 for 2 persons
pump and oars incl.
The Intex Challenger is the classic inflatable boat, which is available as a 2 person and 3 person version. The 2 person boat is quite cheap, but there are no separate seat cushions, instead you sit on the floor of the boat. The Challenger inflatable boats are also quite light (8 kg | 17.6 lbs and 11 kg | 24.3 lbs respectively). So the boat can be carried in your bag without too much trouble and fits in larger backpacks.
The Intex Seahawk range is also aimed at anglers. Due to the fishing brackets and the preparation of a motor mount, the Intex Seahawk can definitely be used as a fishing inflatable boat. The Seahawk is available as a 2, 3 and 4 person inflatable boat. The 2 person boat has no seats, but for this it is quite light at 9kg. The 3 person version has seats and is also quite compact at 11kg. The larger 4-person boat with 17 kg | 37.5 lbs is already quite heavy and a transport with the bag is only reasonable on short distances.
The Intex Excursion is one of the most popular and best-selling inflatable boats of the manufacturer. It is equipped not only with seat cushions, but also with inflatable backrests. It is available as a 4-seater and as a 5-seater boat and also has fishing holders. At 19 kg | 41.9 lbs and 22 kg | 48.5 lbs respectively, the inflatable boat is quite heavy. Especially the opportunity to use an outboard motor makes the Excursion very comfortable for longer stays on the lake. If you buy a motor for your Intex boat, you should also not forget to buy the appropriate mount and a battery as well as a battery box.
MOTOR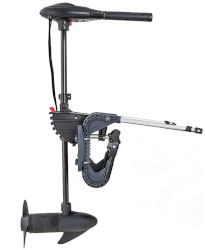 MOUNT KIT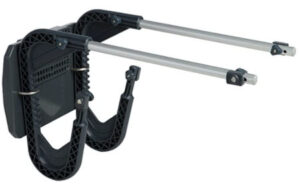 BATTERY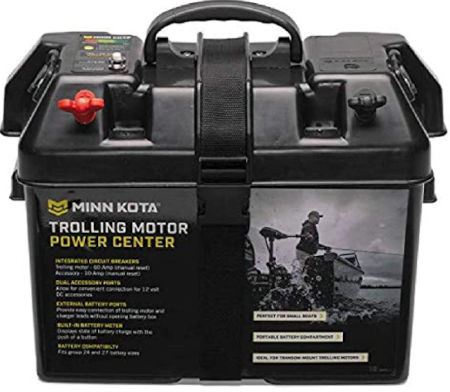 In the Intex Mariner series, the PVC boat skin used is thicker and the overall workmanship is also more robust. Considering the price-performance ratio, the Intex Mariner are still cheap, but they just do not appeal only to beginners. The boats have solid seat cushions, fishing mounts, preparation for mounting an outboard motor, a pocket for the battery, and a solid insert floor so you can stand in the boat as well. The Mariner have a high load capacity, but in return they are really heavy. The Intex Mariner 3 weighs 33 kg | 72.8 lbs and the Mariner 4 37 kg | 81.6 lbs. Transport by car is therefore mandatory here, alternatively a canoe trolley would also be a possibility.
INTEX MARINER 3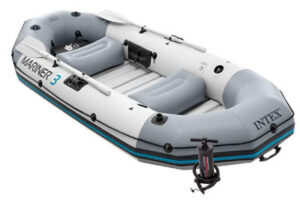 for 3 persons
pump and oars incl.
popular for fishing
INTEX MARINER 4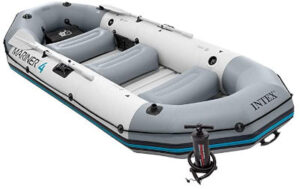 for 4 persons
pump and oars incl.
popular for fishing
The included oars are not very high quality and robust. It is recommended to invest in better oars. The air pump does its job, but due to the small volume you pump very long with it. It is recommended to choose a larger air pump for inflatable boats, with which the boat can be pumped up faster and easier.
Inflatable kayaks from Intex
Besides inflatable boats, Intex inflatable kayaks are also very popular among paddling beginners. In online stores, these are also quite well rated by customers. A majority of buyers assess the boat already after the first paddling, the long-term experience is rarely expressed in such reviews. In addition, many beginners have never paddled a high-quality inflatable kayak and consequently can not draw a comparison. Among inflatable kayaks, the product line of Intex is quite manageable. There are a total of 4 different models here. For those who want to travel alone with their kayak, the Intex Challenger K1 comes into question with priority. It is quite compact and not too heavy. The integrated luggage net on the bow is very practical for small tours to store shoes and a backpack. The paddle is not very high quality, but ok for short tours. From the paddling characteristics and speed you can not expect too much here. Same with the material used and the processing quality. You can't expect to get a kayak that can compete with an inflatable from Advanced Elements, which by contrast costs much more of course.
INTEX CHALLENGER K1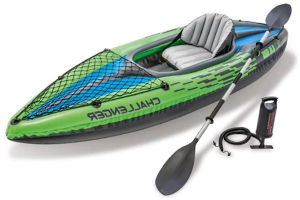 for 1 person
pump and paddle incl.
front deck
INTEX CHALLENGER K2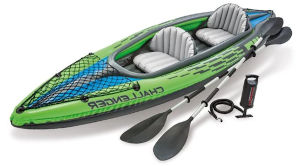 for 2 persons
pump and paddles incl.
front deck
INTEX EXPLORER K2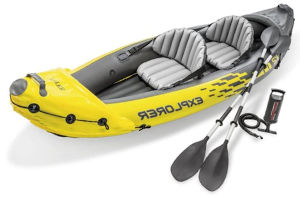 for 2 persons
pump and paddles incl.
easy access
Almost identical to the Challenger K1 is the Intex Challenger K2. It is longer and designed for 2 people. The third entry-level kayak from Intex is the Explorer K2, which looks quite different from the two Challenger kayaks. In general, the Explorer K2 differs very little from the Challenger K2. The Intex Explorer has a drain valve, which makes the kayak easier to clean and dry. In addition, the carrying handles at the bow and stern are very practical. We have already paddled these kayaks and you can find all the other details in our test articles. In a separate comparison review, we even compare the Challenger K2 and Explorer K2.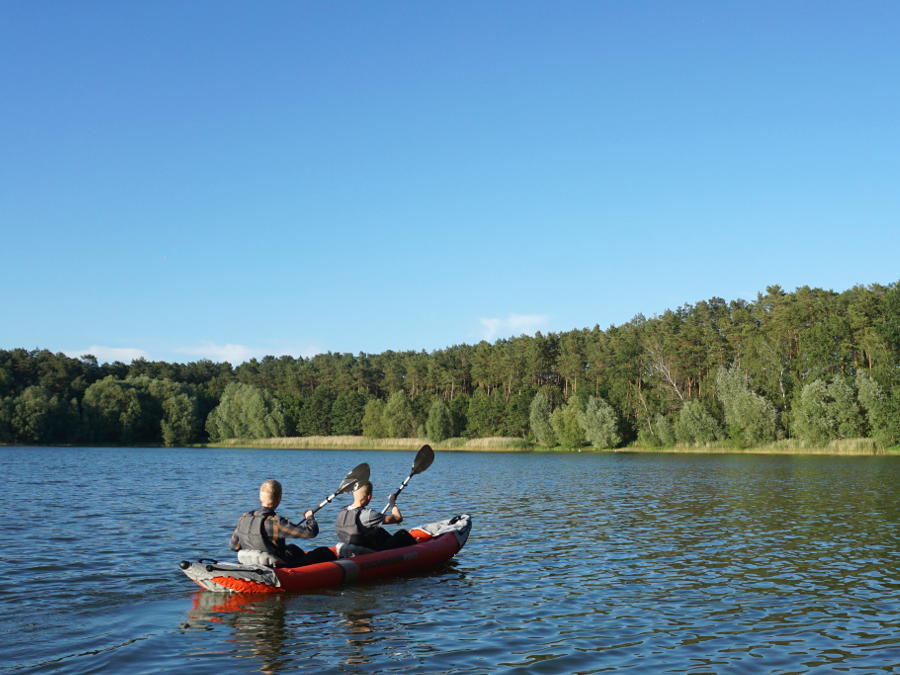 As with the inflatable boats with the Mariner models, Intex also has a model in the inflatable kayaks, which is somewhat higher quality. The Intex Excursion Pro looks very similar in construction to the Explorer K2. But it is about twice as expensive. For this you get more stable handles at the stern and bow and better attachments of the seats and adjustable footrests. The boat skin consists of a polyester fabric with PVC laminated on both sides. This makes the boat much more robust. In addition, the Excursion Pro has a higher air pressure (0.8 bar | 11.6 PSI instead of 0.69 bar | 1 PSI) than the other Intex air kayaks, which promises better paddling performance on the water . The paddles included in the set are the same as those included with all other Intex kayaks. The pump is slightly better because it can be operated with both hands.
INTEX EXCURSION PRO 1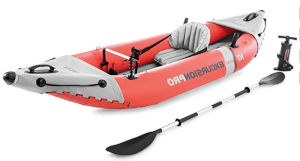 for 1 person
higher quality
popular for fishing
INTEX EXCURSION PRO 2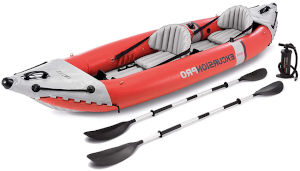 for 2 persons
higher quality
popular for fishing
We ourselves have already paddled the Intex Excursion Pro. From the material it is the best Intex inflatable kayak. From the workmanship it is very similar to the other boats of the manufacturer. Those who want to paddle with the kayak often longer tours and be sporty on the water, should invest in better double blade paddles in any case.
Alternatives to inflatable from Intex
The market for inflatable kayaks is quite big and consequently there are also other manufacturers offering similar or completely other products. If you look for entry-level kayaks then you should consilder Sevylor, Itiwit or Sea Eagle because they have also pretty affordable kayaks available.
Let's stay with the manufacturer Sea Eagle because they cover actually the whole range of inflatable kayak. They have entry-level kayaks as well as high-quality kayaks for demanding paddlers and drop-stitch kayak, which feel like hard shell kayaks.