For the last few years, drop-stitch kayaks have become more and more common on the market and are increasingly establishing themselves in the field of inflatable kayaks. There are different designs of drop-stitch kayaks. There are models where only the floor, only the side chambers or for the complete boat is made of drop-stitch material. By using this technology, the air kayak is much stiffer and the driving characteristics are said to improve, according to the manufacturer. In this article we would like to discuss, among other things, the advantages and disadvantages, the different construction methods and a few selected drop-stitch kayaks.
What is a drop-stitch kayak?
The drop stitch technology found its way into water sports, especially in stand up paddling boards. Without a rigid air chamber, standing on the board would not be possible. Exactly this technology is also used in drop stitch kayaks.
A fiber fabric (polyester or nylon) is used. Here, the upper and lower inner walls of the air chamber are interwoven with thousands of textile threads of the fabric material. This technique makes it possible to inflate the air chamber with a much higher air pressure, so that the air chamber appears as stiff and flat as a board.
A single or multiple waterproof and airtight coating (PE, PVC or rubber) is applied to the fabric, which enables its use in water.

classical inflatable chambers (I-Beam floor)

inflatable kayak with drop-stich floor

kayak with drop-stitch floor and side chambers
So a drop-stitch kayak is nothing more than an inflatable kayak. However, unlike traditional inflatable kayaks, they are similarly dimensionally stable as a hardshell kayak. Usually, you don't even need a special air pump, as the usual double-stroke pumps for inflatable kayaks can produce the increased pressure without any problems.
In the context of drop stitch, the term "high pressure air chamber" is often used. This has the background that air chambers made of Drop-Stitch allow a higher pressure. Thus, the air chambers are significantly stiffer than conventional air chambers. Manufacturers of drop-stitch kayaks like to distinguish their high-pressure chambers from tradtional air chambers with the term "low-pressure chambers." However, the transition between air chambers without drop stitch (currently between 0.069 and 0.35 bar) and air chambers with drop stitch (currently between 0.34 / 4.9 PSI and 1.03 bar /15 PSI) is rather fluent. As you can see, there is no fixed air pressure at which point an air chamber is considered a high-pressure chamber, or what air pressure drop-stitch chambers have. The air pressure varies from manufacturer to manufacturer.
Advantages and disadvantage of drop-stitch kayaks
From our point of view, drop-stitch kayaks will not replace the classic inflatable kayaks, but will complement them more strongly. The biggest advantage of a drop-stitch kayak is that the boat can be inflated with a significantly higher air pressure. The inflatable kayak is said to be closer to that of a rigid hull kayak, especially in terms of driving characteristics. It is true that this gives the inflatable kayak better stiffness and, depending on the hull shape, better performance on the water due to the use of drop stitch. It should not be forgotten that drop-stitch kayaks also have a higher buoyancy than hardshell kayaks due to their air chambers, and thus float on the water rather than in it. Therefore, the big disadvantage of an air kayak remains: the susceptibility to wind.
If you take a look at the hull of the inflatable kayak you can easily see whether there have been any drop-stitch elements used or not.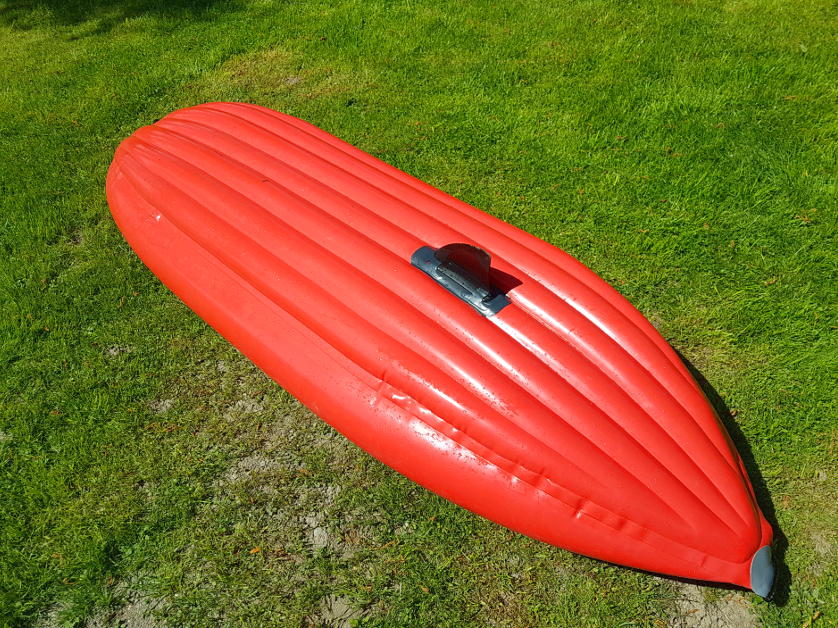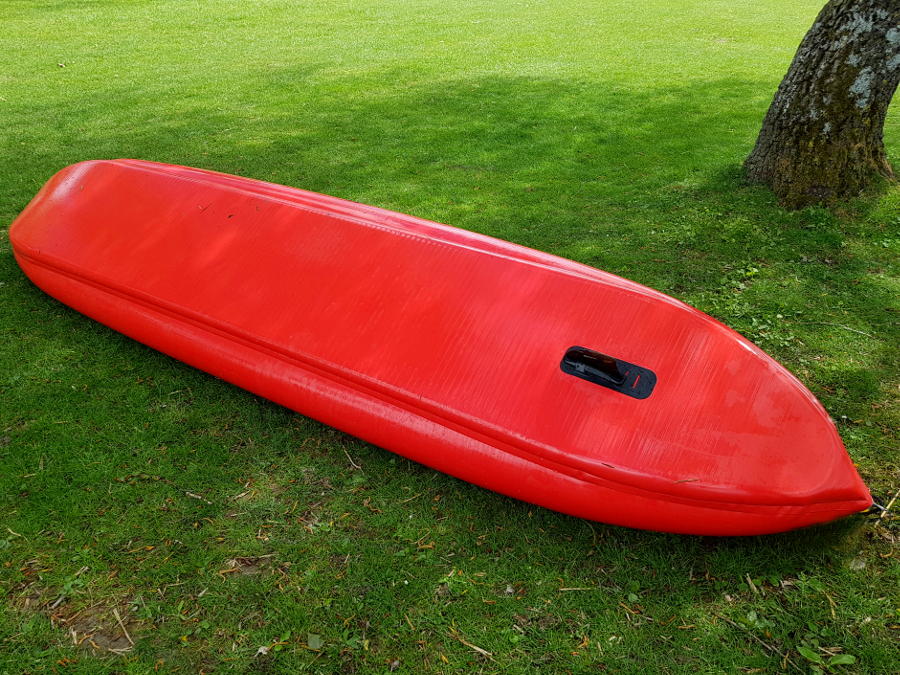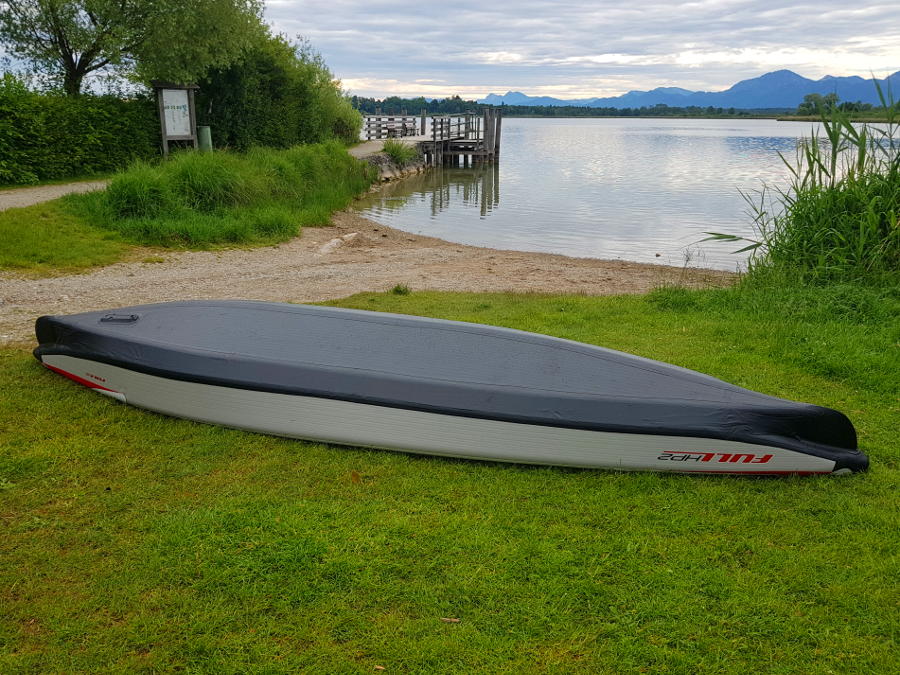 Another look at the interior of the kayak shows also the difference between the different drop-stitch constructions. The drop-stitch floor eliminates the typical I-beam floor of an inflatable kayak. The fixed floor allows you to get in and out of the kayak more comfortably, as the floor does not give way as in traditional inflatable boats. Also, an inflatable kayak with a drop-stitch floor appears higher quality and "cleaner" inside. At first glance, you would think it is a rigid hull kayak.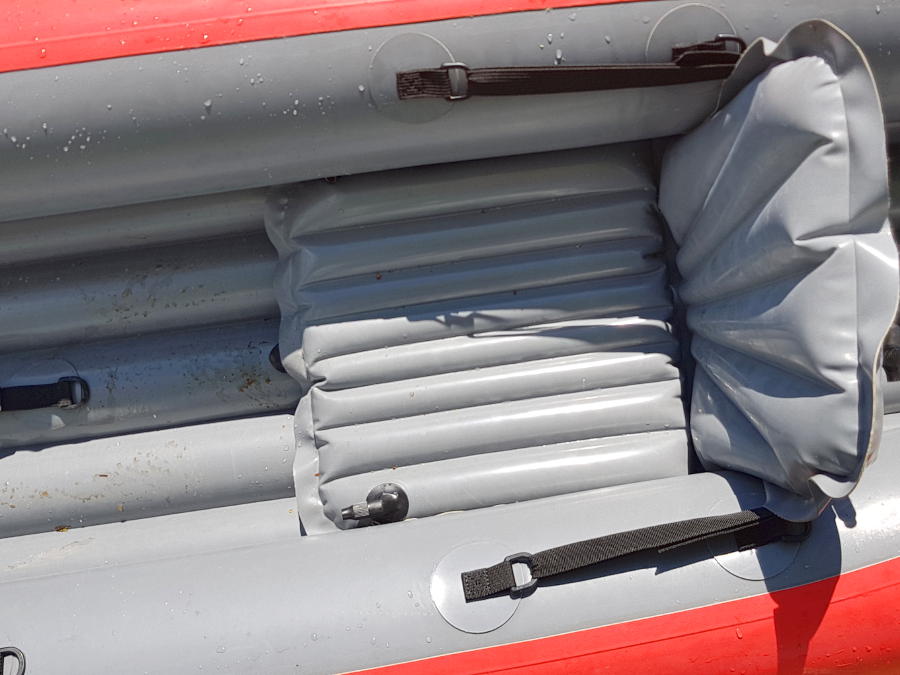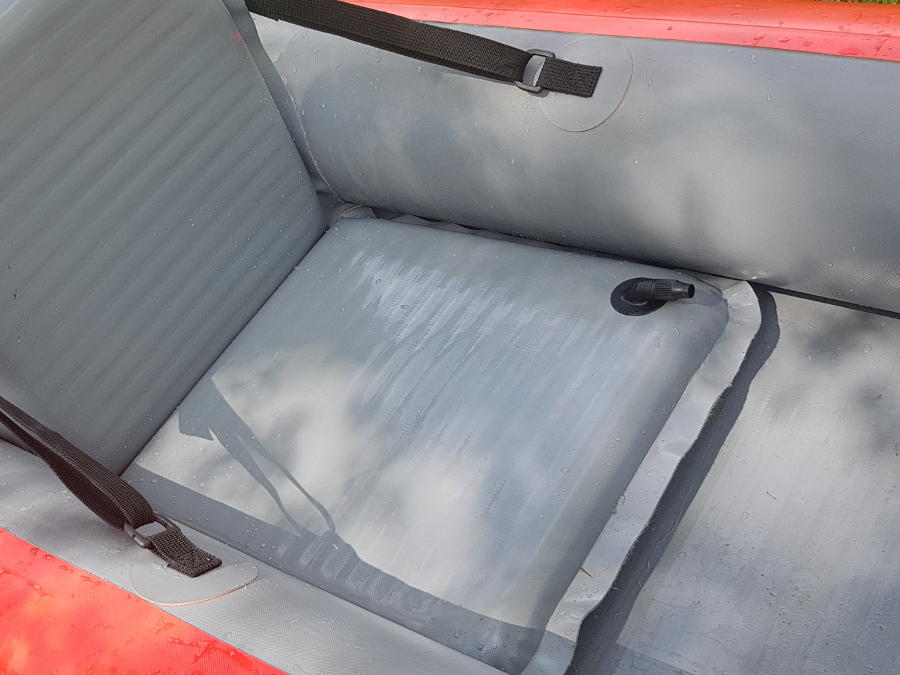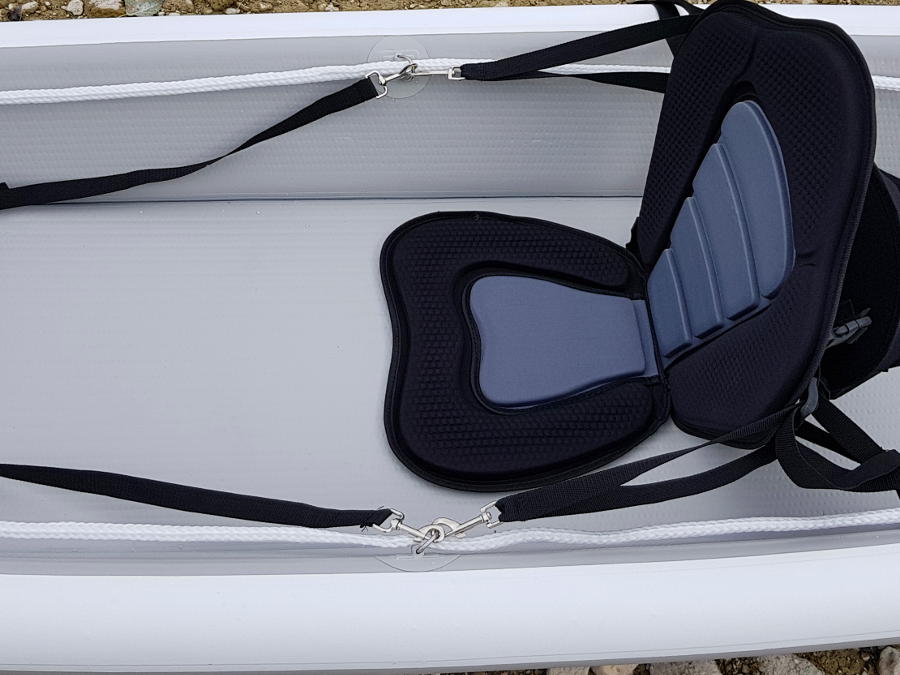 What is is an I-Beam floor?
An I-Beam floor is an air chamber divided into several segments. Any inflatable boat without the use of drop stitch needs such a construction, so that the bottom remains flat during inflation. Otherwise, the air chamber becomes as round as the side tube of the inflatable boat.
Inflatable kayaks with drop-stitch floors and wide side tubes (e.g. Gumotex Thaya, Gumotex Rush, Itiwit x100+, AE AdvancedFrame Convertible Elite, …) are more stable on the water than traditional inflatable kayaks due to the flat and stiff drop-stitch floor. However, the stability depends also on other factors, such as the width of the hull. In addition, if not only the floor but also the side chamber is made of drop-stitch, the side walls are thinner than in traditional inflatable kayaks. Thus, you have more space in the interior. However, with such full drop-stitch kayaks you also have a higher risk of capsizing than with traditional inflatable kayaks, because the side tubes are thinner and the capsize point is reached earlier.
If you paddle in rough conditions (such as whitewater and swells), you will have some disadvantages with a drop-stitch kayak. The majority of drop-stitch kayaks (except Gumotex Rush and Itiwit x500) do not have a canopy. Since a drop-stitch kayak does not have an I-beam bottom, water cannot collect in the grooves of the i-beam floor. The water stands in the boat faster. Also, the kayak floats on the water, and behaves like a board in small waves. The boat rides the waves less smoothly, but really slaps up. Therefore, there are only drop-stitch kayaks up to a maximum whitewater class of 2. Not to mention that drop-stitch kayaks are clearly more complex in terms of construction. Therefore, drop-stitch kayaks (even if they are produced in Asia) are usually more expensive than traditional inflatable kayaks.
Inflatable kayaks with drop-stich floor
In these drop stitch kayaks, the floor consists of a drop stitch chamber and the sidewalls of traditional air chambers. The flat drop-stitch floor and the wide side tubes make the kayaks particularly stable against capsizing. There are kayaks with removable and fixed drop-stitch floor. We want to present in the following some concrete kayaks with drop-stitch floor.
One of the cheapest inflatable kayak with drop-stitch floor is the Itiwit x100+ from Decathlon. The drop-stitch floor is removable, which is inflated to 0.34 bar (5 PSI). The side chambers are inflated to 0.2 bar (3 PSI). It can be paddled as an open 1- or 2-person kayak. It's very stable due to its wide hull and flat drop-stitch floor. In favor of stability, the paddling characteristics are only moderate as a 1-person kayak, and slightly better as a 2-person kayak. It is aimed at beginners who are looking for a portable recreational kayak for short trips on the water. The robustness as well as workmanship and the equipment of the kayak are very good for the price. The Itiwit x100+ is also available as a 3-person kayak: Itiwit x100+ 3-seater.
ITIWIT X100+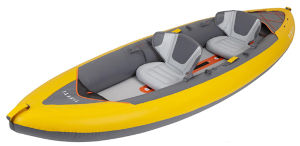 for 2 persons
very stable
great value for price
Sea Eagle 420x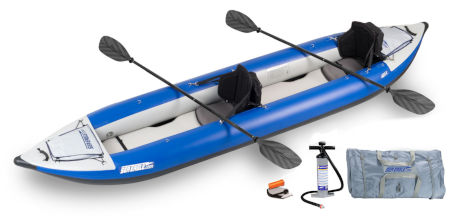 for 2 persons
pump and paddles incl.
comfortable seats
Aquaglide Navarro 110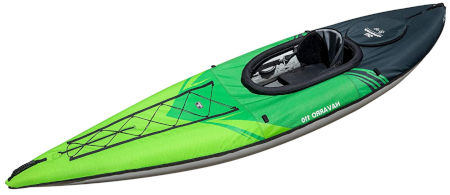 for 1 person
protective deck
good driving characteristics
A big name among inflatable boats is the manufacturer Sea Eagle. They sell their kayaks in set where paddles and the right air pump is already inlcuded. You just need to get some PFDs. Their drop-stitch kayaks are high-quality and that's why they cost a bit more.
A pretty well-known manufcaturer of inflatable kayaks in the US is Aquaglide. They have a wide range of different kayaks and also some drop-stitch kayaks. The Navarro is available as a 1- or 2-person kayak and comes with an integrated cockpit. This is very useful because it protects you from splashing water and waves, so that you get less wet when paddling.
Full drop-stitch kayaks
Inflatable kayaks with a full drop stitch construction have both the floor and the side chambers made of drop stitch material. They are also called full drop stitch or high pressure kayaks. They are significantly less stable than inflatable kayaks with I-Beam or drop-stitch floor only, due to the thin sidewalls.
SEA EAGLE 473RL

for 2 persons
pump and paddles incl.
great driving characteristics
AQUA MARINA TOMAHAWK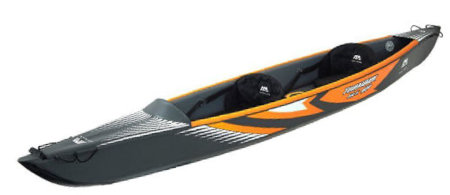 for 2 persons
sportive design
great driving characteristics
ITIWIT X500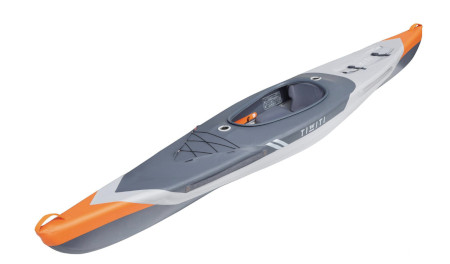 for 1 person
innovative construction
feels like a hardshell
Sea Eagle has also full drop-stitch kayaks where the floor and side chambers are made of drop-stich. The Sea Eagle 473rl is an open kayak, which is even equipped with adjustable footrests. You can get this kayak also as a 1 person kayak.
Aqua Marina is especially very well-known for it's SUP boards but they have also inflatable kayak and the Aqua Marina Tomahawk is their full drop-stich kayak. Regarding design it's pretty similar to the Sea Eagle kayak but it's a bit shorter.
The Itiwit x500 is a development of Decathlon, which is aimed at ambitious paddlers. It is a very narrow cut kayak with a very high air pressure of 0.7 bar (10.2 PSI). This promises good paddling characteristics on the water. Due to the narrow design, it is much less stable than traditional inflatable kayak and less suitable for beginners. In addition, the kayak has a canopy with coaming, so it can be completely closed. Thus, the x500 is also suitable for paddling in the cooler season. The x500 is also available as a 2-person kayak.
In general, the models of the brands are very similar in construction and differ mainly in the technical specification and details (except for the Itiwit x500). Presumably, the kayaks of the different brands come from the same producer Woosung from South Korea. The company produces drop-stitch boats in China with its SelyTech material. Due to the similarity, it is difficult to make a correct selection at first glance. That is why we would like to discuss the differences in general at this point.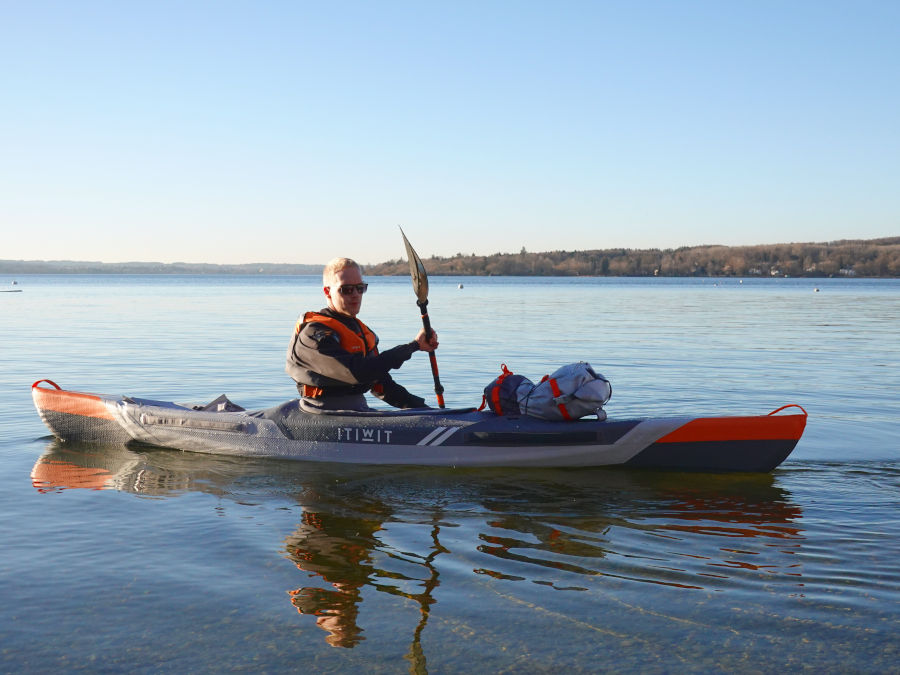 Each brand speaks of a very robust material. The fiber fabric of a full drop stitch material is coated with PVC in almost all models. The single and double coating are the most common, but often not specified by some brands. However, the weight of the kayak gives the first indication. If two kayaks have almost the same dimensions, the kayak with the heavier weight has several coatings.
The weight of a full drop-stitch kayak can therefore vary greatly depending not only on the dimensions, but on how many threads are used inside the chamber and how many PVC layers are used for the outer skin by the manufacturer. A drop-stitch kayak for 2 people can thus weigh between 15 (33 lbs) and 25 kg (55 lbs). The heavier kayak will be more robust, but also heavier to transport.
The air pressure also differs between models. The air pressure determines the stiffness of the floor and side chambers. Air pressures of 0.5 (7.3 PSI) to 1.0 (14.5 PSI) bar are common. Even from 0.5 bar (7.3 PSI), the kayak is very dimensionally stable, so it has a well-formed bottom for solid performance on the water. Some manufacturers additionally provide the kayak with hardshell elements at the bow and stern tip, so that typical V-shape is created and the paddling properties of the kayak are improved even further.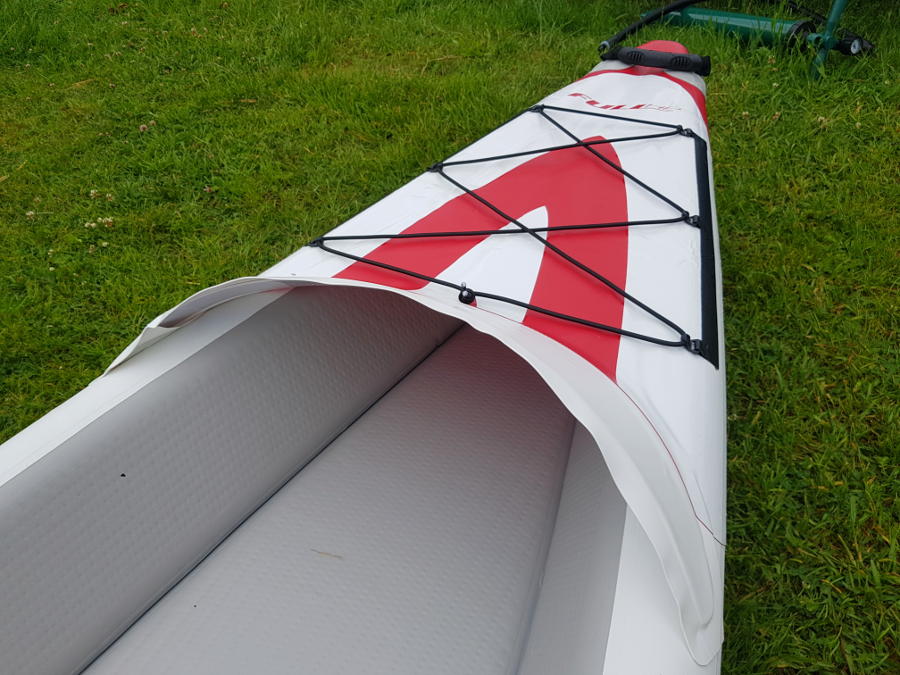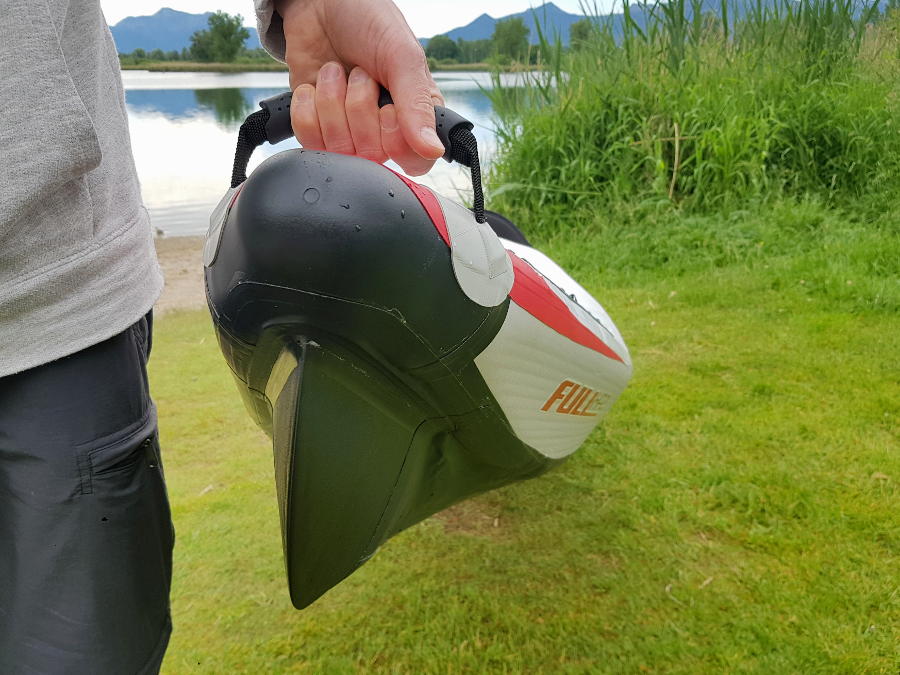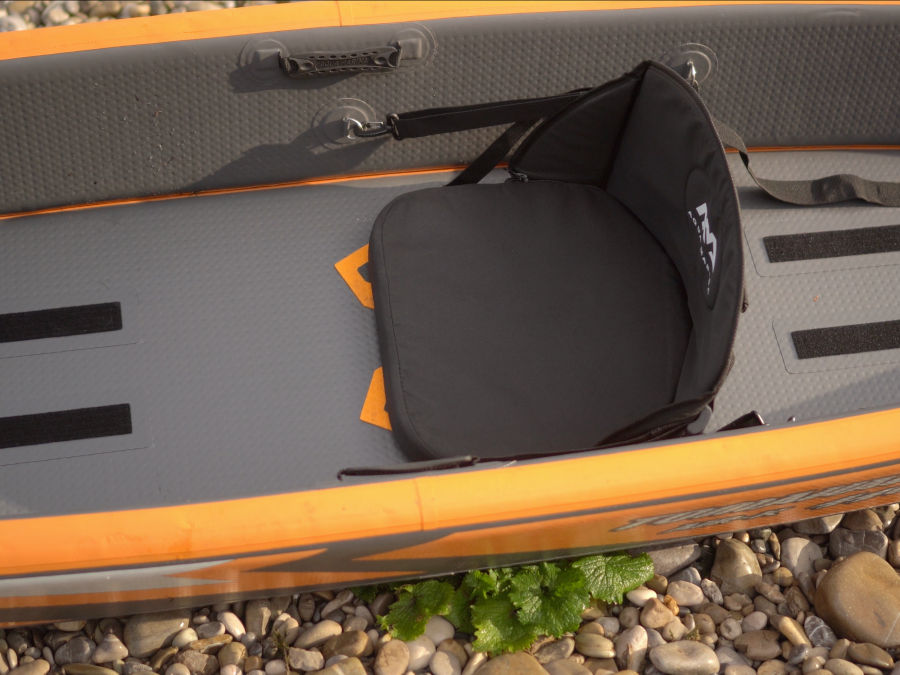 For better straight line stability in deep water, most kayaks can be equipped with one or more skegs, which are included. If you paddle to travel quickly, you should make sure that the chosen model is as long as possible. Most 3-person kayaks, which are particularly long, can also be paddled by two people.
Full splash protection with a canopy is offered only by the Itiwit x500 or the Jaybay.Zone kayaks. The other models are open kayaks and have only small splash guards at the bow and stern. The open design and thin beveled sidewalls allow more splash water to enter the interior than traditional inflatable kayaks. Open full drop-stitch kayaks are therefore mainly intended for lakes, wide and calm rivers, and in nice weather. Thus, the kayaks are less suitable for paddling in rough weather, waves, or whitewater.
In addition, full drop-stitch kayaks differ in terms of features. If you want to have a lot of space in the kayak, your model should have front and rear luggage nets. Then you can attach backpacks or dry bags (up to 40 liters) there. If comfort is important to you, you should pay attention to the seats. Seats with high backrests and high seat cushions are comfortable. A high seat cushion also prevents you from sitting in the wet immediately if water gets into the boat.
Hybrid kayaks with drop-stitch
In addition, there are hybrid inflatable kayaks with drop-stitch floor or side chambers. These kayaks consist of a construction of a frame (folding kayak) and air chambers. In the process, the frame forms a shape of the kayak. In our opinion, these kayaks offer really good paddling characteristics.
Advanced Elements offers an inflatable kayak with removable drop stitch floor. The drop-stitch floor is inflated to 0.41 bar (5.9 PSI) and the side chambers to 0.14 bar (2 PSI). In addition, the AdvancedFrame kayaks are equipped with aluminum ribs in the bow and stern,. This gives the inflatable kayak a more defined keel and the bow cuts the water better. We find the paddling performance of the AdvancedFrame Convertible Elite (2-person kayak) really good. With a length of 460 cm (15'1"), it is one of the fastest air kayaks that we have paddled so far, and also convinces with a very good straight line stability. The boat skin is also robust and the workmanship of the boat solid. Disadvantage is the long drying time because of the nylon material and the high weight of 23.5 kg (51.8 lbs) for a 2-person kayak.
AE ADVANCEDFRAME CONVERTIBLE ELITE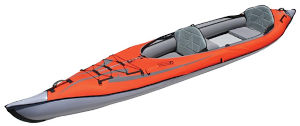 for 1 or 2 persons
very stable and fast
highly configurable
AE AIRFUSION EVO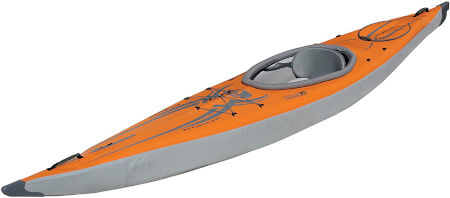 for 1 person
integrated deck
great driving characteristics
The AdvancedFrame is available as a 1- and 2-person kayak. The 2-person version can be paddled very well solo or tandem. The AdvancedFrame can be optionally equipped with a canopy and rudder.
Advanced Elements AirFusion EVO is one of the latest models from the manufacturer. With a width of 61 cm (2′), it is the narrowest inflatable kayak we know. The side chambers are made of drop stitch and are inflated to 0.41 bar (5.9 PSI). The kayak has no air chamber in the bottom, but a keel rod. The drop-stitch seat is mounted on the keel rod, so you can sit comfortably in the kayak without feeling the keel rod.
The AdvancedFrame is available as a 1- and 2-person kayak. The 2-person version can be paddled very well solo or tandem. The AdvancedFrame can be optionally equipped with a canopy and rudder.
The nortik Scubi 2 XL consists of two side air chambers that can be inflated to 0.35 bar (5 PSI). The Scubi 2 XL has not only a keel rod, but consists of a frame, a keel rod with stern (stern and bow rod) and transverse ribs that span the bottom widthwise.
The kayak can also be equipped with an optional drop-stitch floor, which has an air pressure of 0.7 bar (10 PSI). The floor gives a firm bottom and, according to the manufacturer, should result in even better riding characteristics.