Kayaking is quite popular in the USA. Americans are not only drawn to the lakes and rivers of the country's beautiful national parks, but urban paddling in the big cities is also very trendy in many parts of the country. The last time we were in San Francisco during a vacation in the USA, we took advantage of the good weather to get to know San Francisco a little better as a paddling destination. In this tour report you will learn everything about our little tour in Richardson Bay and other tips for tours in and around San Francisco.
Key facts about the paddling tour
Traffic noise
no traffic noise
Landscape
houseboats, sea lions, sea birds
Kayaking in San Francisco
San Francisco has a special charm thanks to its location on the coast, the sunny weather and of course the world famous Golden Gate Bridge. Many people dream of paddling with a kayak under the Golden Gate Bridge. But you should not be too hasty, because the waves and especially the currents in the area around the Golden Gate Bridge can quickly be a danger for inexperienced paddlers.
Therefore, it is not surprising that you will see almost no kayak or canoe during your walk over the Golden Gate Bridge. In San Francisco, the wind often whips directly from the sea, making the waters along the coast seem very rough. Nevertheless, if you want to take a kayak tour to the Golden Gate Bridge when conditions are good, you should join a guided tour. Sea Trek Kayak is a local kayak rental company that offers such tours on a regular basis.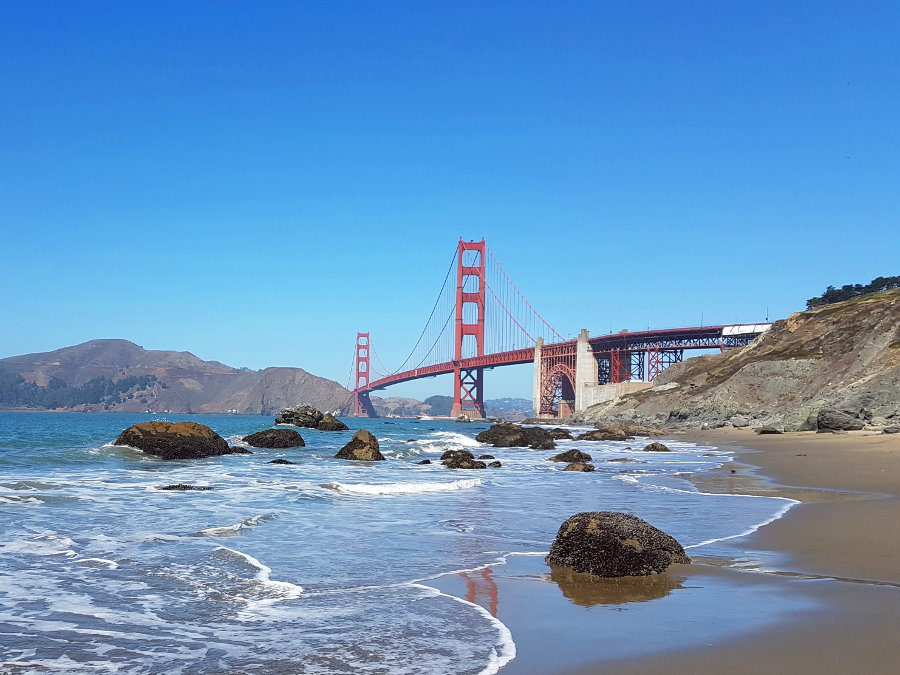 We rented a kayak from Sea Trek and explored part of Richardson Bay on our own. This very beautiful bay is well protected and the paddling conditions are actually very good most days. If you prefer to paddle close to the San Francisco skyline, you should rent a boat from the City Kayak rental station. In the end, it's a decision between a tour with skyline views or a tour with a focus on a bay full of sea lions, water birds and stylish houseboats.
When planning your trip, you should consider that it is considerably more expensive to rent a kayak in the USA than in Europe for example. For a single kayak you pay $30 per hours, for a double kayak $50 per hour. If you want to do a lot of paddling on your USA trip, you might be better off with your own inflatable kayak. If you don't want to carry that much luggage because you don't have a car, you might want to take a look at the ultra-light and compact packrafts that are also very popular in urban paddling.
Our Richardson Bay paddling tour
The rental station is located directly in Richardson Bay and is easily accessible both by car and by bus. The staff there also gives very good tips on where exactly to paddle, for example to see sea lions, water birds or to go through a small area with houseboats. Besides recreational kayaks, there are also sports kayaks and SUP board for rent.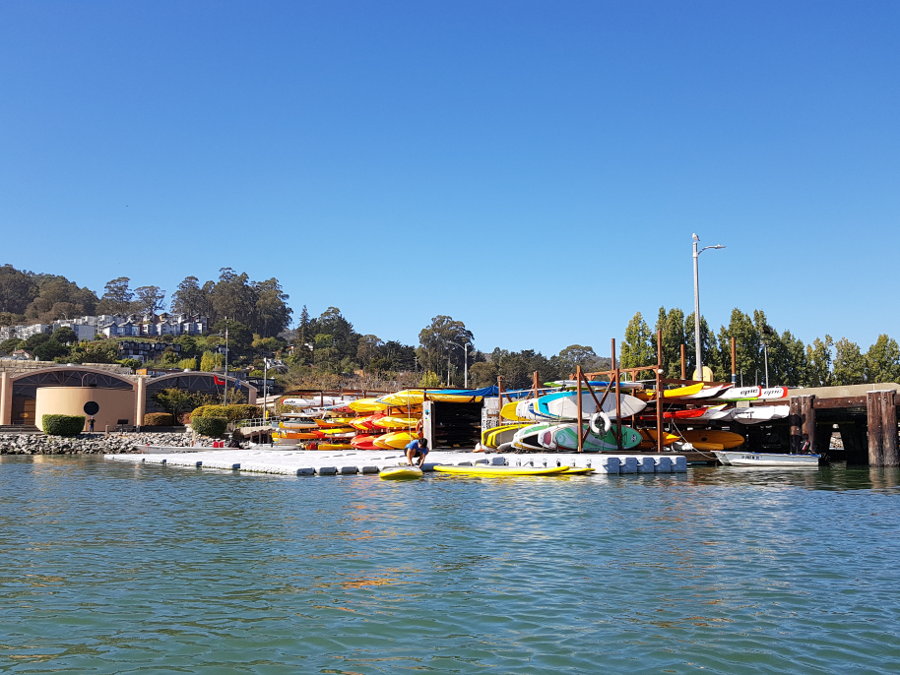 These suggestions we have also oriented for our tour. The tour is ideal for those who only want to make a small morning trip on the water. With 2 hours you are comfortably on the way and discover sides of San Fancisco that most tourists do not see.
Already when leaving the rental station, the bay conveys an incredible tranquility far away from the noise of the big city. This is really a good change from sightseeing in San Francisco. The shores are lined with numerous docks for sailboats and motorboats.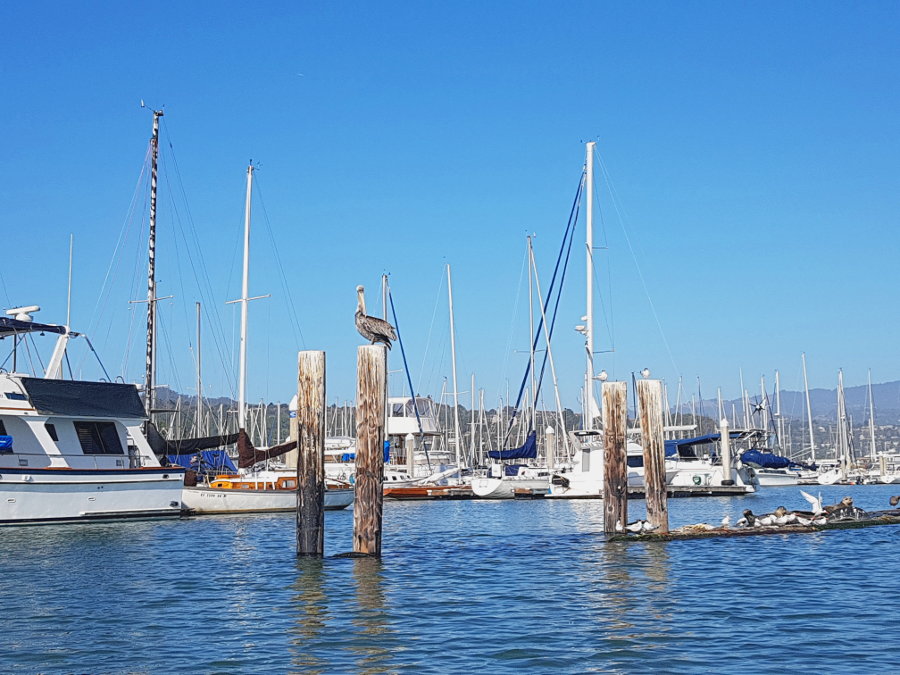 Once you are in the middle of the bay by boat, you have a great view of the surrounding landscape. Richardson Bay covers an area 5 km (3.1 miles) long and 3 km (1.9 miles) wide. Although the shore is heavily developed with docks for boats and houseboats, the surrounding land areas are still an important breeding and migratory area for water and shore birds. For this reason, the bay is also classified as an Important Bird Area.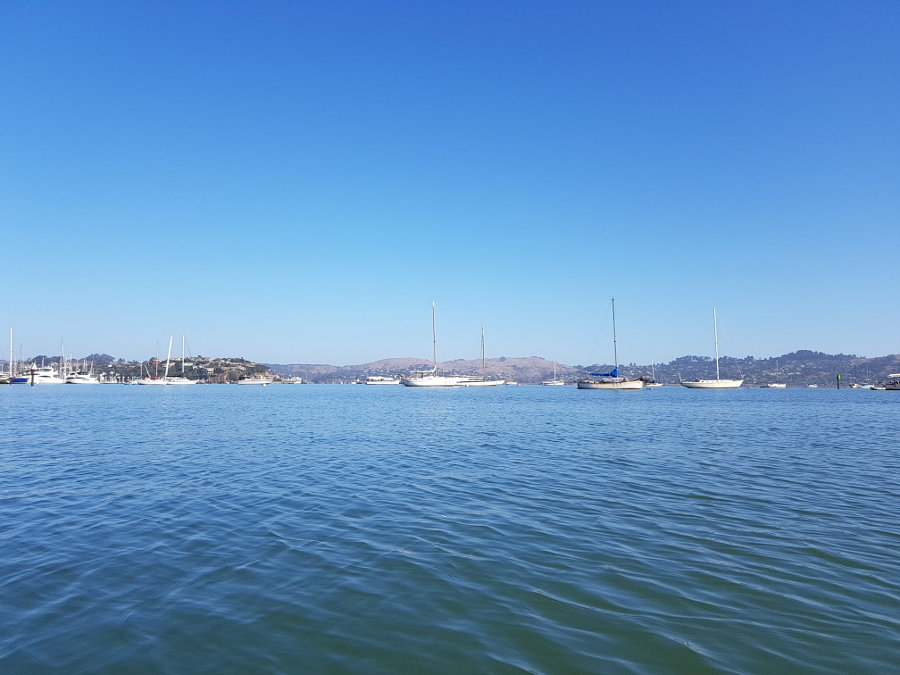 While paddling, you notice that this is a popular area for birds. Everywhere you look, you see different species. Equally noticeable is the presence of sea lions, which can be seen either in the water or sunning themselves on the shore. In general, sea lions are very peaceful animals, but nevertheless you should keep enough distance to them so that they do not feel threatened by the kayak.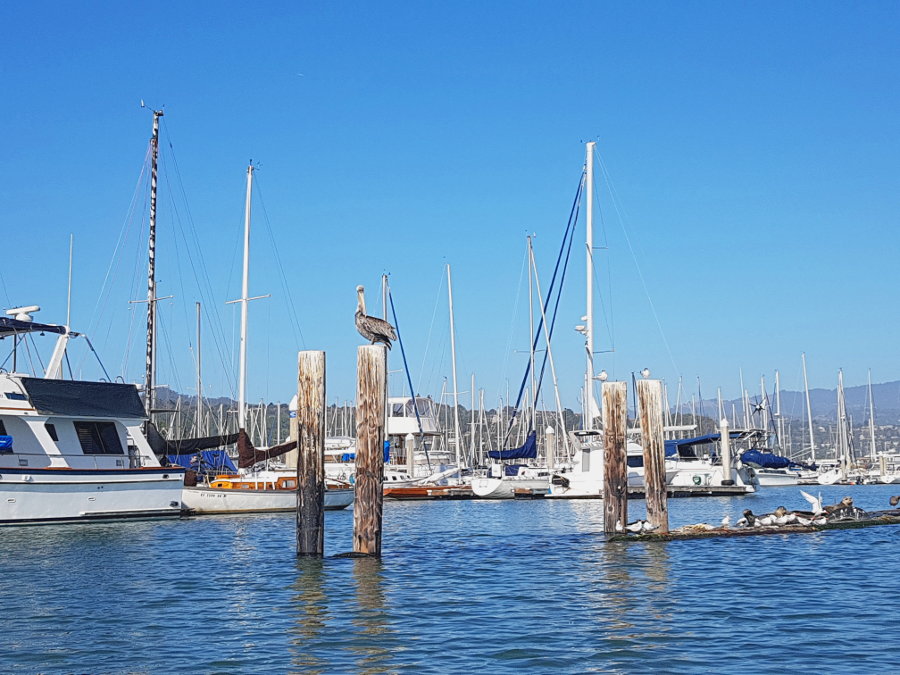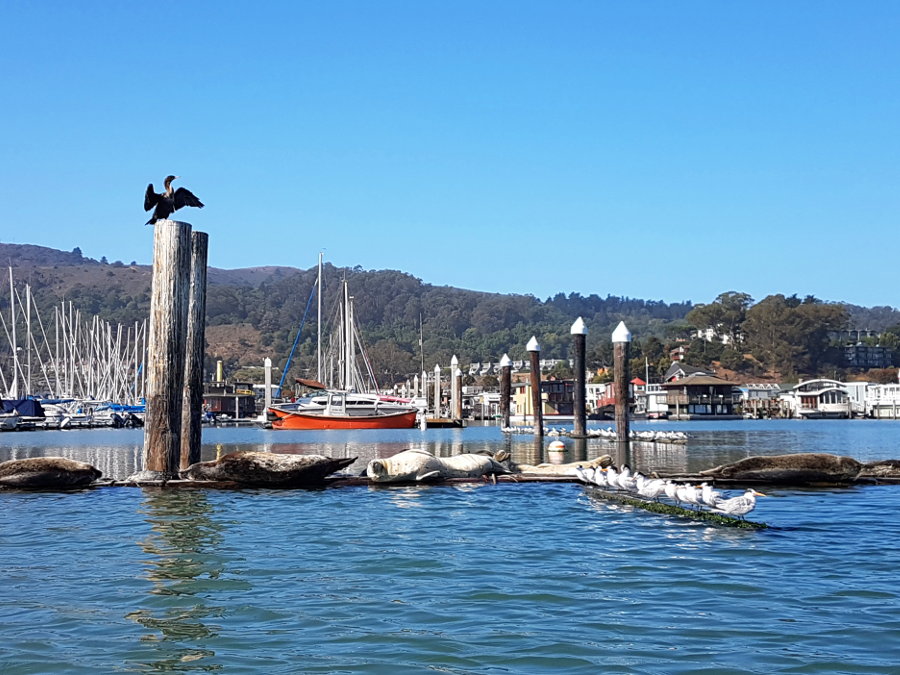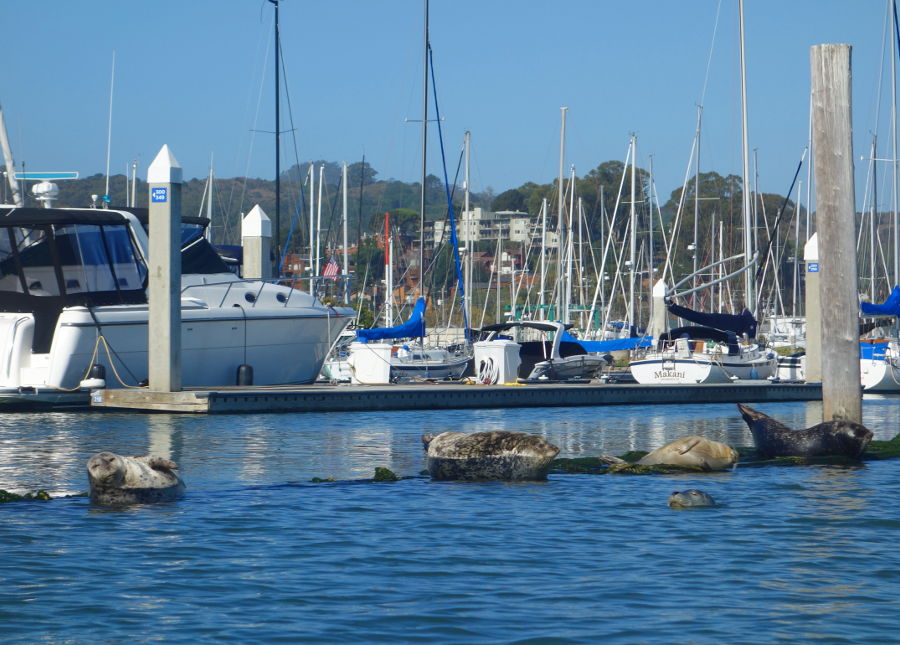 After a short time you can also see a houseboat district. Many of them give the impression that it is rather a villa on the water than a small houseboat. You should definitely turn in the small "alleys" and go on a discovery tour.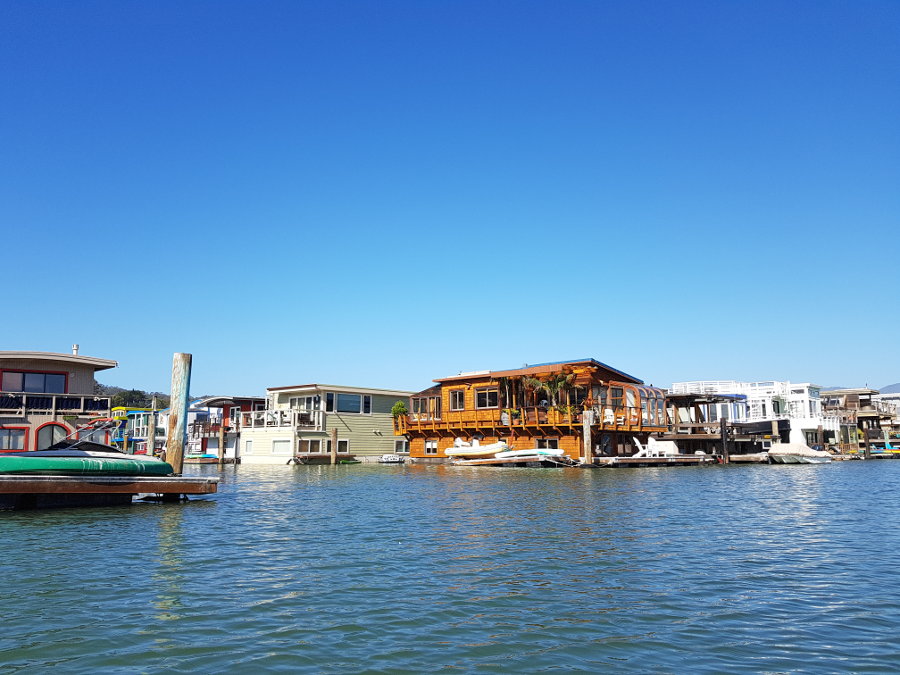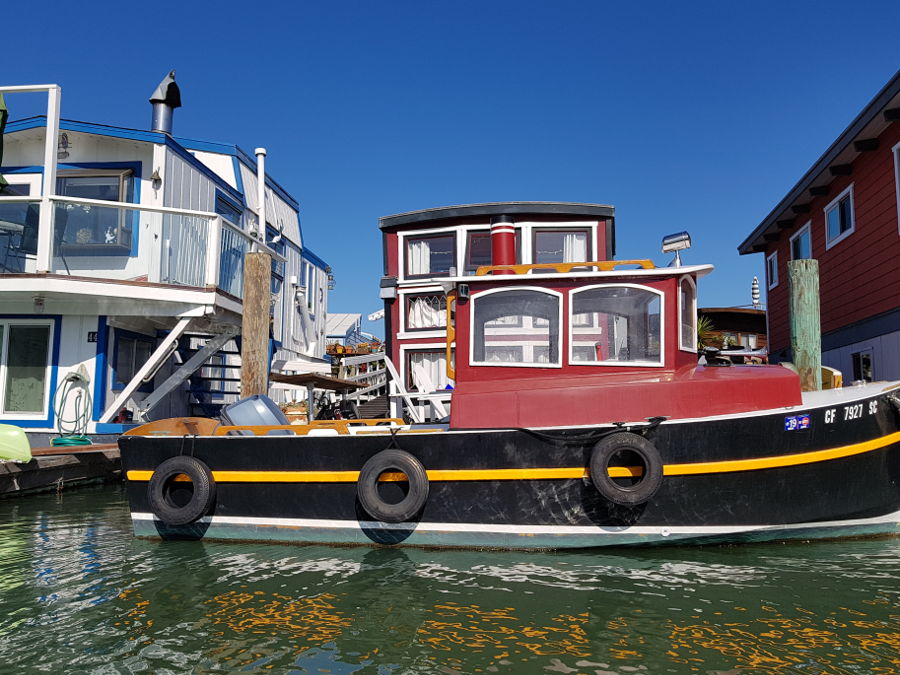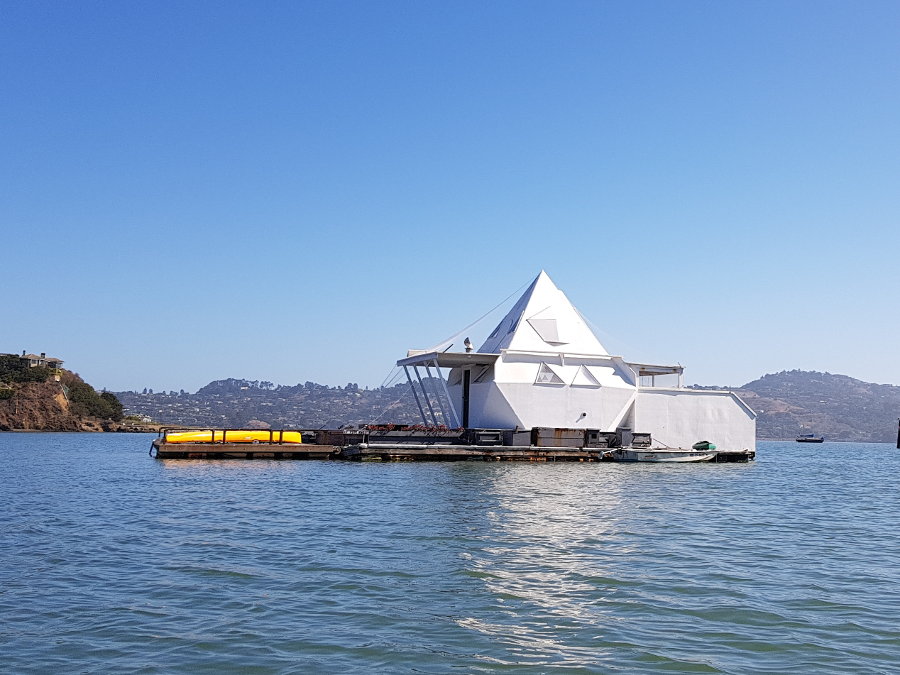 For the way back to the kayak rental we took the same route as for the outward tour. If you have more time, you can extend the tour and discover other corners of Richardson Bay. For kayak fanatics it would also be an interesting idea to rent a kayak in the afternoon at the downtown harbor and explore the city again from a different perspective. Unfortunately, on the day we paddled, this rental station was closed.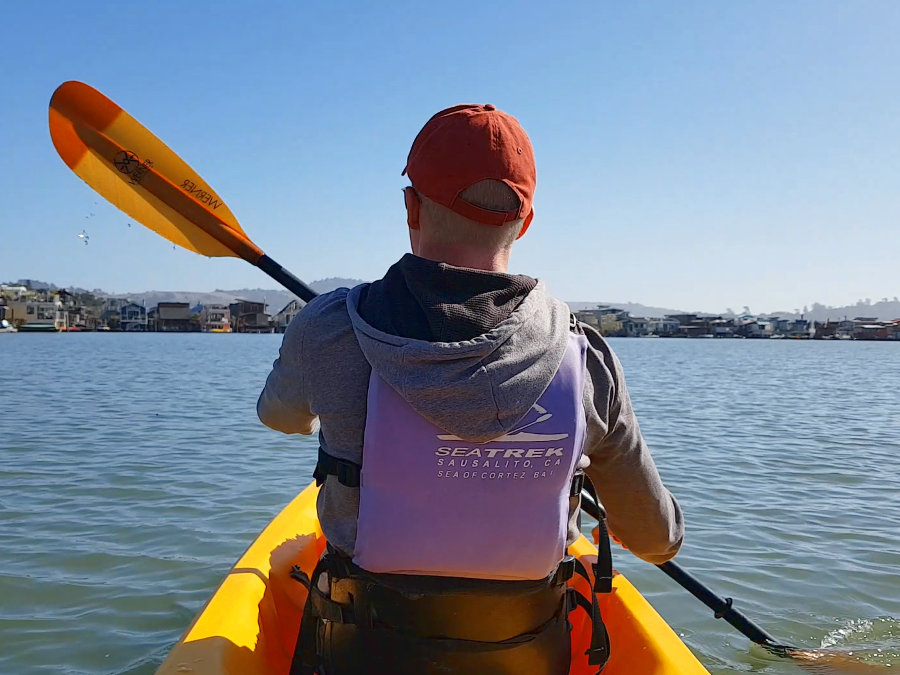 Overall, we liked the tour very much. Within a short time we saw numerous animals and got to know an interesting side of the city with the houseboats. Especially the peace from the big city bustle has done us good.
Other activities in and around San Francisco
If you come to Richardson Bay for paddling, you will also want to discover San Francisco and its surroundings. Here we have listed 3 activities that you should not miss.
Sightseeing in San Francisco
Sightseeing tips for San Francisco are a dime a dozen. We especially liked the beach at the Golden Gate Bridge to relax. We would have loved to go to Alcatraz, but you have to book your tickets at least a week in advance. Our favorite restaurant was Tommy's Joynt, which offers hearty food at fair prices in a cozy atmosphere.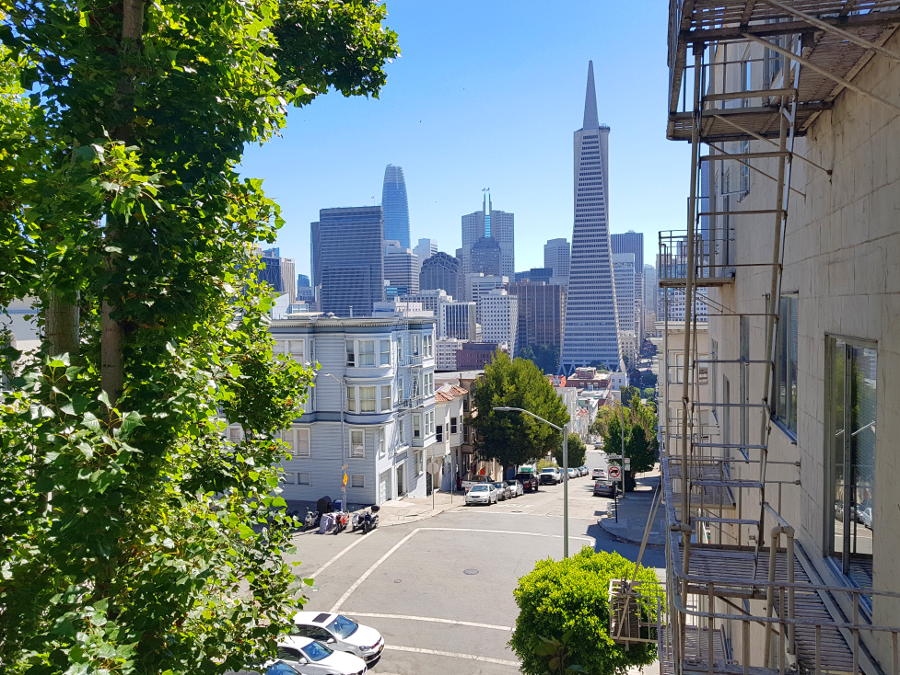 Redwood Nationalpark
Our nature highlight in California was the Redwood National Park. With its gigantic redwood trees, it invites you to hikes where you can't get out of your amazement. The trees here are among the oldest and tallest in the world. By the way, a part of Jurassic Park was filmed in Fern Canyon.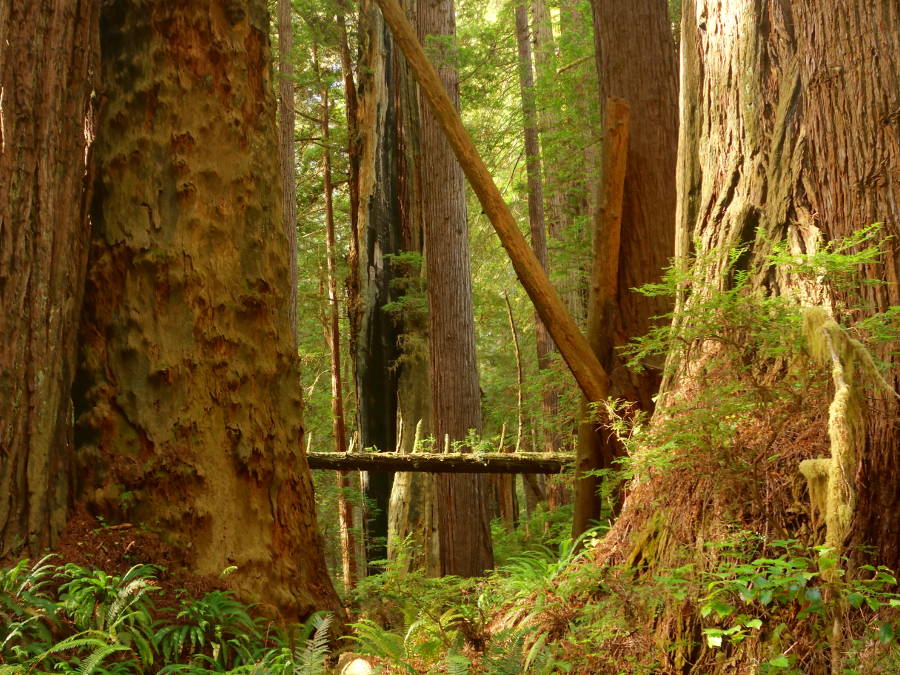 Yosemite Nationalpark
Yosemite National Park is considered one of the most popular parks among Americans. Especially for mountaineers it is a paradise. But also for hikers it offers endless possibilities. In spring and early summer hikes to one of the numerous waterfalls are worthwhile. The starting point is often Yosemite Valley, which can also be easily explored by bike.