The idea of foldable kayaks is anything but new. Folding kayaks have been in use for a long time. That's why this concept of the kayak type is also very mature. Today, manufacturers of folding boats convince mainly with the use of new materials and better construction methods.
What is a folding kayak?
The history of folding kayaks goes back long time ago. The concept of a skin-on-frame kayak is actually based on the inuit kayak. At that time the boat skin was made of animal skin stretched over frames made from wood or bones.
So, a folding kayak follows the concept of having a frame that is covered by the boat skin. On the internet there are many websites that don't differentiate between folding and inflatable kayaks. They often call inflatable kayaks folding kayaks as well because when they are deflated you fold them up for transportation and storage. However, this is wrong. The shape of a folding kayak comes from the frame. In contrast, the shape of an inflatable kayak is formed by the inflated air chambers. That's something to keep in mind because these two different concepts bring advantages and disadvantages where we talk later about. And in order to be complete, we also have to mention that there are hybrid kayaks, which are a combine elements of an inflatable and folding kayak. And it won't stop there because innovative manufacturers have introduced the concept of origami kayaks. But we discuss these kind of kayaks later in this article in detail.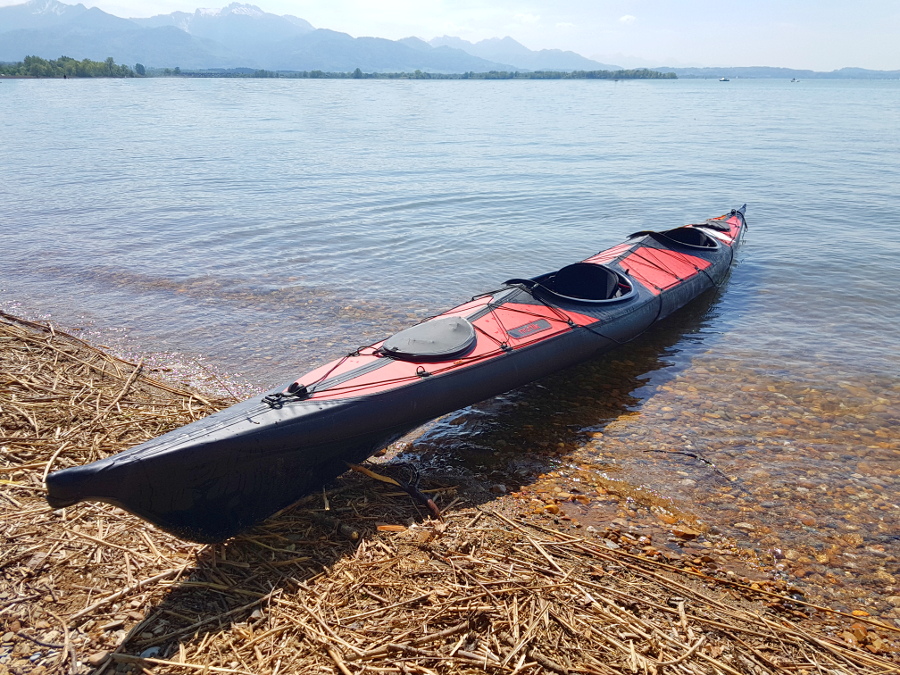 Today, the frame of folding kayaks can be still made of wood. However, a wood frame is pretty heavy and that's you mostly find frames made of aluminium and plastic. For the boat skin tough fabrics with a waterproof coating are used. And all folding kayaks follow today the same goal to provide paddlers a kayak that is easy to transport and that performs like a hardshell kayak on the water.
The different types of folding kayaks
Nowadays manufacturers follow different designs and concepts. We would classify them in three categories: 1. traditional folding kayaks that follow the concept of skin-on-frame kayaks, 2. hybrid kayaks that are mix of traditional skin-on-frame and inflatable kayaks and 3. origami kayaks come without any frame but only with a plate, which folded to a kayak. Each type comes with its advantages and disadvantages.
Traditional folding kayaks (skin-on-frame kayaks)
Traditional folding kayaks have a long tradition. The modern type has been invented in Germany. In 1897, architecture student Alfred Heurich built a folding kayak from bamboo poles and sailcloth, which he later replaced with ash wood and canvas. He sold the idea a little later in 1907 to the sporting goods dealer Johannes Klepper, who sent the folding kayak into mass production. In doing so, he laid the foundation for the success of the folding boat for the masses.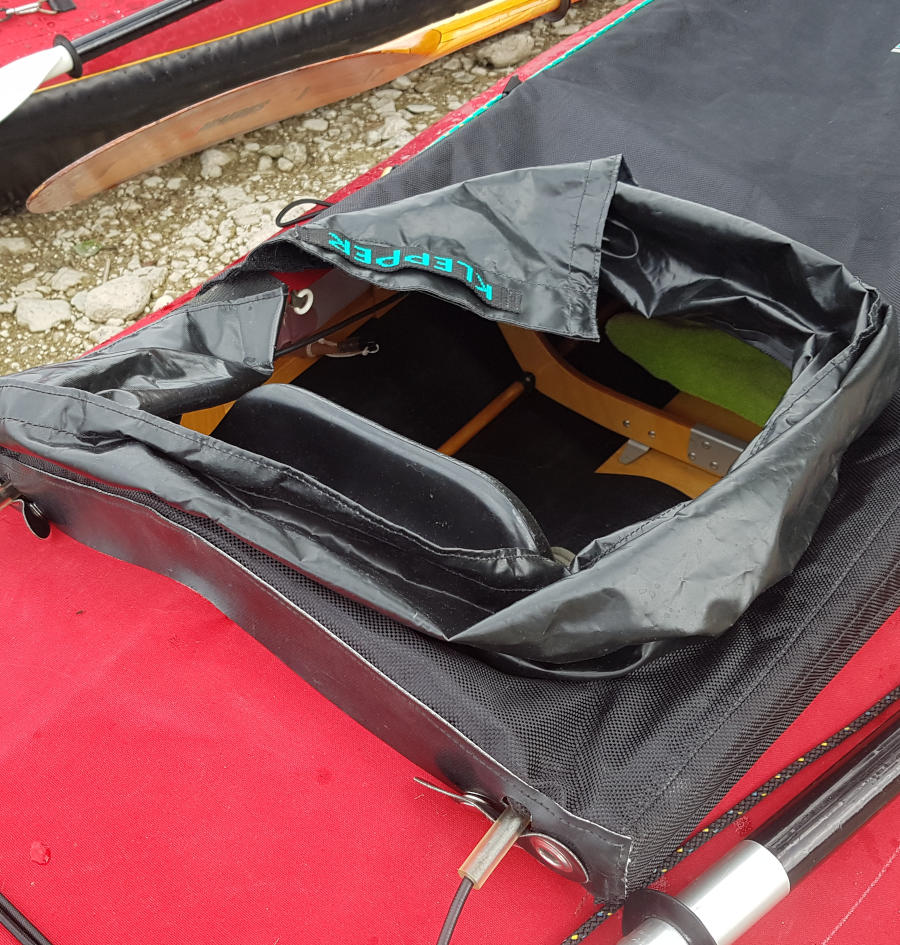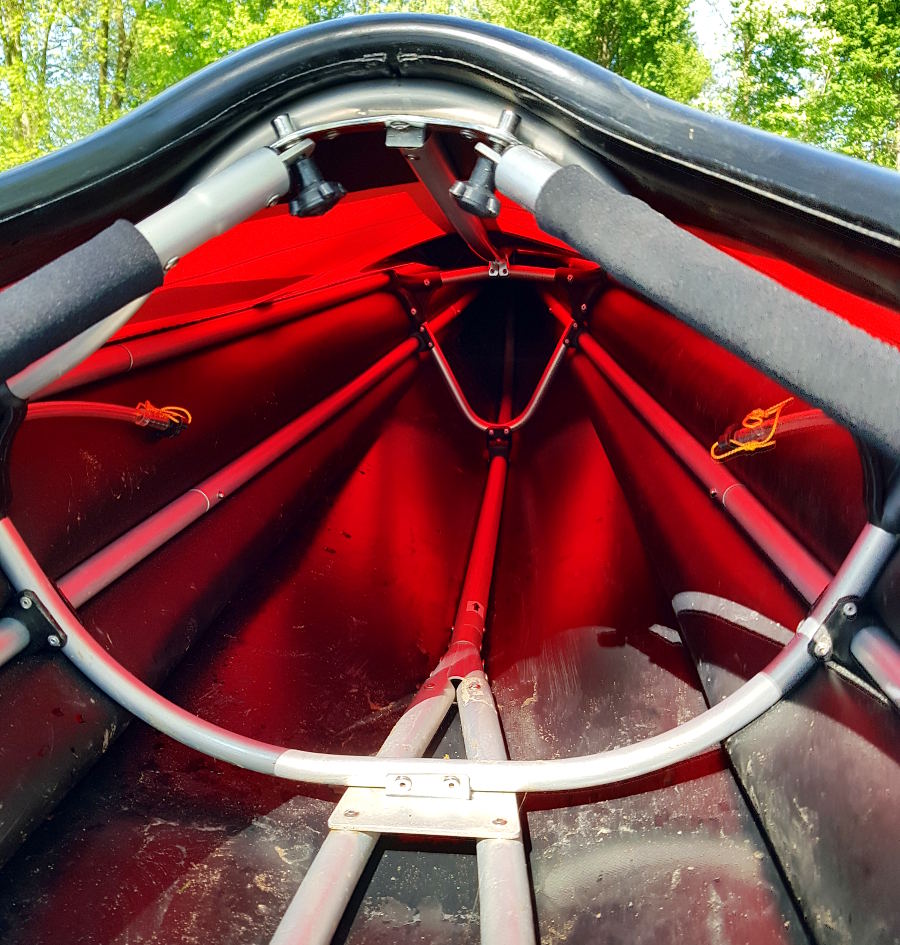 Today, the company Klepper still exists and sells mainly its boats in the german market. However, their website is also available in English and they do ship their boats internationally. Kayaks from Klepper are still pretty heavy because the frame is still made from wood. However, the boat skin is made of robust TPU material. The production has been moved a few years ago from Germany to Poland. Prices for their kayaks start from 3.500€.
Another manufacturer with a very long tradition in building folding kayak is the French company Nautiraid. They make folding kayaks for over 70 years and similar to Klepper they have boats with wooden frames but also with aluminium frame. Nautiraid has a very good reputation in terms of quality and workmanship. The foldable kayaks start from around 2.000€.
Another brand, which sells its foldable kayak especially in Europe is nortik. They have also a website in English where you can directly order your boat. The boats are made in Russia where they collaborate with an experienced manufacturer of folding kayaks. They offer some very interesting models for expedition paddlers and prices are starting from 2.500€. The frame of the kayaks are made of aluminium to reduce weight. We have paddled already some models from that brand and can really recommend their kayaks.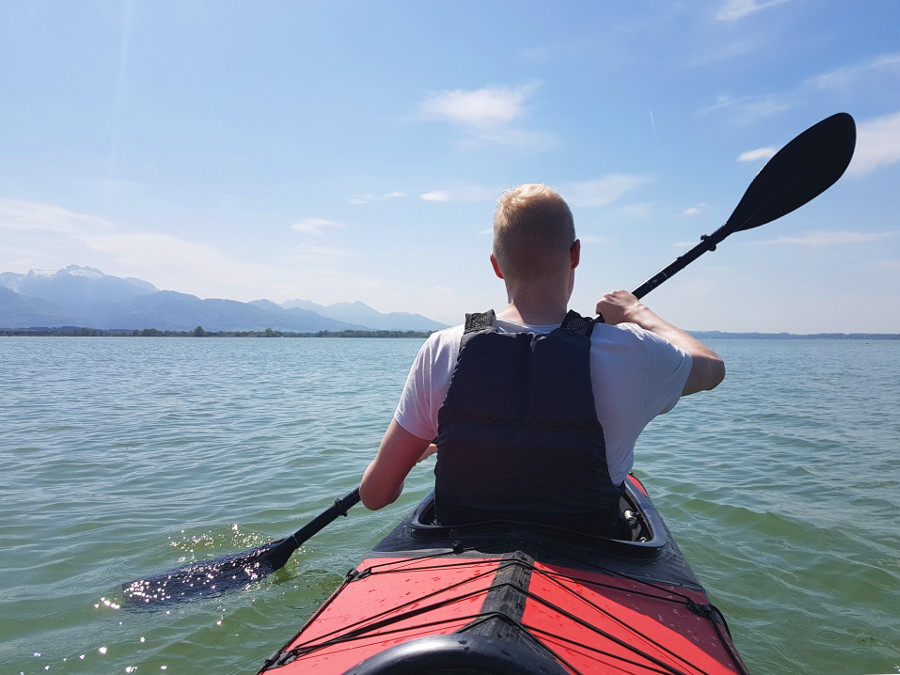 Folding kayaks are quite popular especially in Europe and that's why you find here a few more manufacturers than anywhere else. However, there is also a Canadian brand that started in 2006 to build folding kayaks. They claim to make the best touring kayaks and attracted some attentions with their kayak over the last years especially in the online community. It is designed for performance as well as for great transportability. It weights about 19 kg (42 lbs) and with the included transport bag it comes up to 24 kg (53 lbs). This is pretty light for such a folding touring kayak. The kayaks are made in the Philippines, start around 3.600$ and they ship their boat worldwide.
Traditional folding kayaks are the right choice for people who paddle very regularly and don't wont to make a compromise on driving characteristics and performance on the water. Most of them are touring kayaks that are perfect for long distance paddling tours. Beginners and leisurely paddlers can buy such a kayak as well if they are looking for a really portable kayak that also performs very well on the water. But most of the time there are better off with another kayak type, especially with an inflatable kayak. Traditional folding kayaks are pretty expensive and the assembly requires some time and force. For a short afternoon paddling tour you won't be happy to spend half a hour for assembling your boat.
Hybrid kayaks
Hybrid kayaks try to reduce the disadvantages of traditional folding kayaks: the long assembly time. Because putting a frame together and stretching a boat skin require especially in the beginning some exercise and a lot of time. You have to like assembling your boat every time you get on the water, otherwise you will quickly end in frustration.
That's where hybrid kayaks come into play. Manufacturers of those folding kayaks have reduced the frame components to a minimum and use air chambers on the side instead. So, they are a combination of folding and inflatable kayak at the same time.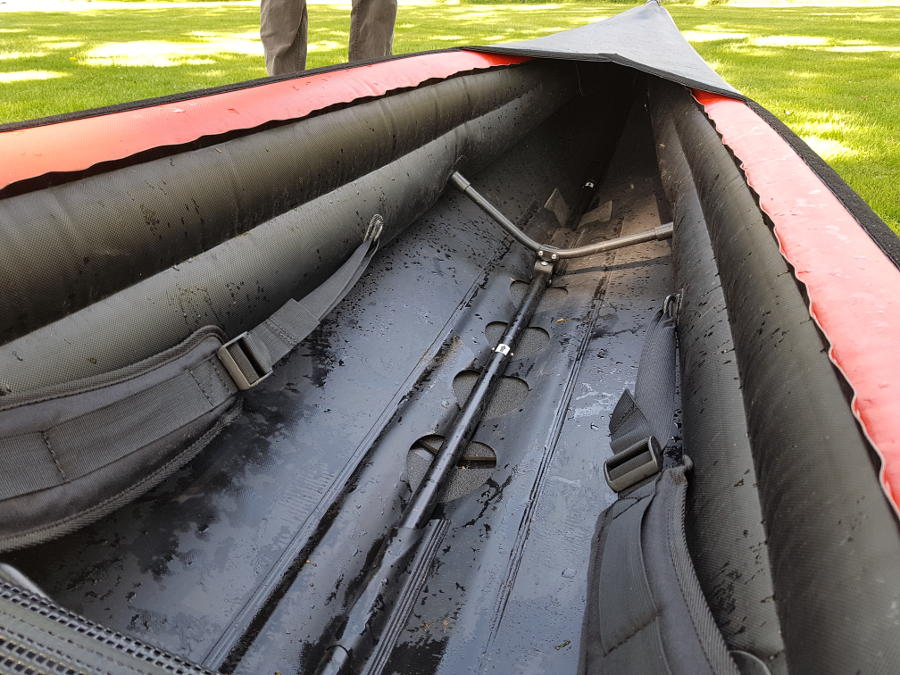 The most popular brand of these kind of hybrid kayaks is Advanced Elementes from the US. They really reduced the frame to a minimum. The AdvancedFrame kayaks have only built-in aluminum ribs in the bow and stern, which is supposed to slices through water like a knife and rivals the trackability of hard-shell kayaks. Anything else are inflatable air chambers. For the bottom, there is also a backbone (bow-to-stern frame to improve rigidity and thus performance) available, which can be seen as an additional frame element. However, they also offer a drop-stitch floor, which does the same job in terms of rigidity.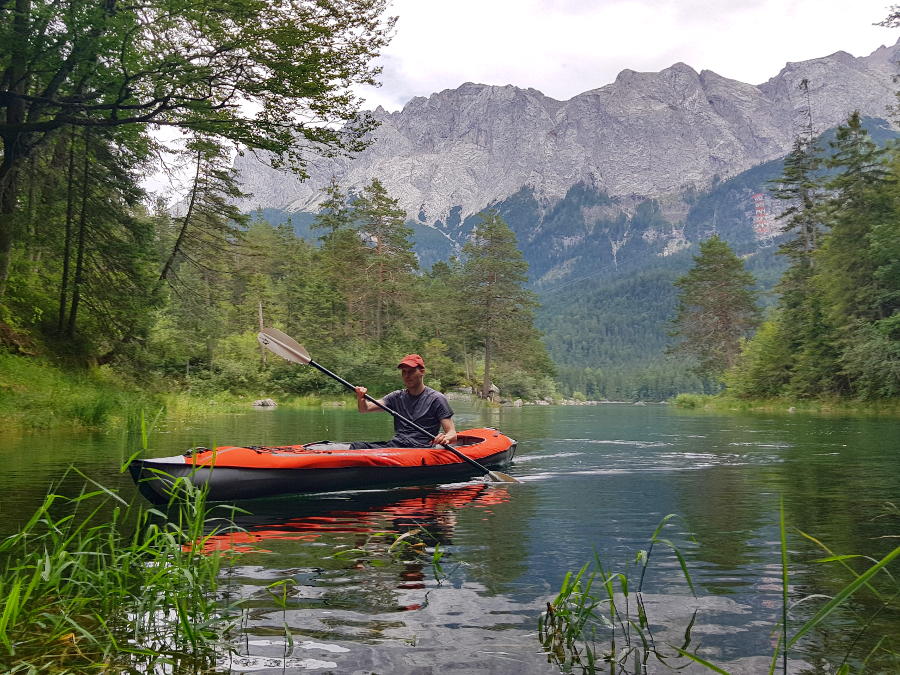 Because of the few frame elements the kayaks are considered rather as inflatable kayaks than folding or hybrid kayaks. We have already paddled the Advanced Elements AdvancedFrame 1 person kayak and the AdvancedFrame Convertible Elite where you can read the review on our site. They value for money of these kayaks are pretty good.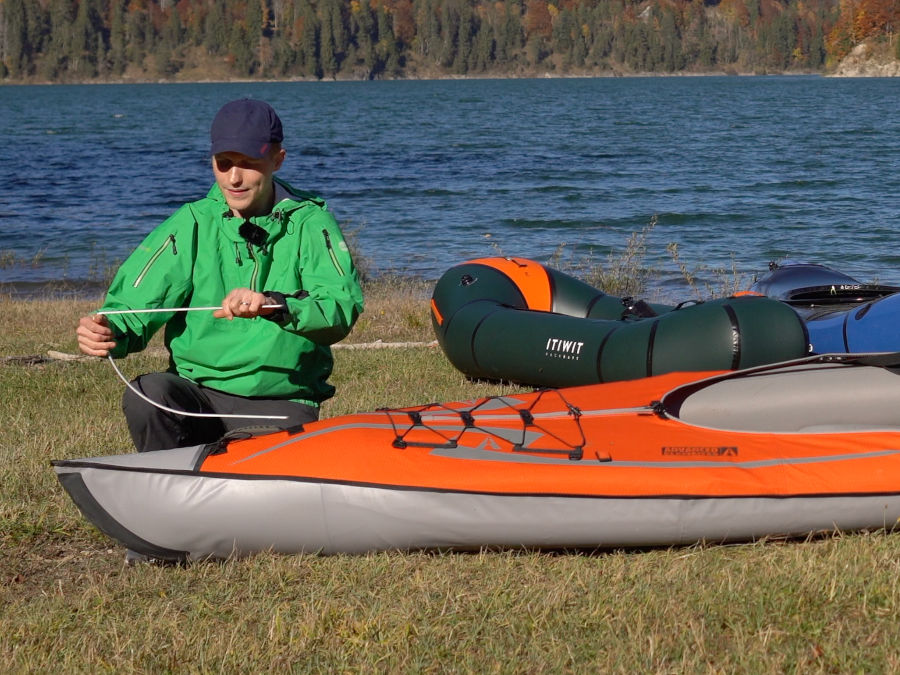 The german brand nortik also offers hybrid kayaks and they are pretty popular in Germany and some other European countries. They have more frame elements than the kayaks from Advanced Elements and thus it takes a little bit more time to assemble the kayak. However, the assemble time and effort is still good compared to. traditional folding kayaks. Many folding kayaks are pretty heavy but the hybrid models from nortik are really light. The popular nortik scubi 1 XL weights only 14 kg (31 lbs).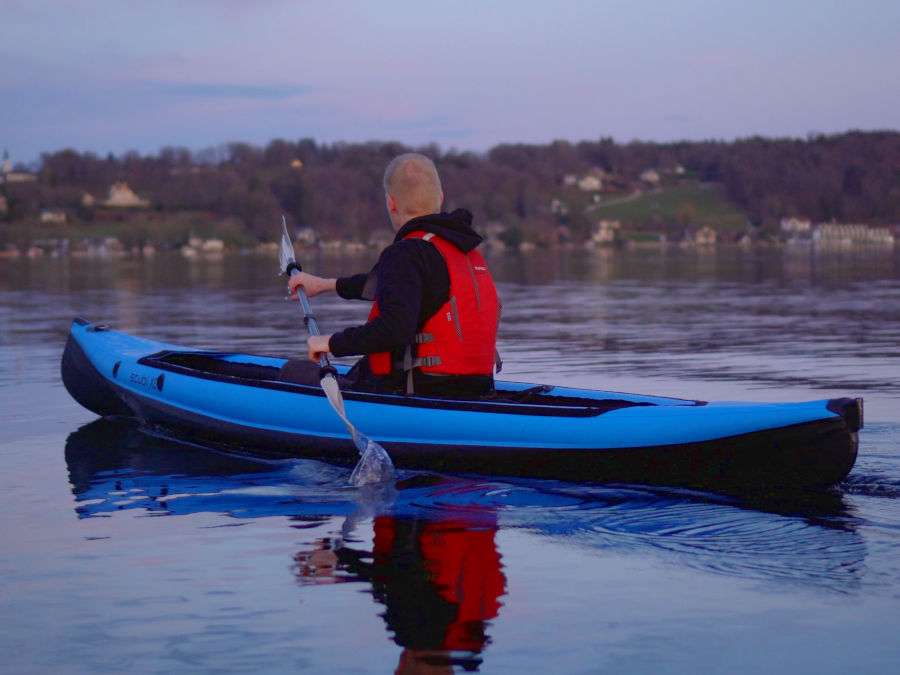 Hybrid kayaks solve the issue that many people have with traditional folding kayaks: the long time and effort you need to assemble that type of kayak. Hybrid kayaks are much easier and faster to assemble and are an interesting option for people that are looking for a good performing recreational as well as for an expedition kayak.
Many hybrid kayaks are also much less expensive than traditional folding kayaks and are consequently also a good option for paddling beginners that want to get into the paddling sports seriously.
Origami kayaks
Origami kayaks are actually kayaks folded from paper, because the term origami refers to the art of folding paper. It is precisely this art of folding that some manufacturers take advantage of. The idea is to make a boat from one element by folding it into the hull of a kayak.
Origami kayaks are considered the innovation among folding kayaks in recent years. Thanks to the pre-folded plate, such kayaks are very quickly assembled and ready for use. Due to the possibility of using a solid boat material, origami kayaks have very good driving characteristics. In the folded state, they are also easy to transport and store.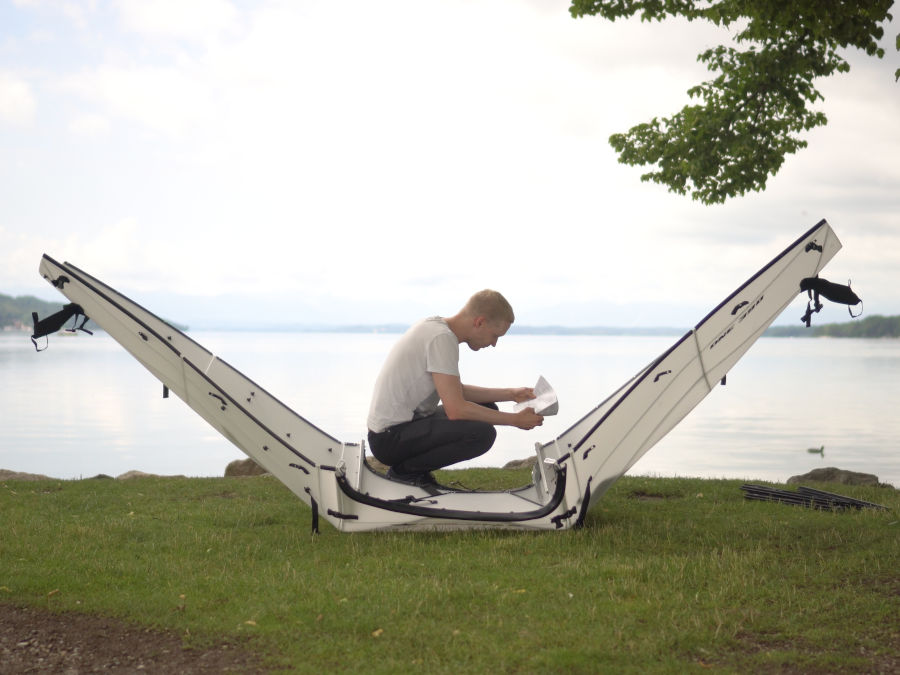 The are different brands on the market that offer origami kayaks. The best known brand is Oru kayak, which have offer different types of origami kayaks. They even have a 2 persons kayak. .
Alternatives to folding kayaks
Many people are afraid of the high purchase costs and the often long assembly times of a folding boat. An alternative to folding kayaks can be a hardshell or an inflatable kayak. In addition, it is also possible to consider a canoe or a packraft.
Hardshell kayaks
If you've ever paddled a kayak, you're likely to have sat in a hardshell kayak. Hardshell kayaks are without a doubt the most common kayaks. Rental centers often exclusively have such kayaks, as they are especially durable and long-lasting. For a kayak rental at a lake, even a folding kayak doesn't make much sense, because the boats almost never need to be transported.
A hardshell kayak is really only an alternative for someone who also has a car and has enough space at home for storage. If you want to take your boat with you on vacation by plane, you will quickly reach your limits with such a kayak. But if you want to paddle exclusively in the region or ideally on the lake near your home after work or on the weekend, a hardshell boat is the best choice.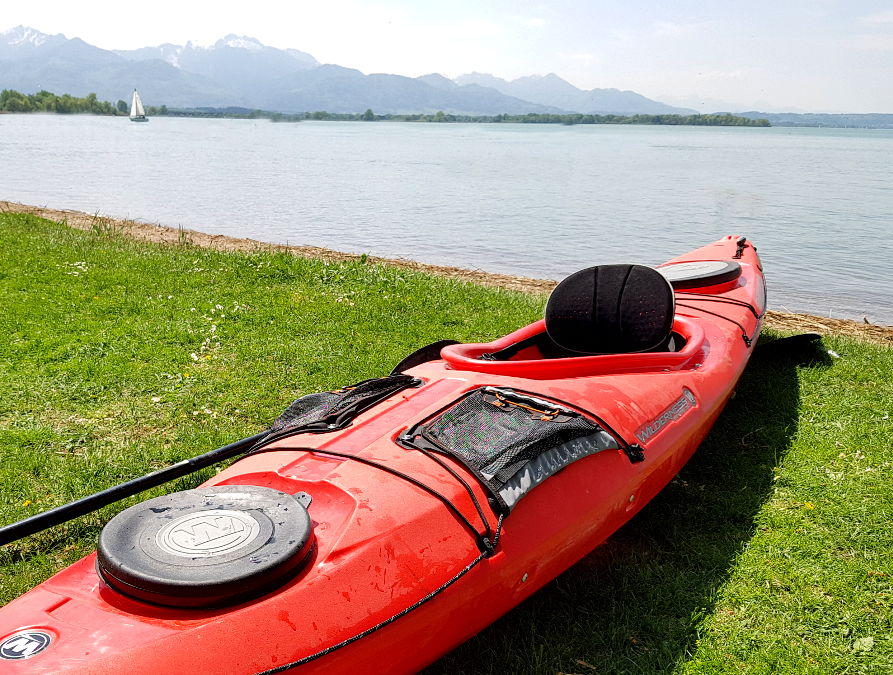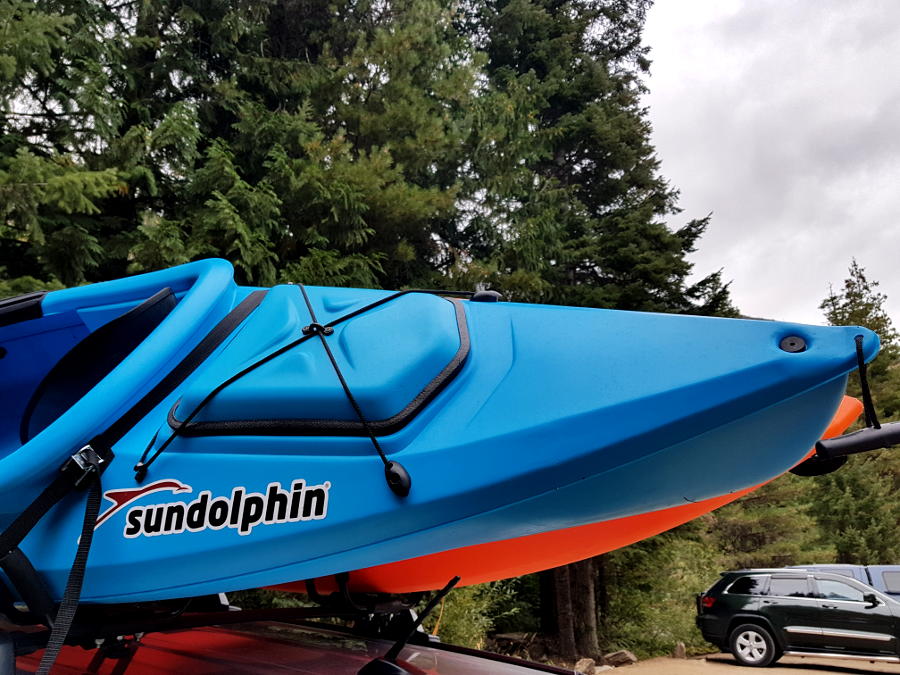 Inflatable kayaks
In addition to folding kayaks, inflatable kayaks are also aimed at the same target group. Nature lovers without a car and who still want to take their own boat everywhere. Inflatable kayaks do have a reputation for having poorer driving characteristics than other types of kayaks, but the difference is not that great with really high-quality inflatable boats. We also do not share the concern of many that an inflatable boat is doomed to sink as soon as a small damage occurs to the boat. Good inflatable kayaks are very robust and can take a lot of stress. They also have several air chambers, which ensures the prescribed safety.
Many beginners like to go for an inflatable kayak, as there are also models for beginners in the lower price segment. Compared to folding kayaks, the assembly is much less complicated. Basically, only the air tubes are to be inflated and the paddling can already start.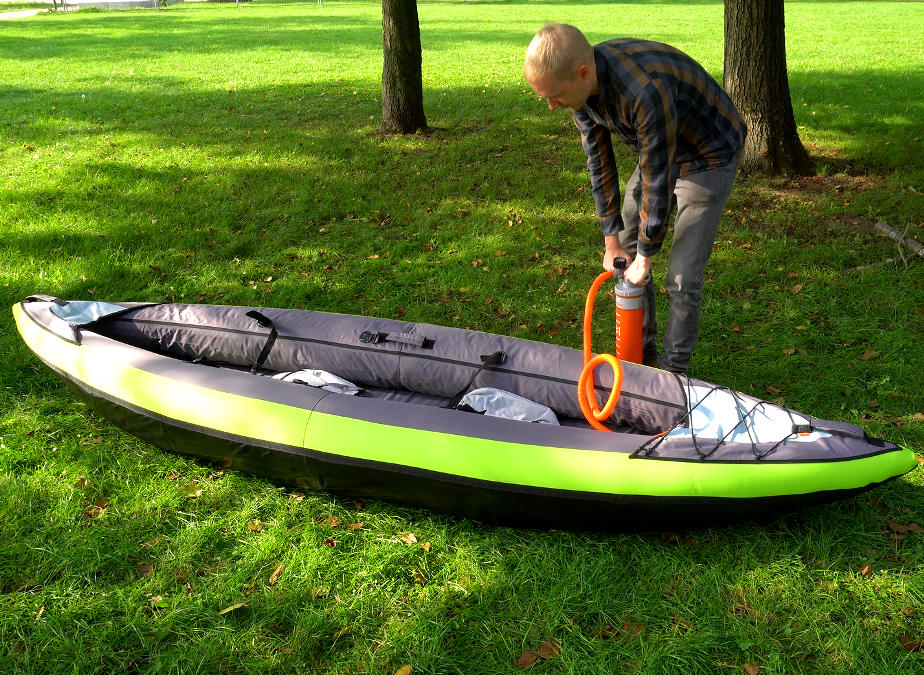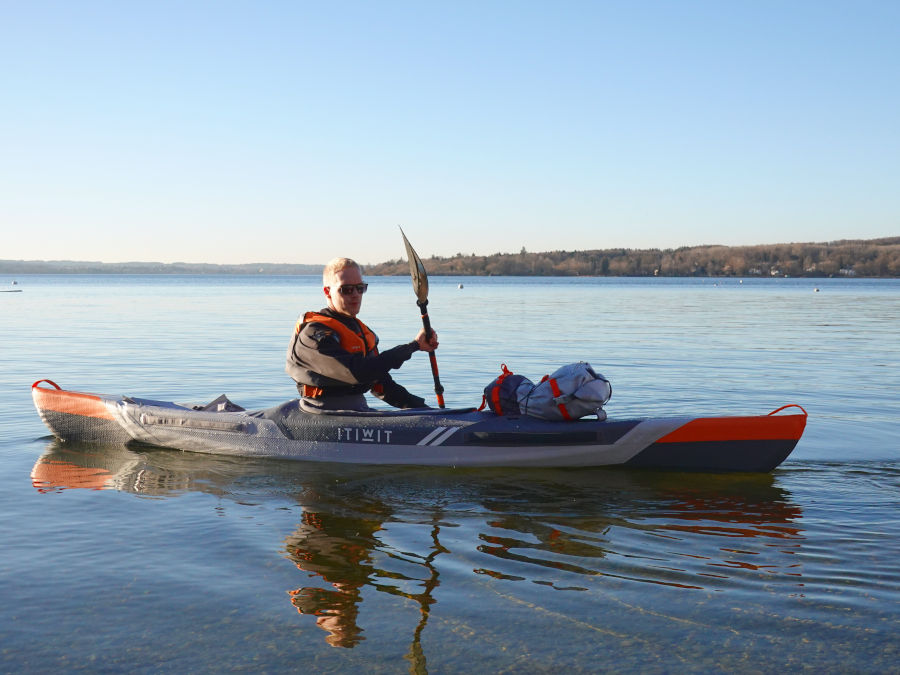 Final notes on the folding kayaks
Folding kayaks have been a real alternative to hardshell boats for many decades. They can be stored compactly and transported without a car. Thus, you have the possibility to go paddling everywhere with your kayak. Due to the higher purchase costs, however, these kayaks are aimed more at expedition paddlers and people who regularly go on tours and want to make almost no concessions in the driving characteristics. The majority of models from established manufacturers are high quality that they promise to last a long time. However, those who are just getting into paddling and are not yet sure how intensively they will devote themselves to the new sport may be better off with an inflatable kayak.