Inflatable kayaks (also: blow up kayak or air kayaks) are gaining more and more popularity recently. Known manufacturers are improving continuously their materials and construction, so that they are not anymore considered as fun boats only. They can be really an alternative to solid kayaks. In the following you are going to learn all about air kayaks, in particular the differences to solid and folding kayaks, the advantages and disadvantages of inflatables and their uses. Whether you consider yourself as beginner, occasional or professional paddler, we present you the right inflatable kayaks at the end.
What is an inflatable kayak?
A kayak is a slim designed paddle boat, which is navigated with a double-bladed paddle. Traditional kayaks are covered by a deck that prevents the entry of spray water or waves. The paddler is sitting in driving direction. Kayaks are fast and very manoeuvrable paddle boats that has been originally used by Eskimos in Greenlandic for hunting. Thanks to these characteristics kayaks are widely used in water sports and for touring nowadays. Therefore, kayaks are perfect for anyone who likes to paddle fast and to make long distances. But also among beginners kayaks are very popular for small and comfortable trips on the water.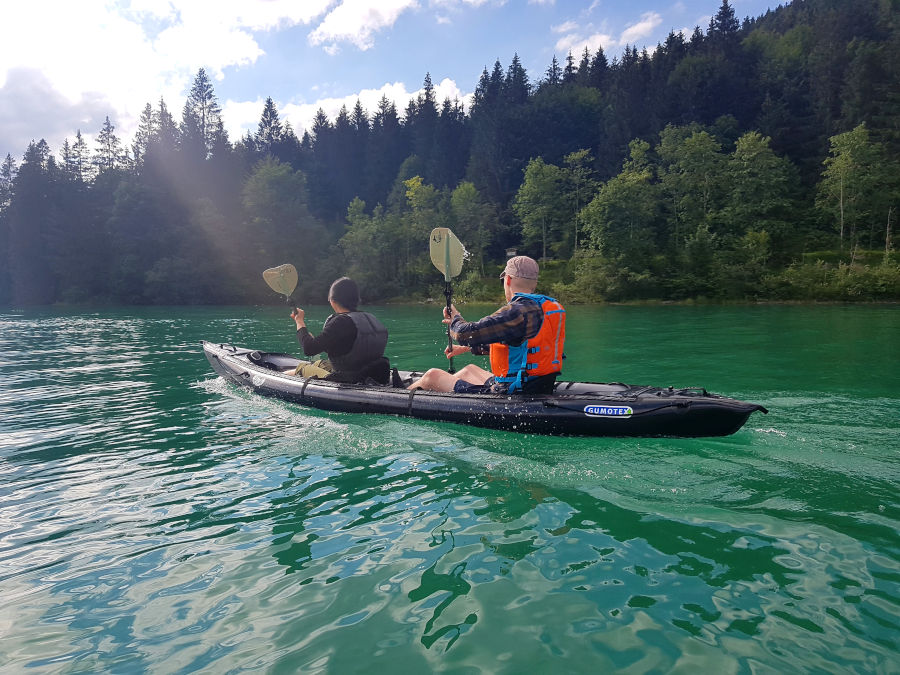 Inflatable kayaks are also called airkayaks, which are usually made of PVC or a woven fabric coated in rubber or PVC. In a inflatable kayak, air is pumped into the boat chambers with the help of an air pump.
For an inflatable an air pump is used to inflate air into the chambers of the boat. Depending on the material used for the kayak, it is possible to inflate more or less air into the chambers, which has an impact on the operating pressure. The more pressure the air chamber has, the better its stiffness and driving characteristics. Kayaks with a high operating pressure are mostly the ones that can be found in the higher priced segment.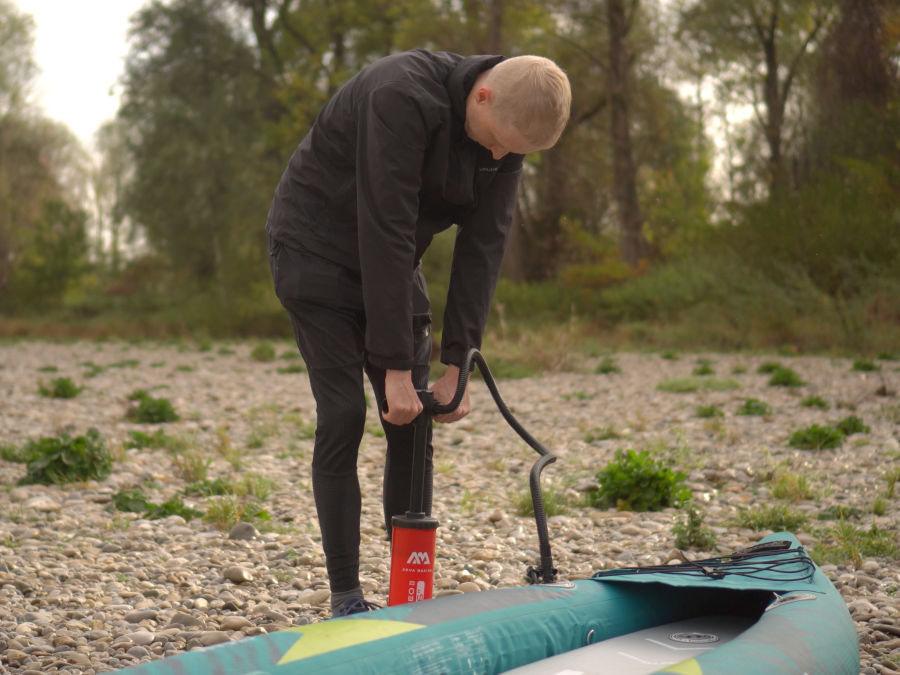 In their first years, the kayak community didn't take them really seriously since they were quite vulnerable to damage and their driving characteristics were not comparable to a hardshell kayak. But a lot has been changed since then and they are quite popular for white water and touring. A good compromise was found between robustness, compactness with low weight and reasonable driving characteristics. Only race kayaking is still a dedicated area for hardshell kayaks
Manufacturers of inflatable kayaks
Meanwhile there are a large number of manufacturers on the market, such as Advanced Elements, Sea Eagle, Aquaglide, Aqua Marina, BIC, Blueborn, Bestways, Gumotex (Innova in the USA), Grabner, Sevylor, Itiwit, Intex and many others. Advanced Elements is the market leader of high quality inflatable kayaks in the USA, and has been experiencing increasing popularity in other countries as well. The American manufacturer has some kayaks with very good driving characteristics in its product range. The target group of these brands are beginners as well as ambitious paddlers.
Another big brand of inflatable kayaks is Intex, which offers the cheapest inflatable kayaks on the market. A 1-person inflatable kayak (Intex Challenger K1) is already available for under $100. The target group are beginners who want to paddle on a lake or beach in good weather and who are looking for some relaxation on the water. The situation is similar with the inflatable kayaks from Sevylor and Itiwit. In contrast to the Intex kayaks, these boats have a slightly higher air pressure and are a little more robust due to the textile coating. Meanwhile Itiwit also offers inflatable touring kayaks (Itiwit x500), and replaces the textile cover of its new beginner models with a boat skin made of PVC coated polyester fabric (e.g. Itiwit x100).
You can find more information about the manufacturers in our article Manufacturers of inflatable boats.
How much costs an inflatable kayak?
What makes a good inflatable kayak depends on your own needs and the intended use. Of course, it can be said that the higher priced inflatable kayaks are of better quality, therefore have better performance on the water and a better durability. In our opinion a good inflatable kayak costs between $500 and $1000. There are also inflatable kayaks that cost well over $1000.
But not everyone can afford or needs an inflatable kayak that costs $1000. That's why we would like to present you interesting inflatable kayaks in three different categories, most of which we paddled ourselves.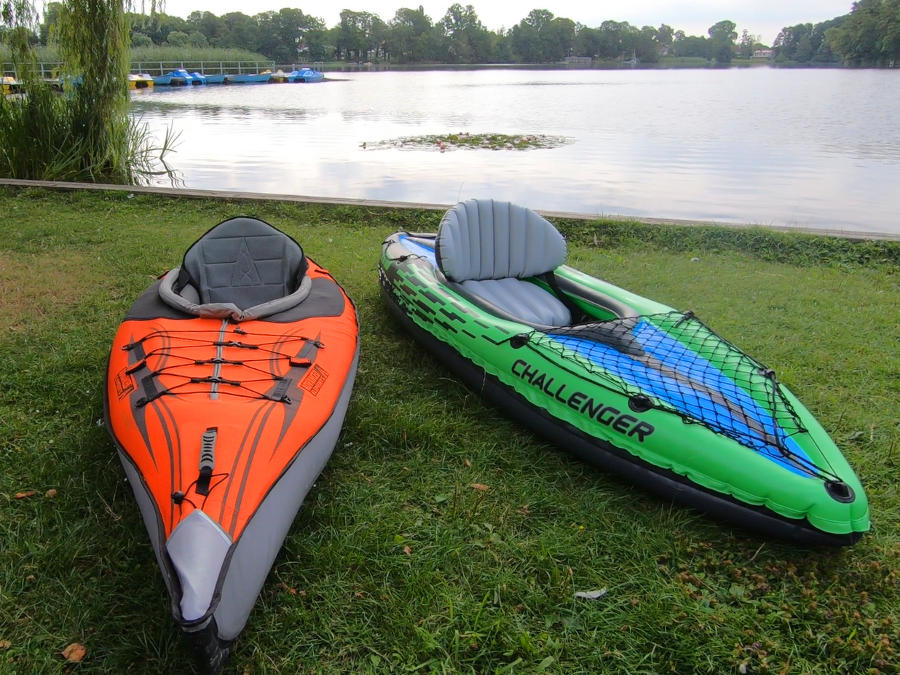 Inflatable kayaks for nice weather and recreational paddlers
These inflatable kayaks are mainly boats for occasional paddlers and for those who would like to try it out first to see if the paddling enthusiasm will grab them.
In this category you can also find the cheapest inflatable kayaks. These inflatable kayaks (less than $100 depending on the offer) have a low air pressure and a pretty thin boat skin made of a PVC film compared to other inflatable kayaks. The inflatable kayaks are especially suitable for small and calm lakes, slow moving rivers and for paddling in the sea near the beach in good weather conditions. Some boats even come in a complete set, including paddle, fin and pump (e.g. the inflatable kayaks from Intex or Sea Eagle). You should never expect high quality workmanship or exceptional driving characteristics from these boats. Such boats are mainly intended for short paddling and resting at and on the water.
INTEX CHALLENGER K1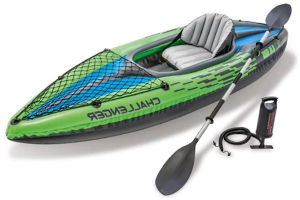 for 1 person
pump and paddle incl.
front deck
INTEX EXPLORER K2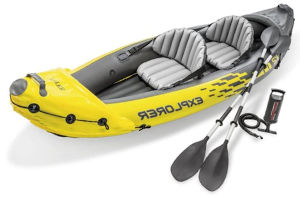 for 2 persons
pump and paddles incl.
easy access
Sea Eagle 330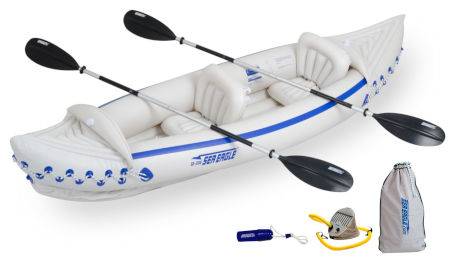 1 – 3 persons
pump and paddles incl.
can be upgraded
Then there are inflatable kayaks between $200 and $500 in this category, intended for occasional paddling and short trips of 2 to 3 hours on calm waters. The brands Sevylor and Itiwit are especially represented here. These inflatable kayaks have a higher operating pressure and the PVC tubes are protected by a separate textile cover or are made of a more robust material. The air kayaks are easier to paddle and are more robust compared to the cheapest models.
INTEX EXCURSION PRO 2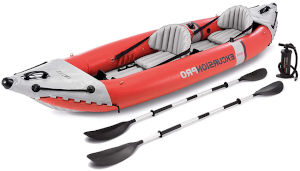 for 2 persons
higher quality
popular for fishing
ITIWIT X100+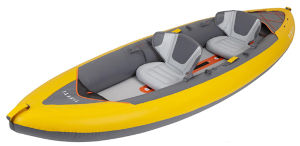 for 2 persons
very stable
great value for price
ITIWIT X100 3 SEATER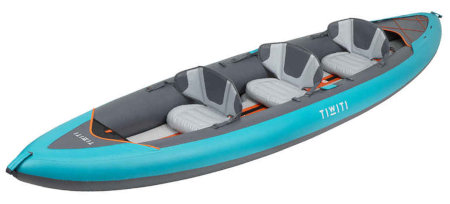 for 1 – 3 persons
separate drop-stitch floor
very stable on the water
Inflatable kayaks for families
Inflatable kayaks for families offer space for two paddlers as well as another one for a smaller child. For a larger child and longer tours a 3-seater kayak should be preferred. Sevylor and Iitiwit Touring inflatable kayaks (e.g. Sevylor Adventure Plus, Itiwit x100+ 3-seater) are usually available at a much lower price than the boats from Innova (Gumotex) and Sea Eagle. Gumotex (Innova) and Sea Eagle boats are especially recommended if the boat is used frequently in the season and longer tours are planned. This is because these inflatable kayaks have a higher operating pressure (thus better driving characteristics), a more robust material and a higher durability. The Gumotex Thaya for example is especially interesting for families. Thanks to its drop-stitch floor it lies stable like a board on the water and offers a lot of space inside.
ITIWIT X100 3 SEATER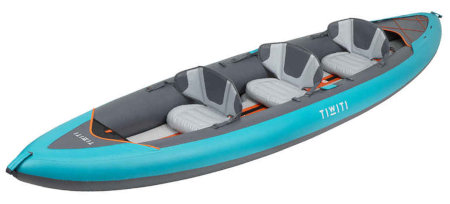 for 1 – 3 persons
separate drop-stitch floor
very stable on the water
SEVYLOR ADVENTURE PLUS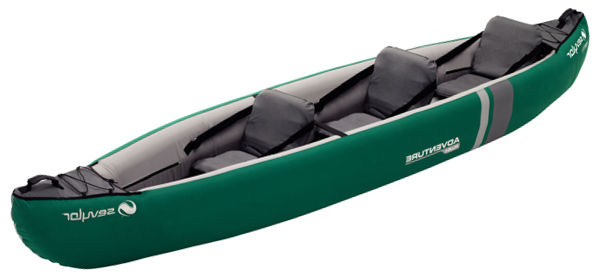 1 – 3 persons
entry-level boat
kayak seats
Inflatable kayaks for touring
If you are planning kayak tours on a regular basis and want to go on long distance tours, you should invest a little more in your air kayak. Especially for someone who is used to kayaking with solid ones, you will surely only be satisfied with an inflatable of this category. For more money you will definitely get a better boat. Due to the high level of workmanship, these boats are suitable for regular and intensive use.
From our point of view manufacturers like Advanced Elements, Sea Eagle or the European manufacturer Gumotex (Innova) offer really good touring inflatable kayaks. These inflatable boats can be used for tours on lakes and rivers as well as for paddling near the coast. Also white water (up to level 2) is possible with most of their models. The kayaks have their own strength on the water, which you should consider before buying. The Gumotex Swing has an integrated cockpit and due to its shorter and wider hull shape it is very maneuverable as well as tip-stable and therefore the ideal inflatable kayak for river tours. The Advanced Elements AdvancedFrame kayak, on the other hand, are little longer and sleeker, and more suitable for lake tours.
SEA EAGLE 473RL

for 2 persons
pump and paddles incl.
great driving characteristics
AE ADVANCEDFRAME CONVERTIBLE ELITE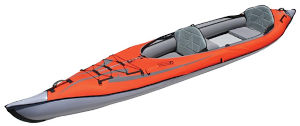 for 1 or 2 persons
very stable and fast
highly configurable
ADVANCED ELEMENTS ADVANCEDFRAME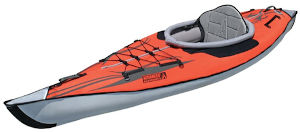 for 1 person
integrated deck
good workmanship
Materials used for the boat skin
The used material of the boat skin in an inflatable kayak is the most important criterion for the durability and the possible uses of the boat. Depending on the manufacturer, different materials are used for the boat skin. Many manufacturers even use a combination of different materials.
In almost every product description you will read that the material is especially thick and robust. However, inflatable kayaks with a thick boat skin made of robust material have their price. Cheap inflatable kayaks are far from being able to compete with the coated fabric materials Gumotex (Innova) for example. Very cheap inflatable kayaks consist only of a relatively thin PVC skin. They are much stronger than the material of an air mattress, yet too thin for regular paddling with possible ground contact.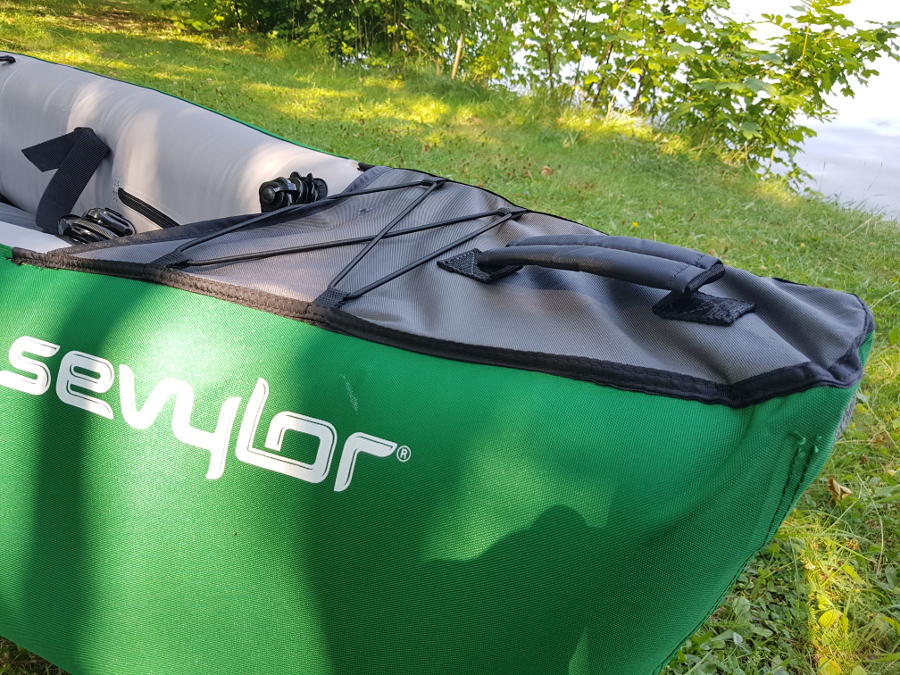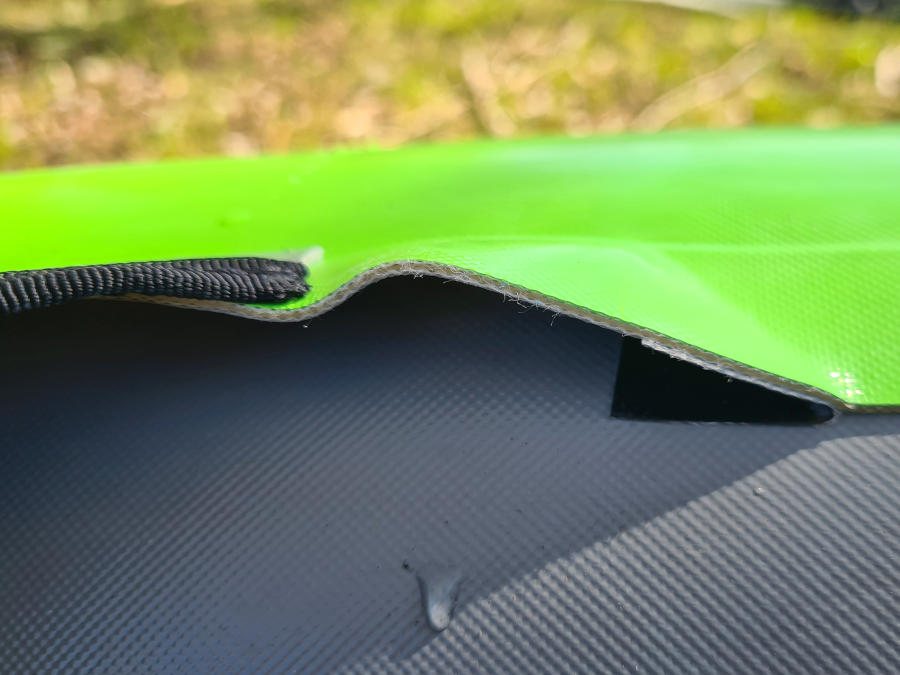 Some manufacturers separate the boat skin from the actual air chamber. The air chamber lies in a kind of nylon or polyester cover, which is supposed to protect the chamber from damage. Such constructions can be found on some Sevylor, Itiwit and Advanced Elements boats. The air chabber sare made of PVC and the cover is made of a more resistant material. The disadvantage of such nylon and polyester covers is the longer drying time after paddling and the possible risk of mold growth. PVC and rubberized fabric materials can easily be wiped dry after paddling.
Air kayaks consisting of a polyester or nylon cover also have another disadvantage when it comes to repairs. They are difficult to repair if they tear. Rubberized fabric materials are easy to repair in case of a defect, comparable to patching a bicycle tube.
Air pressure and use of Drop-Stitch
An air pressure of less than 0.1 bar (1.5 PSI) is not much for an inflatable kayak. You can literally push the air chamber in with your hand. That's how soft the chamber is. Such kayaks are designed more for recreation and leisure purposes, but not for kayaking. The higher the quality of the air chamber, the higher the allowed air pressure for the chamber. From an air pressure of 0.2 bar (3 PSI) on, the side chambers of a kayak are pretty hard. The allowed air pressure varies depending on the manufacturer, model and air chamber. The exact specifications can be found in the product description and the instructions of the boat.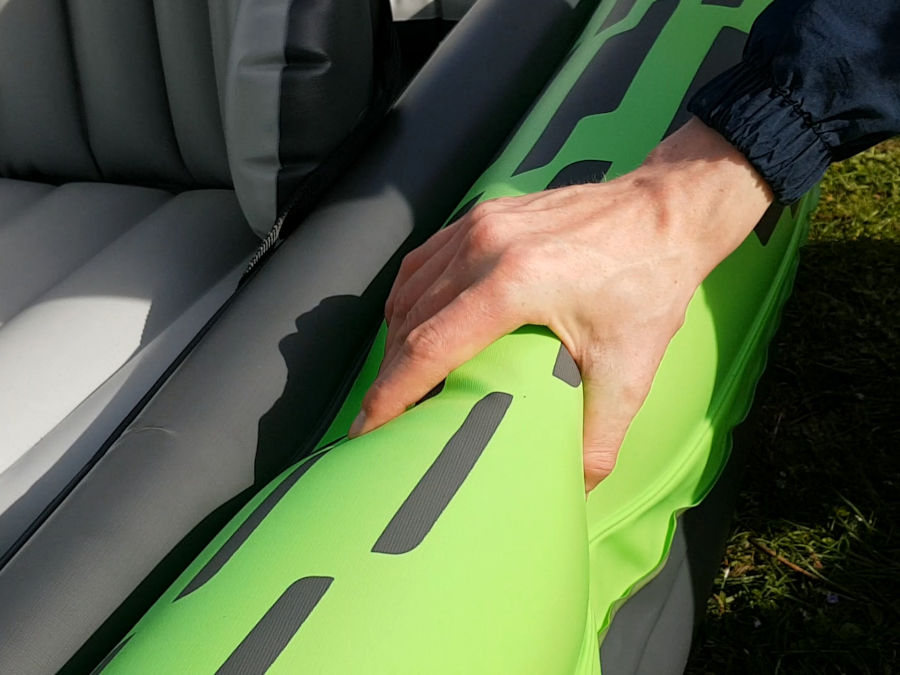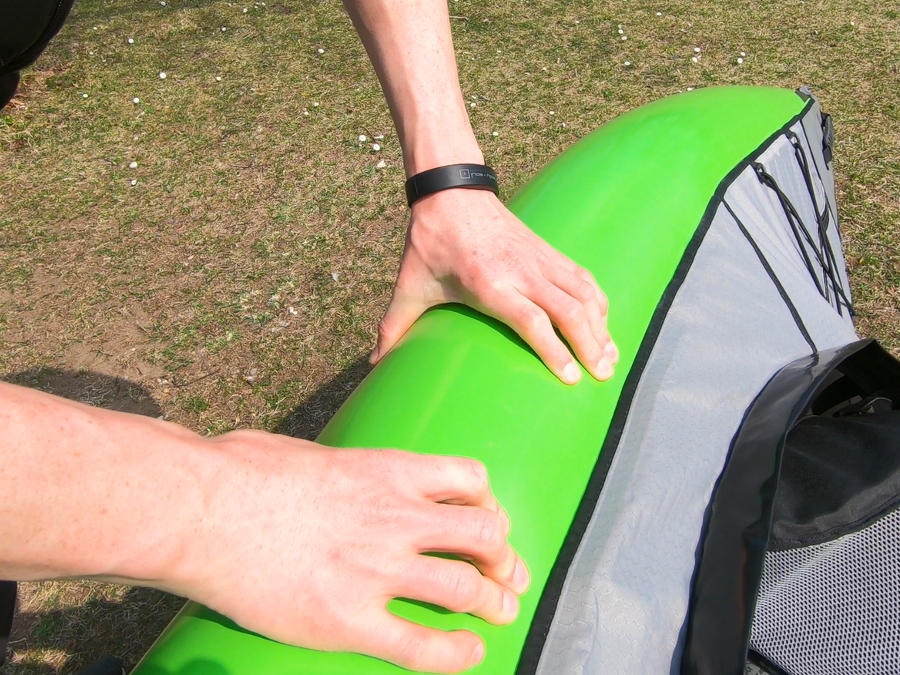 In recent years, drop-stitch technology has been increasingly used in inflatable kayaks. Drop-stitch technology is already widely used on inflatable SUP (Stand Up Paddling) boards, and is also indispensable. With this technology the upper and lower inner walls of the air chamber are interwoven with textile threads. The thousands of threads inside the inflatable chamber prevent the air chamber from expanding beyond a certain size. It enables higher air pressure without putting additional stress on the air chamber and results in a much more rigid structure than regular inflatables with little increase in weight.
Drop-Stitch enables the production of high-pressure air chambers, so that they can be inflated (depending on the manufacturer) up to an air pressure of well over 0.3 bar (4.4 PSI). Thus drop-stitch kayaks achieve very good stability and stiffness. From which air pressure an air chamber is considered a high pressure air chamber is not officially defined.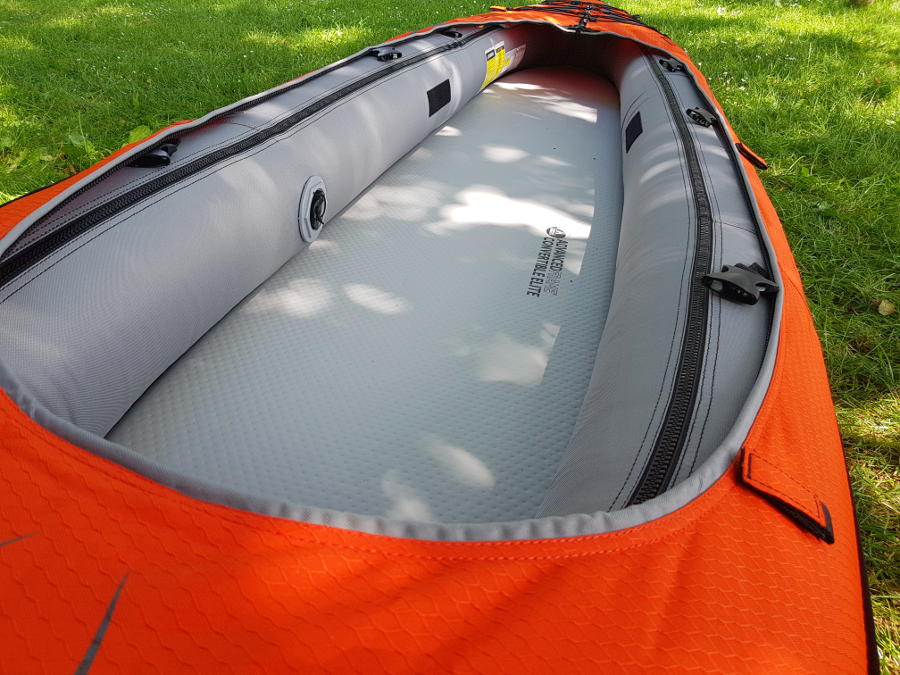 On inflatable kayaks with drop-stitch floor (e.g. Advanced Elements Convertible Elite, Gumtoex Thaya or Gumotex Rush) the floor does not give way when getting in and out. The boats have a much stiffer hull and therefore better paddling performance on the water. The manufacturers advertise with very similar driving characteristics of a solid kayak. Whether with or without drop-stitch, the typical wind susceptibility of air kayaks still remains, as they tend to float on the water rather than in the water due to air buoyancy.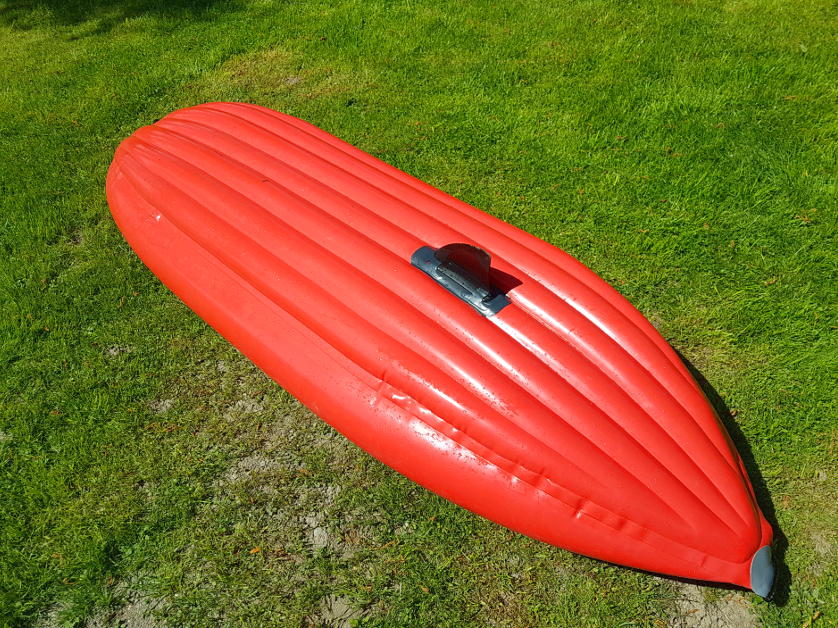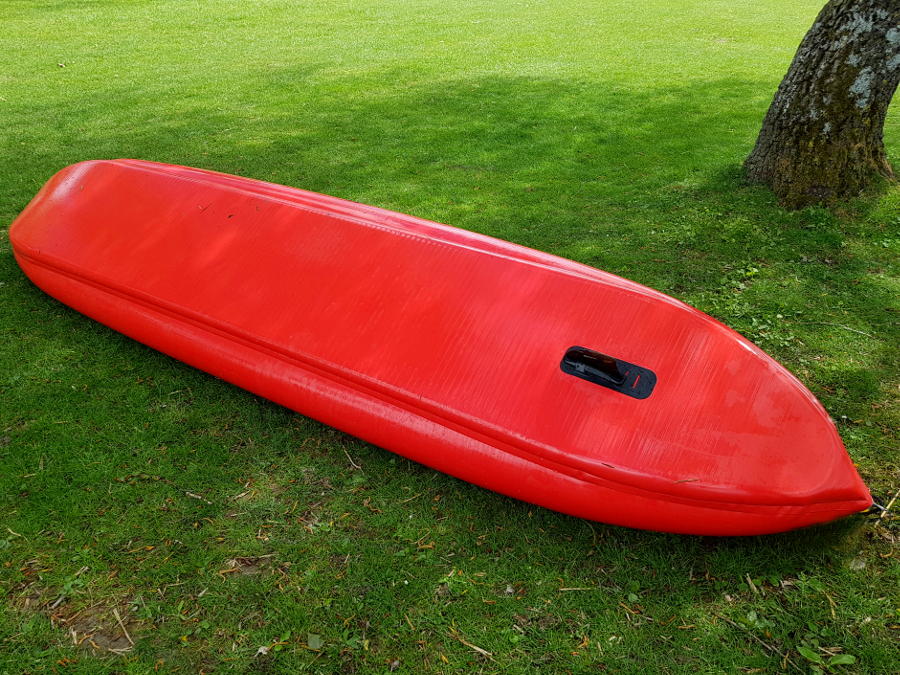 On large and calm waters, a drop-stitch construction makes sense, because the very stiff and shaped air bottom makes it easier to glide through the water. In the white water area (already from white water class 1-2) classic inflatable kayaks still have their advantage. First, they ride the waves more gently with their more flexible bottom. Second, even when touching obstacles in the water, softer air chambers give way better.
Kayaks with open or closed deck
Among the inflatable kayaks you can find models with open and closed decks. inflatable kayaks with closed deck (e.g. Gumotex Swing, Gumotex Framura or Advanced Elements AdvancedFrame) have an integrated cockpit as spraydeck, which is equipped with a seat hatch. The cockpit is firmly connected to the side chambers and is not removable. The air kayak resembles more an "actual" kayak. The cockpit keeps the inside of the boat very well dry, especially from splashing water during longer tours or in white water. You can also completely close the seat hatch with a spray skirt, which is a great advantage in white water or during cold seasons. For inflatable kayaks mainly spray skirts made of nylon are used. The coaming of an inflatable kayak is not stiff enough for neoprene spray skirts and the skirt would not find a hold due to its high elasticity. In addition, the luggage can be safely stowed under and on the cockpit using luggage nets.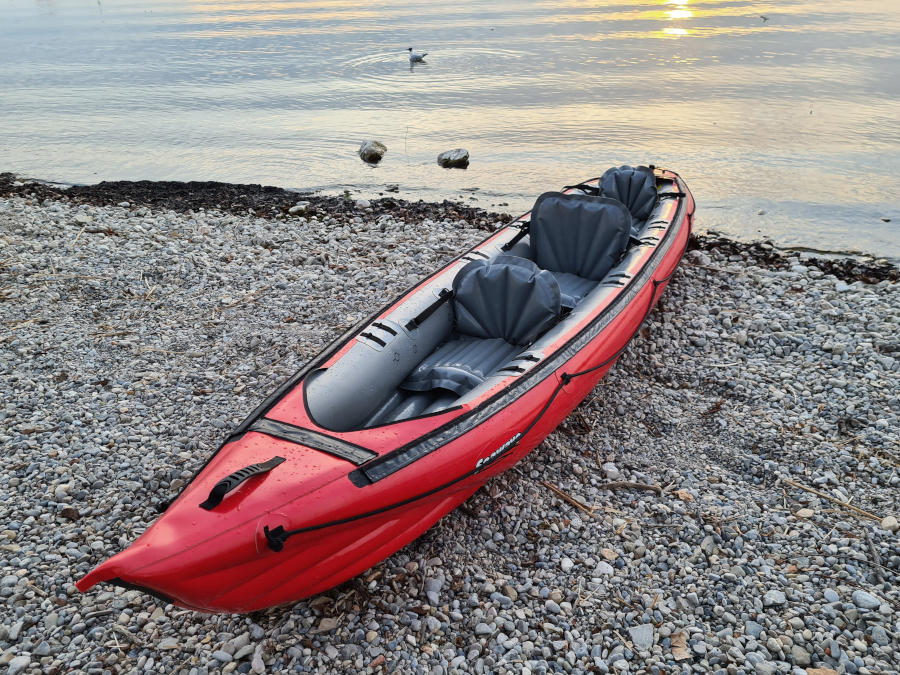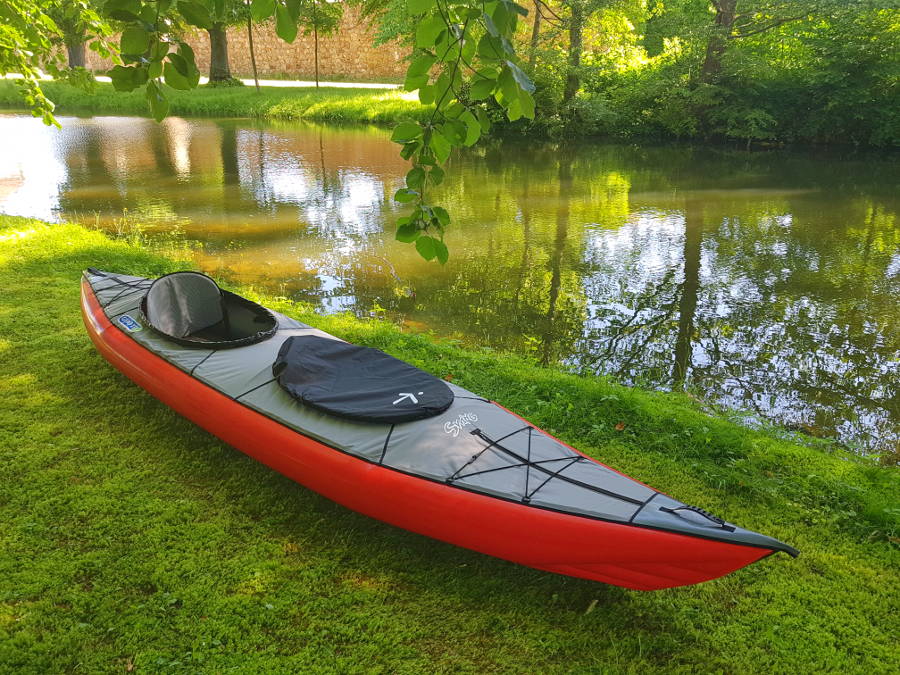 In contrast, inflatable kayaks with an open deck are mainly intended for paddling in summer and for families. The entry and exit is easier, the seats can be placed more flexibly in the boat and are not bound to seat hatches. You feel more free in an open kayak because you can stretch and bend your legs and put your feet in the water if you like
A variety of open inflatable kayaks can be equipped with an optional spraydeck (e.g. Gumotex Rush, Gumotex Seawave, Grabner inflatable kayaks or the Advanced Elements AdvancedFrame Convertible), which means you can paddle them both open and closed. These inflatable kayaks combine the advantages of both designs.
In addition to kayaks with open decks, there are also sit-on-top kayaks. With a sit-on-top kayak you sit on the kayak instead of in the kayak. Sit-on-top kayaks are mainly intended for calm lakes and for the coastal area in summer when the temperatures are warm. They are ideal as bathing kayaks as well as for paddling beginners, because they are extremely stable and the re-entry out of the water is much easier than with conventional kayaks. An inflatable sit-on-top kayak can also be easily taken on vacation.
Safety of inflatable kayaks
The majority of inflatable kayaks are very stable due to the wide hull, as a result of the side chambers, and their air buoyancy. As a rule, it is much more difficult to capsize with an air kayak than with traditional kayaks. However, inflatable kayaks are somewhat slower due to their wider hull. The Itiwit x100, Gumotex Swing and Thaya are particularly stable among inflatable kayaks.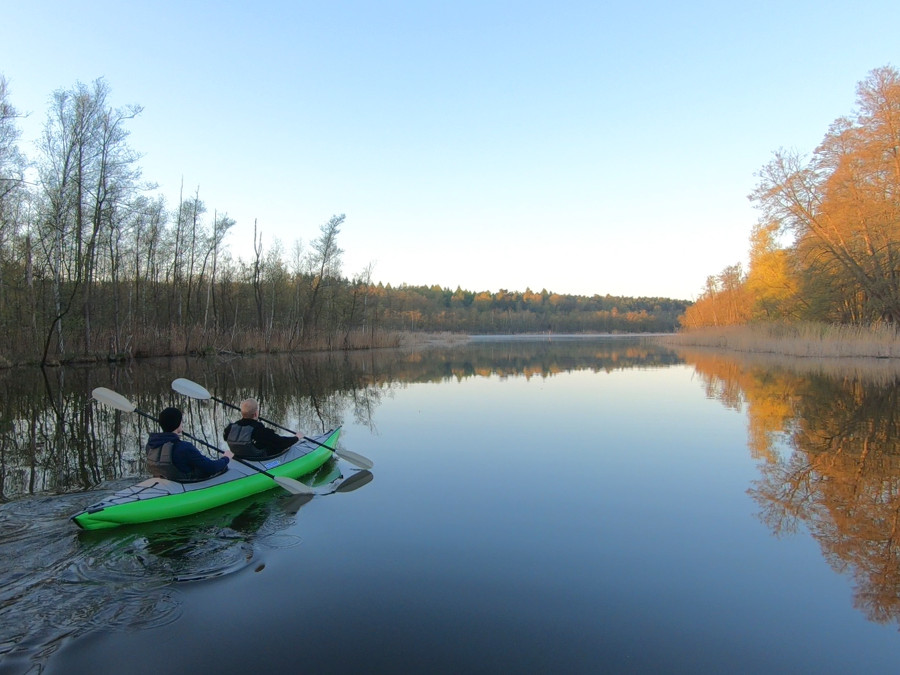 But there are also inflatable kayaks (e.g. the Gumotex Framura or the Itiwit x500 kayak by Decathlon) that are designed for speed. These inflatable kayaks are much narrower , which makes them more sensitive to capsize, and they are mainly designed for experienced paddlers who want to make a lot of distance.
Compared to hardshell kayaks, the boat skin of inflatable kayaks is more sensitive. That is why almost all inflatable kayaks today have a multi-chamber system. This means that the boat cannot sink with a hole in one chamber. Air kayaks often consist of a separate floor chamber and two separate side chambers. In case of a hole, the inflatable kayak can be patched.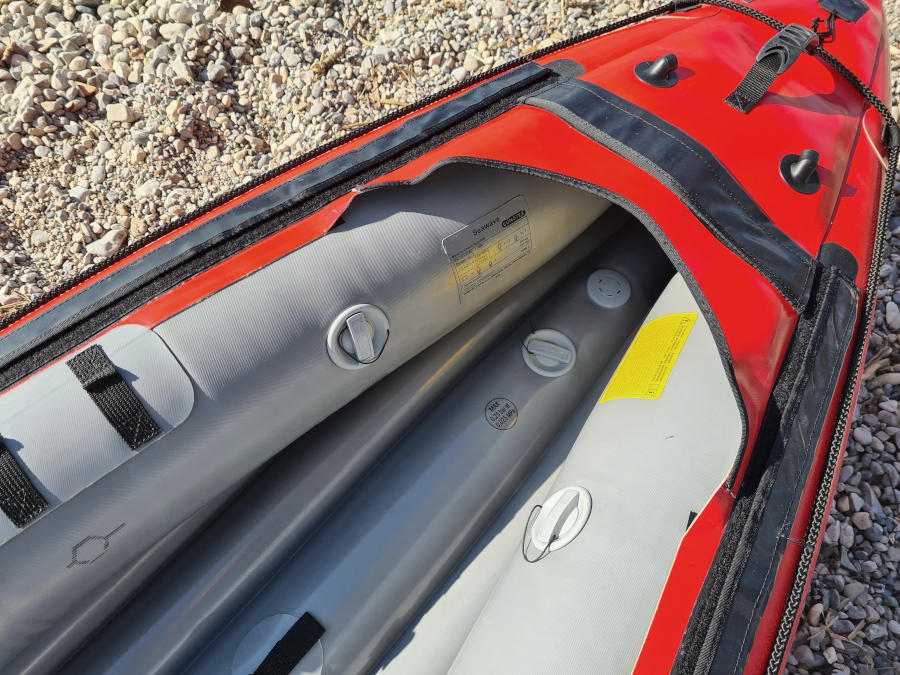 High-quality inflatable kayaks are additionally made of a very thick and tear-resistant material, so that the risk of such damage is minimized.In the last seasons we have paddled very often with inflatable kayaks from Gumotex and Advanced Elements, we have not been very gentle with the kayaks (touching the ground in shallow rivers, landing on pebble beaches, …) and never had a hole in the boat skin, maximum fine scratches.
Paddling performance of inflatables
Inflatable kayaks have a reputation for poorer paddling performance than folding and solid kayaks. This is definitely the case with very cheap inflatable kayaks (e.g. Intex Challenger K1). High-quality inflatable kayaks now offer partly very good paddling performance. Nevertheless there are differences to traditional kayaks.
In contrast to solid and folding kayaks, inflatable kayaks tend to float on the water rather than in the water due to their air buoyancy. Therefore the directional stability is less given and also the wind susceptibility is higher. If it is too windy, a tour with an inflatable kayak on the lake is not much fun, because the high side chambers give the wind a lot of surface to attack. The boat drifts off course again and again.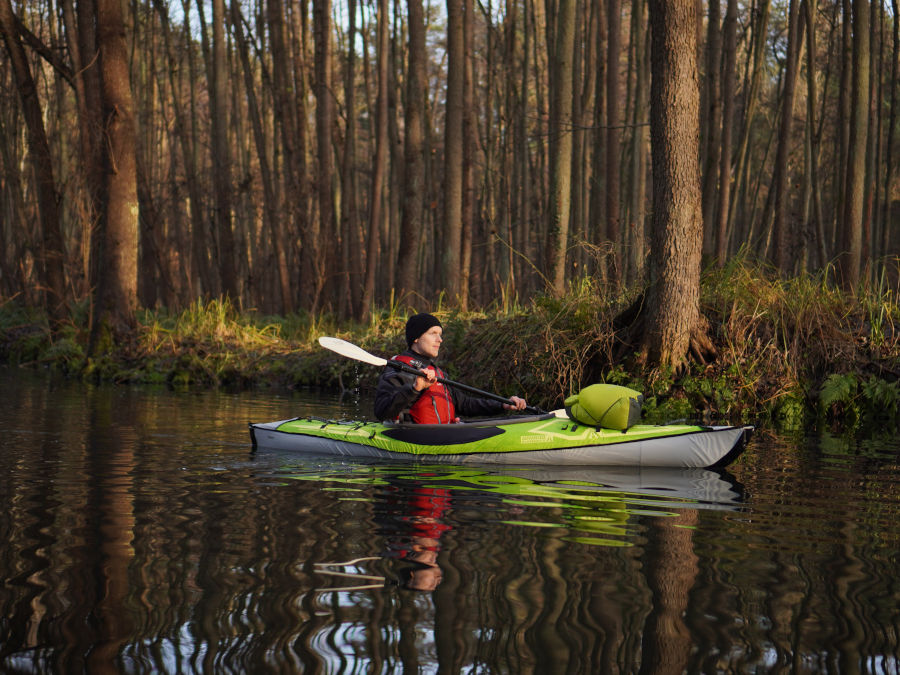 For an improved paddling performance, a fin can be attached to the bottom of many air kayaks. A fin is a directional fin that significantly improves the directional stability of the inflatable kayak and the boat will therefore deviate less from the course. If you want to go on longer trips with your future inflatable kayak, make sure that a fin can be attached to the kayak.
With inflatable kayaks the air pressure also plays a crucial role. The higher it is, the stiffer it is. A high stiffness enables a faster paddling and more stability on the water. Especially inflatable kayaks with high pressure are more likely to be found in the higher-priced segment.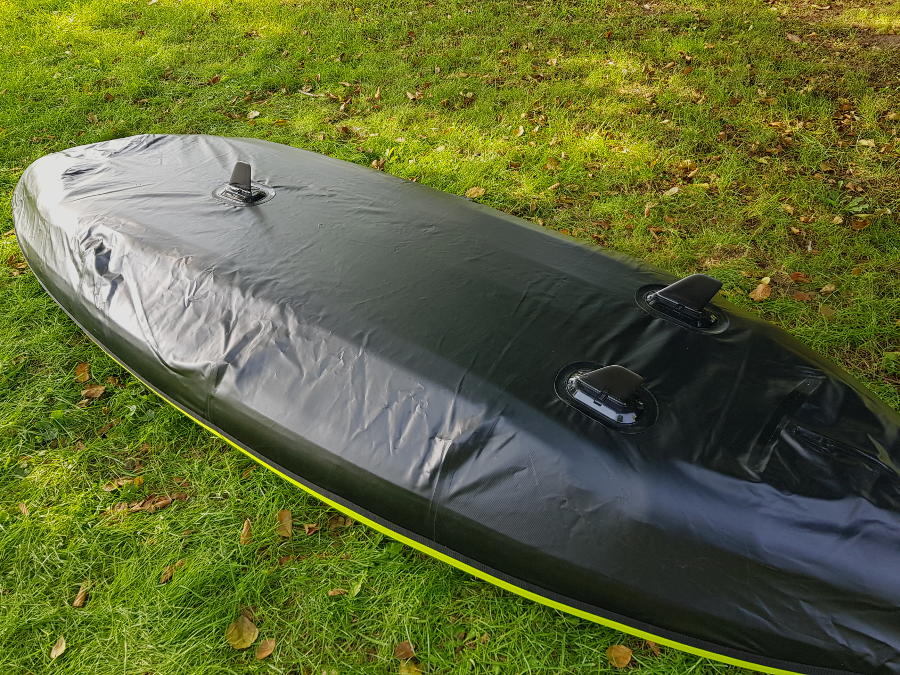 As with a traditional kayak, the paddling performance depend strongly on the hull shape. In general it can be said: The longer and narrower a kayak is, the better it is in terms of directional stability and speed. With decreasing length and increasing width, the kayak becomes more agile and stable, but then also loses speed. That is why you should always pay attention to the dimensions when choosing an inflatable kayak, because they already give you a good indication of the paddling performance.
In addition, the shape of the bottom has a significant influence on the paddling performance. Compared to folding and solid kayaks, the hull of an inflatable kayak is less well shaped. Nevertheless, new technologies such as drop-stitch or the use of stiffening elements offer some possibilities. A flat bottom provides a lot of stability with a loss of performance at the same time. The V-shaped hull, on the other hand, offers optimal paddling performance, but is somewhat more prone to tipping. The middle between the two shapes is the round kayak bottom.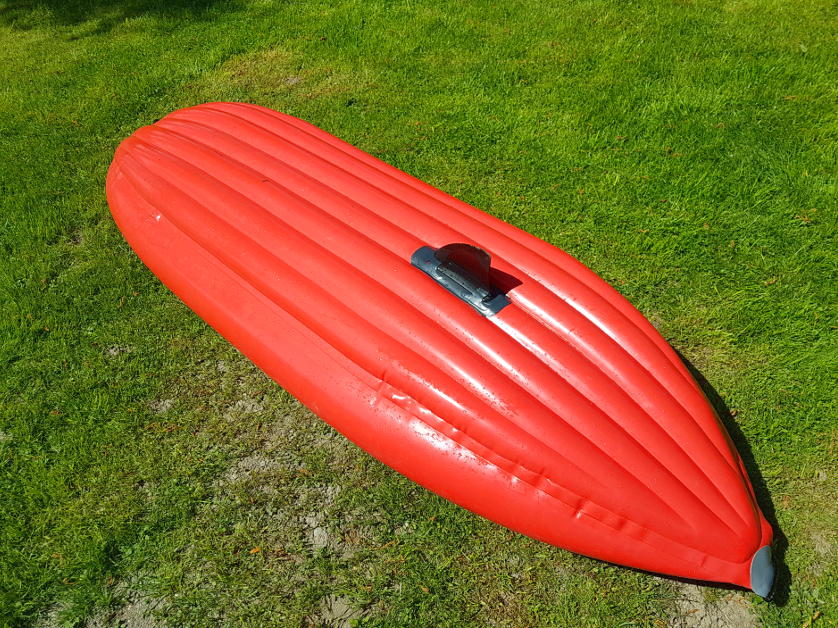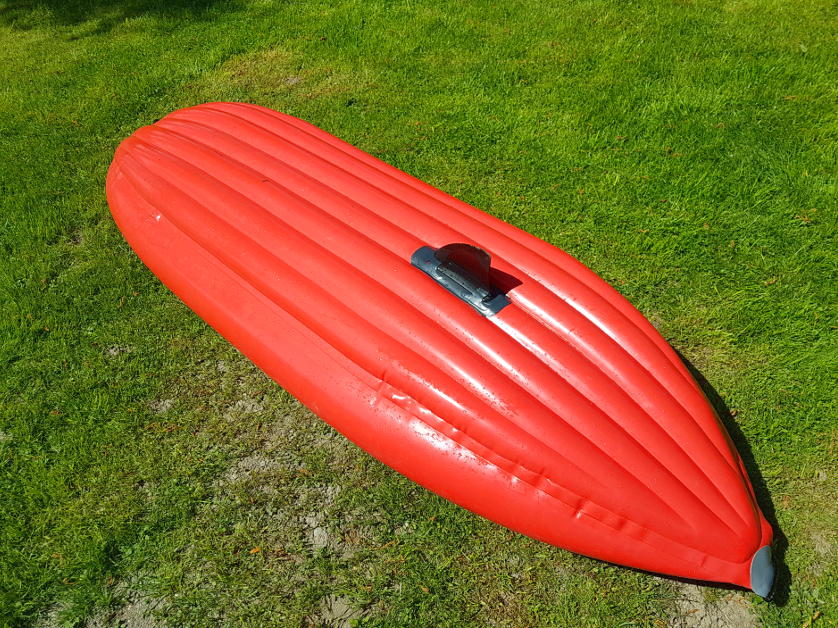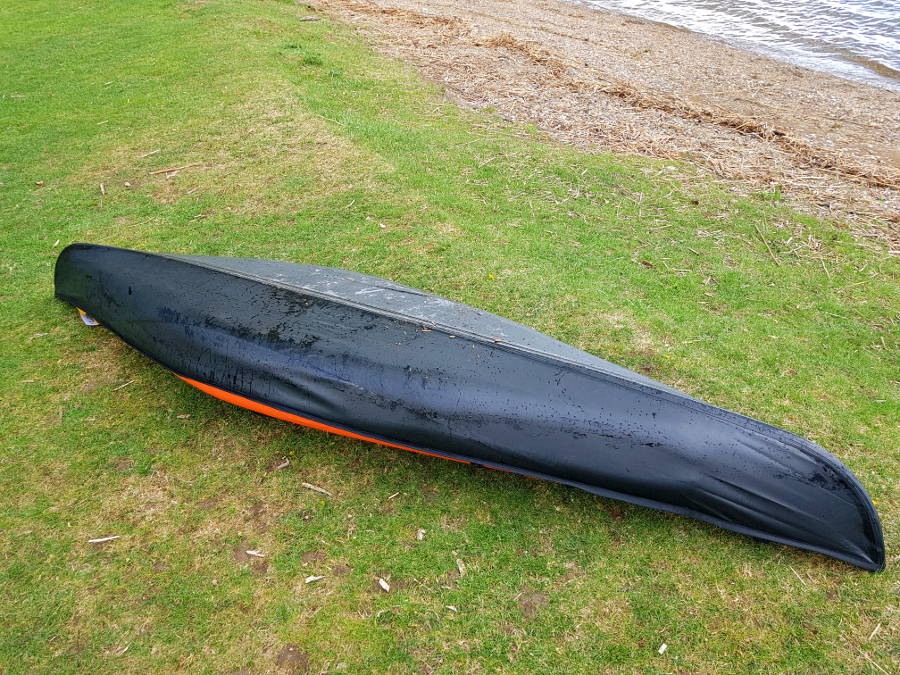 Average speeds between 4 to 5 km/h (2.5 – 3 mph) are quite realistic with inflatable kayaks. There are also inflatable kayaks (e.g. Advanced Elements AdvancedFrame Convertible Elite) that can be paddled at an average of over 6 to 7 km/h (3.7 – 4.3 mph). This is partly because the boat is nice and long and sleek. Also, such boats have a well-formed hull due to a drop-stitch bottom and frame braces in the hull as well as the stern. Because of the aluminum frame in the bow, the water is really cut instead of being pushed in front of it. This creates a bow wave much later, and higher speeds are possible with an inflatable boat.
Space and seating comfort of inflatable kayaks
Inflatable kayaks are available as 1-, 2- or 3-person kayaks. Due to the air tubes, inflatable kayaks offer slightly less interior space than rigid hull or folding kayaks. Nevertheless, the interior space of inflatable kayaks is perfectly adequate. Many solo paddlers even buy a 2-person inflatable kayak and still paddle it alone. This is possible because the seats of many 2-person inflatable kayaks (e.g. Gumotex Solar, Rush 2, Seawave, Thaya, Grabner Holiday 2, Itiwit x100+, …) can be placed variably. On the one hand, due to its length, the boat has better driving characteristics (especially the straight line and speed) than a 1-person air kayak and on the other hand, it offers more space for luggage on longer trips.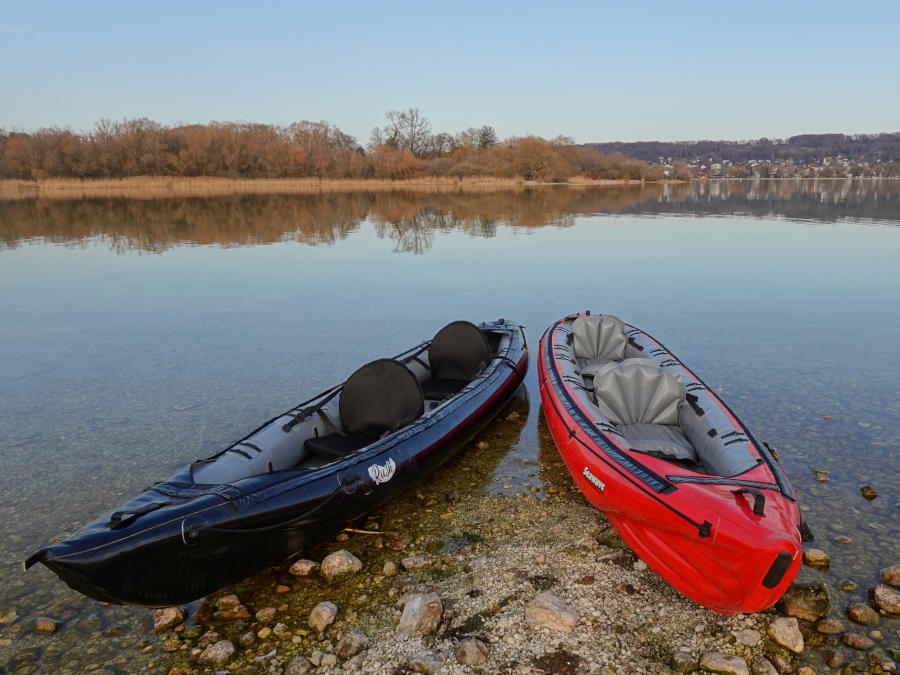 Because of the air tubes, you sit more comfortably in a classic inflatable kayak. There are no hard spots or edges that could press. With a drop-stitch construction, the comfort is strongly dependent on the seats used. Cheap inflatable kayaks often have the weakness that the back of the seat does not provide enough support during longer paddling tours. It is also more comfortable to paddle an inflatable kayak in colder seasons. The inflatable floor insulates well from the cold water.
Legroom in an inflatable kayak is highly dependent on the specific model and also the manufacturer. Inflatable kayaks from the manufacturers Gumotex (Innova), Grabner and Advanced Elements offer a lot of legroom due to their generous boat length and are therefore very suitable for long kayak tours. Cheap inflatable kayaks (e.g. Intex and Sevylor) are on average 50-100 cm shorter. For example, the Intex Challenger K2 has a length of 351 cm (11'5′)' and the Gumotex Rush 2 has a length of 460 cm (15'1"). Nevertheless, the Gumotex Rush 2 hardly weighs more.
Hybrid kayaks
Hybrid kayaks have both air chambers of an inflatable kayak and the frame of a folding kayak. Thus, they combine the advantages of both types of kayaks. Due to the air chambers, the kayak has a more stable water position and the assembly is faster and easier. The framework provides better shaping of the hull, which results in significantly better gliding characteristics. The construction of hybrid kayaks is somewhat more complex than that of pure air kayaks, but it is much more limited compared to classic folding kayaks.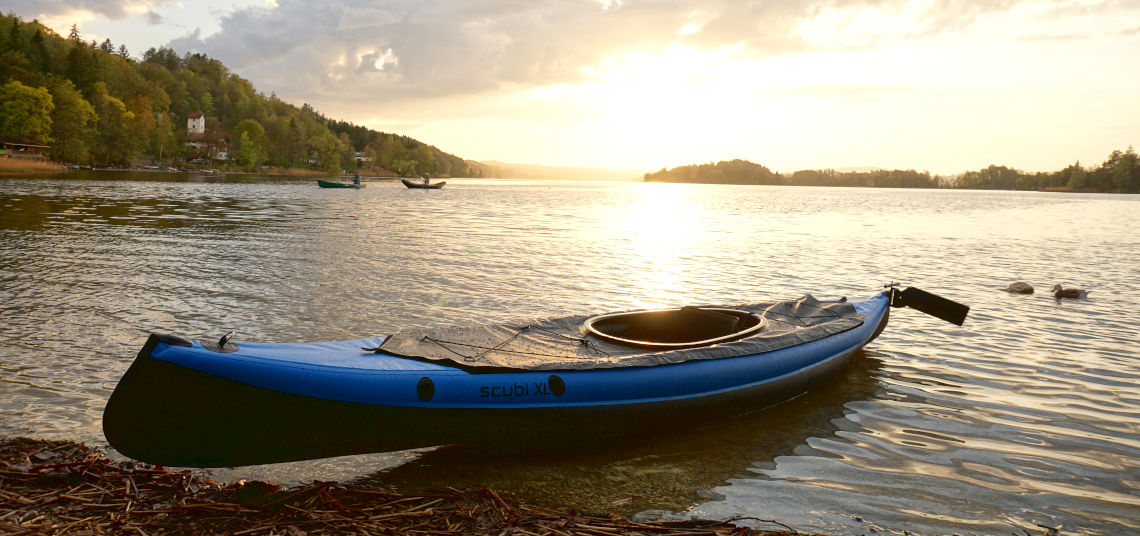 For example, Advanced Elements' AdvancedFrame series uses aluminum bracing in the bow and stern. In addition, the boats can be equipped with a so-called backbone (collapsible bottom bar). You can read about the benefits of these additional reinforcing elements in our test report on the Advanced Elements AdvancedFrame.
The scubi kayaks from the manufacturer nortik go a bit further, and use a plug-in frame for the bottom of the kayaks. Despite the frame, the kayaks are no heavier than a conventional air kayak. We were convinced by the driving characteristics of the scubi series on the water.
/PRODUKTBOX/
Advantages and disadvantages of inflatable kayaks
When buying an inflatable kayak you need to be aware of the advantages and downsides in order to make the right choice. For this reason you'll find in the following a short overview of these advantages and downsides. We want then to pick out some of them to explain them in detail to you.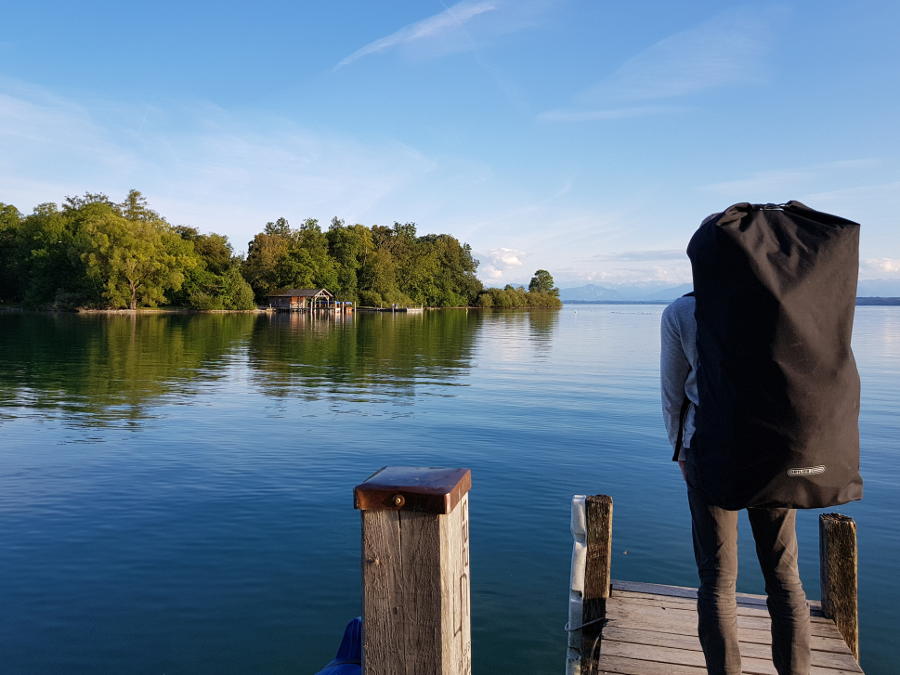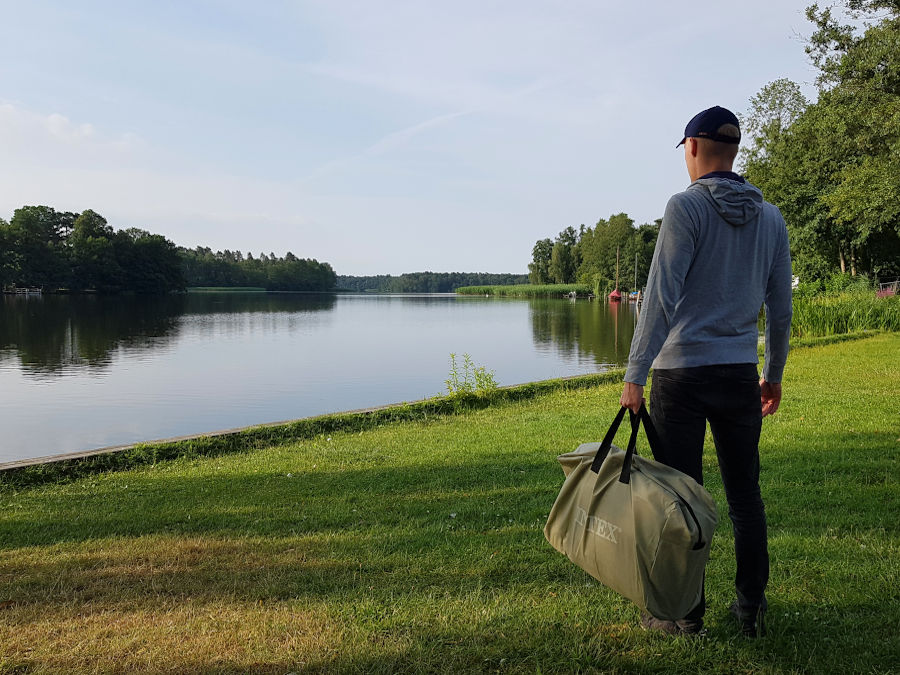 If you want to have an extremely practical kayak to take it just everywhere you want, then an inflatable is the right choice for you. This applies also to everybody who has neither the space to store a large hardshell kayak nor a car to transport it. In this case, an inflatable kayak is the only option. If you have enough space at home and a car, then a hardshell kayak can be a consideration. They are more robust which results finally in a higher durability and they are better performing on water.
Sometimes the question is raised if a folding kayak isn't a good alternative either and indeed it is. For folding boat you need to stretch the boat skin over a frame of rods. The assembling is for a folding a way more complex and requires more time. Therefore, folding kayaks offer a better stiffness and better performance on the sea, as well as on lakes and calm rivers. Nevertheless, most of the inflatable kayaks are lighter than folding kayaks. In addition to that, folding kayaks are normally also more costly.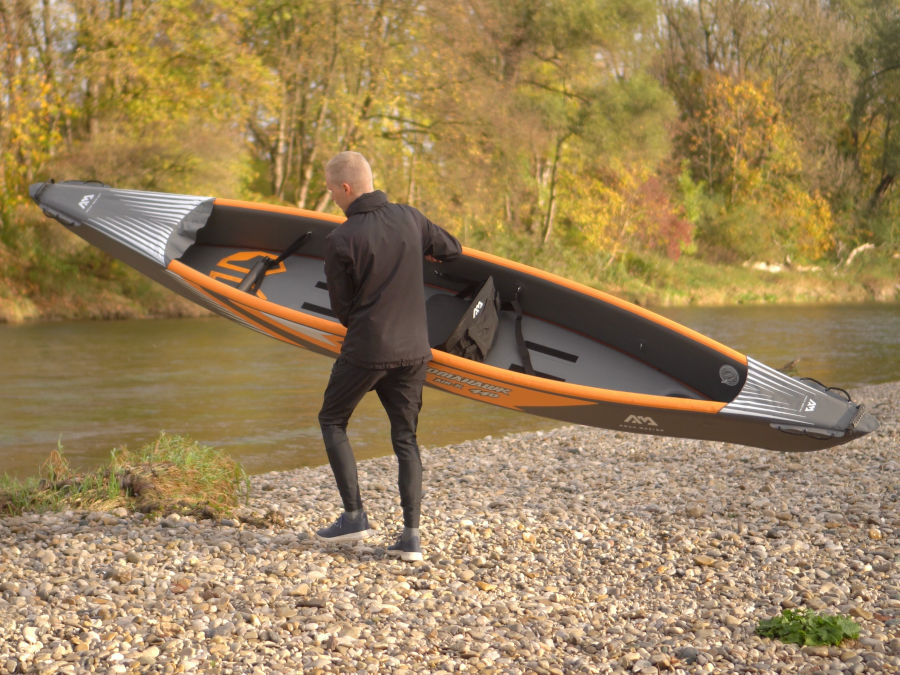 Advantages
+ already cheap models available + flexible use (river, lake, sea) + good speed for an inflatable boat + also available as 1 boat + easy to transport and stow away to save space
Disadvantages
– susceptible to wind – limited space – slower than fixed hull or folding kayaks – some maintenance required
Required accessoires
Very few inflatable kayaks come in a complete set. For the majority, you still have to buy an air pump, paddles, life jackets and a manometer for checking the air pressure separately. For a quick setup of the kayak we recommend a double action pump, to pump air in both directions. You check the air pressure of the boat with a manometer. If the air pump does not have an integrated manometer, there are special manometers for the valve type of the respective kayak.
Conclusion
An inflatable kayak offers a plenty of possibilities to discover the nature in a different way without any big logistical effort. In contrast to hardshell kayaks, beginners have already the possibility to start with a small budget. However, you need to keep in mind that those entry-level kayaks can't compete with high quality inflatables regarding finishing and performance. If you have the budget and if you already know before that you are going to make long tours or paddle on running rivers, then you are should think about getting a kayak from Advanced Elements or Aquaglide straight from the beginning.