Packrafts have become increasingly popular in recent years. These small, practical inflatable boats are particularly popular with adventure travelers. But many people living in big cities are also slowly acquiring a taste for these practical boats. Packrafts require almost no storage space, can easily be carried in a normal hiking backpack and are ideal for transporting on public transport. They offer many people a way to paddle without a car and a lot of space at home and to escape the hustle and bustle of the big city.
What is a packraft?
A packraft is a very light, compact and stable inflatable boat, which can therefore also be carried along when hiking or biking. In fact, a packraft is a backpacking boat that can be used during a hiking or biking trip to cover parts of the trip with a small inflatable boat.
Thanks to the good maneuverability and tilt stability, they are often seen on white water and are also quite suitable for this use. Nevertheless, packrafts are mainly used to have a small boat with you on your expedition.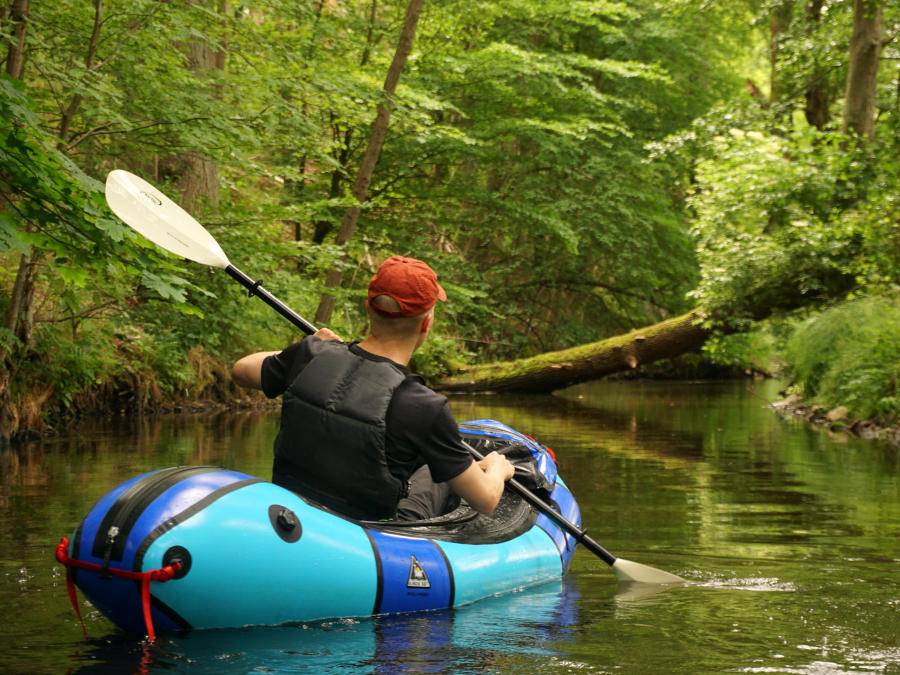 ITIWIT PACKRAFT 100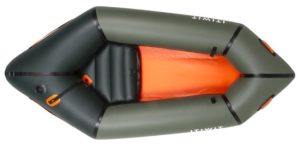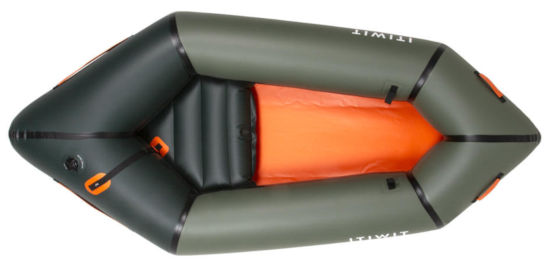 Weight: 2 kg | 4.4 lbs
super light and compact
very affordable
ITIWIT PACKRAFT 500

Weight: 3.8 kg | 8.4 lbs
ideal for bikerafting
many features like T-Zip
ALPACKA EXPEDITION

Weight: 3.8 kg | 8.4 lbs
high-quality packraft
Made in US
Is packrafting the right thing for me?
For a small inflatable boat, the purchase cost is very high. Well equipped packrafts with a robust boat skin can cost up to $1000 and more. But the possibilities you have with a packraft are enormous. Nevertheless, you should ask yourself in the beginning if you really use the possibilities of a packraft. From our point of view, a packraft is the right inflatable boat for you if the following aspects are important to you:
If you want your inflatable boat to be as portable as possible. Packrafts have a very low weight as well as a small pack size and therefore offer the best portability among portable boats at all. There are even ultralite packrafts that are no bigger than a beverage bottle. You can plan your trips with a packraft much more spontaneously and also more flexible, because it is a real "always with you boat". It can fit in any daypack, luggage, trunk or campervan. Decide on the spot or during the day if you really want to go paddling. After the paddle, you can dry the boat on the clothes rack at home. When dried, a packraft will fit in any closet. Thus, a packraft is perfect for adventurous spontaneous city dwellers and travel enthusiasts.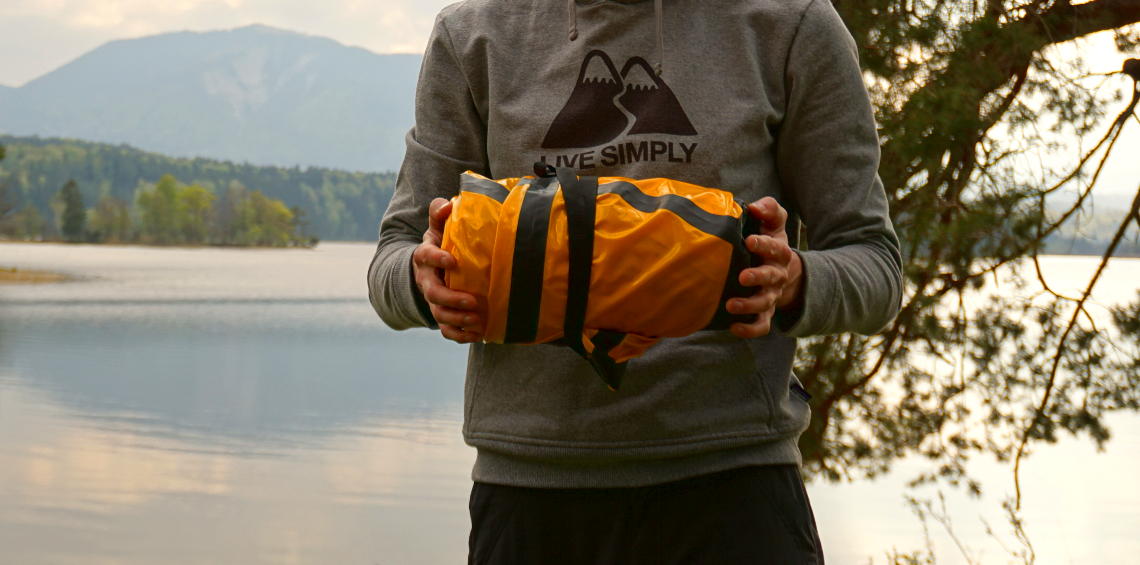 If you are a nature sportsman or outdoor enthusiast and want to go on land-water tours. With a packraft in your backpack, you have the opportunity to discover nature from a new perspective. Because of the easy transportability of packrafts you can combine paddling with another outdoor activity and your tour planning is almost unlimited. You use your packraft where the trail ends and the shore begins. So you can paddle to an island, cross lakes or hike upstream and paddle back downstream with the packraft. Packrafts are not only very transportable, but you can carry a lot on the bow of a packraft itself (e.g. a bicycle). It's not for nothing that the term bikerafting has become established.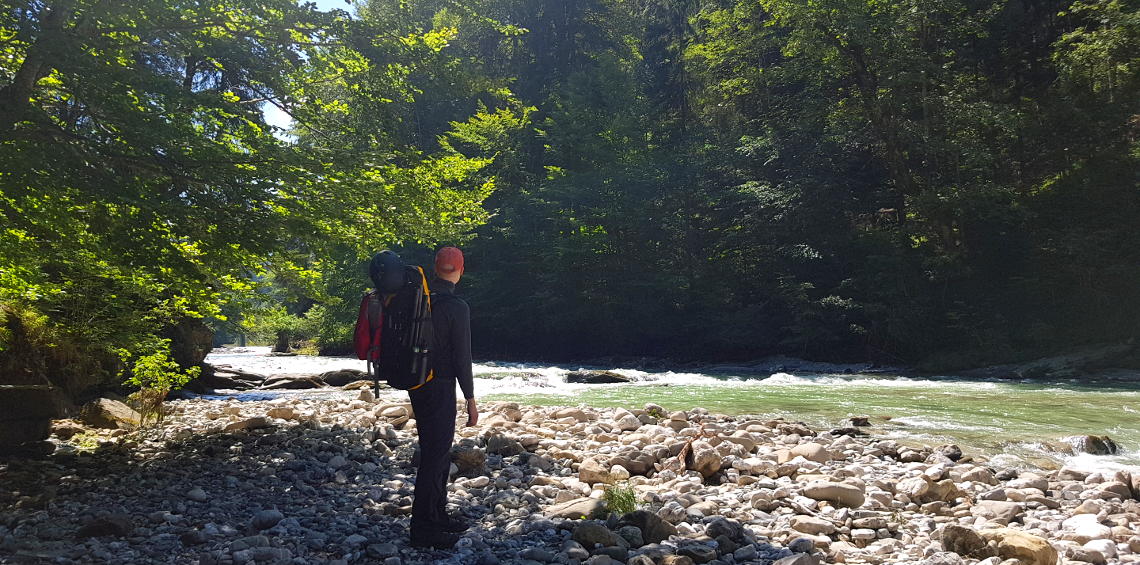 If you want to paddle mainly flowing water or even whitewater. Packrafts have a high buoyancy due to their voluminous side tube and have a wide short hull. These characteristics make packrafts very stable and very maneuverable on the water. That is why packrafts are popular in white water as well as on small and swiftly flowing rivers. Here, the slowness of a packraft is hardly noticeable due to the current of the river and obstacles can be avoided very easily. Especially on whitewater rivers, a packraft opens up new possibilities because you can reach riverbanks that are only accessible on foot. In addition, the problem of having to catch up with the car after the tour is eliminated, since you can walk to the next stop at the end of the tour and take public transportation. If, on the other hand, you want to go on long tours on standing water, a packraft will not give you much pleasure in the long run. Most of the 1-person packrafts are too slow.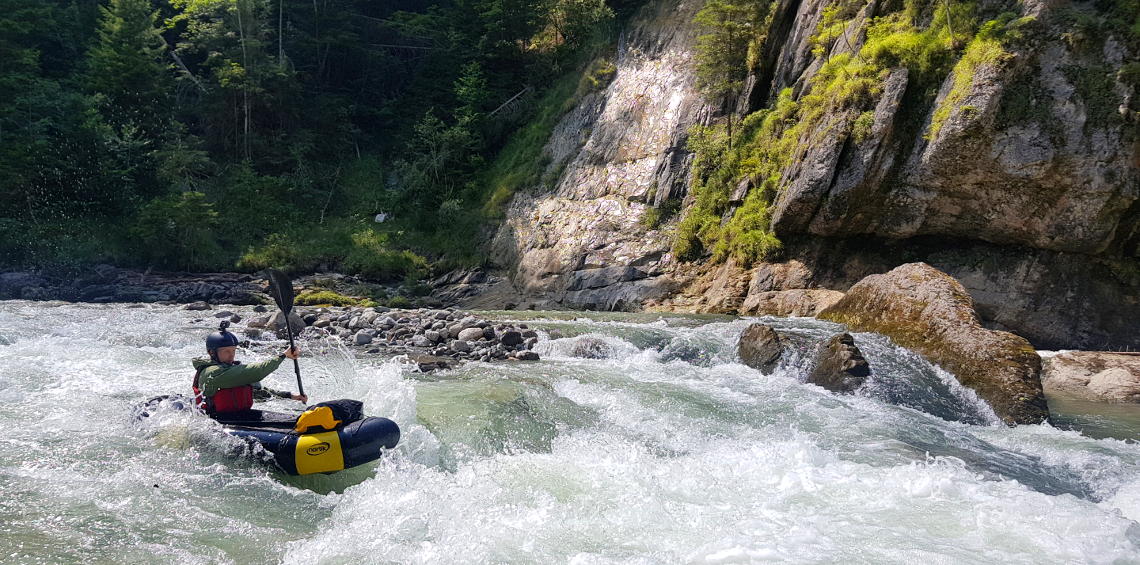 Whitewater packrafting
Even though packrafts are very beginner-friendly compared to traditional whitewater kayaks and therefore forgiving of many technique mistakes, the water still remains unchanged. Paddling on whitewater requires appropriate safety equipment (e.g. life jacket with sufficient buoyancy, helmet, throwbag, signal whistle, …), the correct assessment of the current water conditions when planning the trip (esp. water level and discharge), safe maneuvering of the packraft and early danger recognition on the river. These aspects and others should not be underestimated.
If at least two of the above points apply to you, you should definitely continue reading this article. Because there are numerous tips waiting for you, which we could collect in the last years with packrafts.
If only one or none of the points apply to you, but you still feel like paddling, you should consider the other types of inflatable boats (e.g. inflatable kayak or inflatable canoe). For example, a solid 2-person inflatable kayak costs between $500 and $900. This begs the question of why packrafts are more expensive.
Equipment that is very light yet sturdy is known to cost significantly more. The cost of materials is higher. In addition, most of it is made by hand and in small series compared to other types of boats. The margin on a packraft has to be higher so that suppliers can make a living from manufacturing and selling them. This is because packrafts are still a classic niche product today. For the price of a packraft you already get a solid inflatable kayak with good paddling characteristics, which you can paddle alone and with a friend.
The best packraft for your needs
As mentioned at the beginning, the possible uses of a packraft are almost unlimited. If hiking tours with packraft are in the foreground, a small pack size and weight are important. For bikerafting, you should make sure that the packraft has a sufficiently high load capacity, a large bow and sufficient attachment options.
In addition, you should consider which waters you will usually paddle. In principle, packrafts are much better suited for flowing waters than for large lakes and seas. If you only want to do small, leisurely tours on a lake, you will still be happy with a packraft. If you want to do tours of several hours on calm waters, you will paddle much better with a long 2-person packraft. Lakes can be paddled well with a long 2-person packraft. For whitewater you should pay attention to the right equipment, which we will discuss below.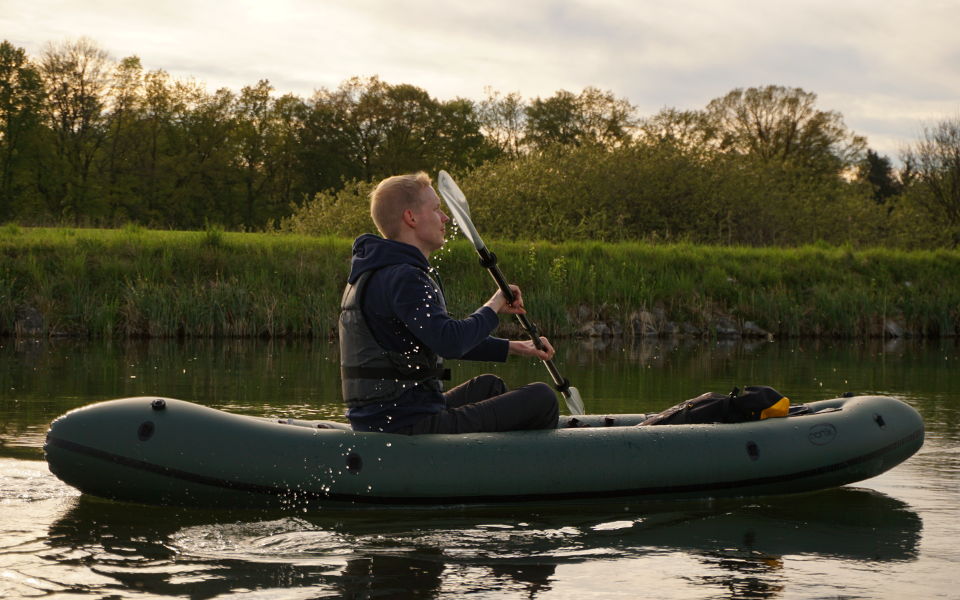 1-person vs 2-person packraft
1-person packrafts: This size of packrafts is the most common. Here there is the largest selection of models. They are very compact as well as maneuverable and therefore very popular especially in white water. If you want to do packraft tours alone, this is the right packraft for you. But even if you are paddling with other packrafters, a 1-person packraft has its advantages: you determine your own paddling pace, develop your own paddling technique and can make one or the other detour independently of the others, for example to look at something close to the shore. 1-person packraft are available in numerous lengths, so that even for tall people there are sufficiently large 1-person packrafts.
Did you know …?
Manufacturers, such as Alpacka Raft, MRS and Mekong, offer their 1-person packrafts in different sizes. So you can choose the packraft according to your body size. Especially if you use the packraft in whitewater, the right size is important. If a packraft is too big, it offers too little support in white water. Alternatively, an inflatable footrest can help. If you like it cozier and more comfortable, you can also choose a slightly larger packraft for calm water and light whitewater.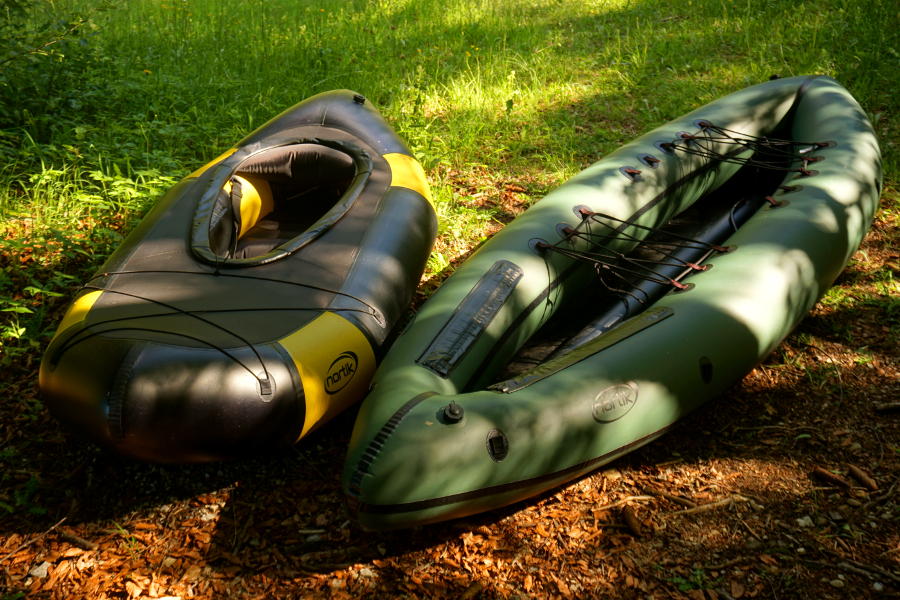 2-person packrafts: This size of packrafts could be interesting for you if you want to paddle often with someone else in the same boat and like to travel on calmer waters. On the one hand, the purchase costs and the weight per head are lower with a 2-person packraft. On the other hand, 2-person packrafts are longer, i.e. they have a noticeably better straight-line characteristic and are faster on the water. Plus, you can take turns paddling with your paddling partner. A majority can be paddled with a double paddle or with a single-bladed paddle as a canoe. Families with children also like to prefer 2-person packrafts over 1-person packrafts.
Packraft features
In this section, we will discuss the different features so that you can make a better decision about what you need and what you do not. The good thing is that most of the equipment can even be added later on. However, keep in mind that each additional feature will increase the weight of your packraft.
Bottom: Compared to inflatable kayaks, the majority of packrafts do not have an air chamber in the bottom. Instead, a robust "tarpaulin" is tightly attached to the underside of the tube. In whitewater, however, there are now some models with an integrated (e.g. Alpacka Forager) or insertable bottom chamber (e.g. Kokopelli Nirvana Self Bailer). Such an air chamber in the bottom offers some advantages especially in whitewater: It provides additional buoyancy and cushions groundings better. Some open packrafts even have a bottom with a self-bailer, so that any water that enters can drain away on its own.
Seat: An inflatable seat gives you an elevated seating position, making it easier to stick the paddle in the water. In addition, a seat isolates well from cold water. If you're going on long trips and value comfort, you should also look for an inflatable seat with a backrest. For white water paddlers, packrafts with a variably adjustable backrest (in the form of a back belt/strap) are recommended. This design can be found on many Alpacka and Kokopelli packrafts. If you want to travel lighter, just leave the seat at home. The first packrafts with their minimal equipment did not have a seat. In fact, you can do without a seat because you can lean directly on the air tube and use a backpack or big dry bag as a seat. For a river crossing it is quite sufficient.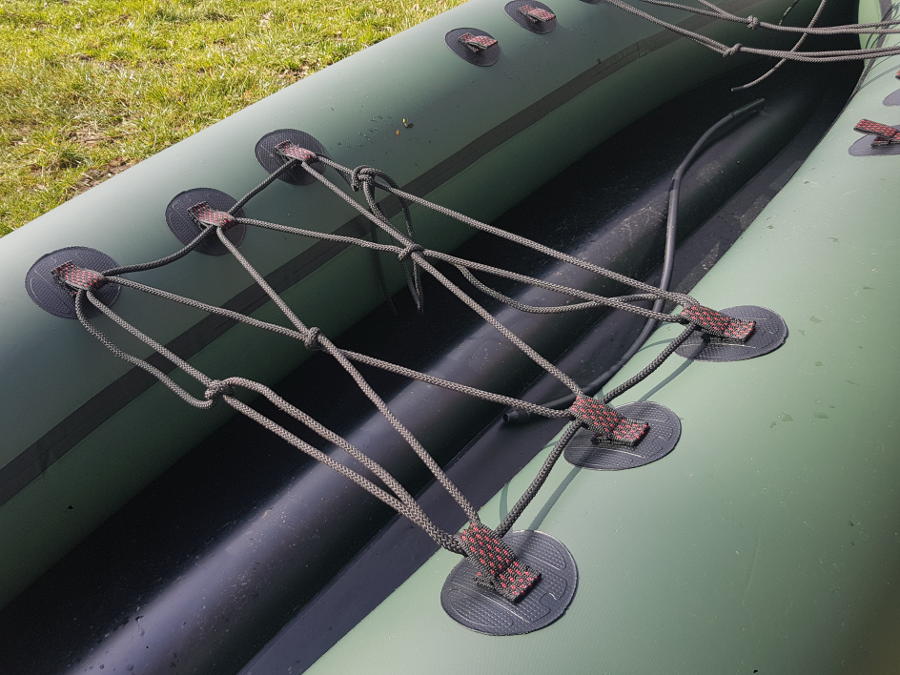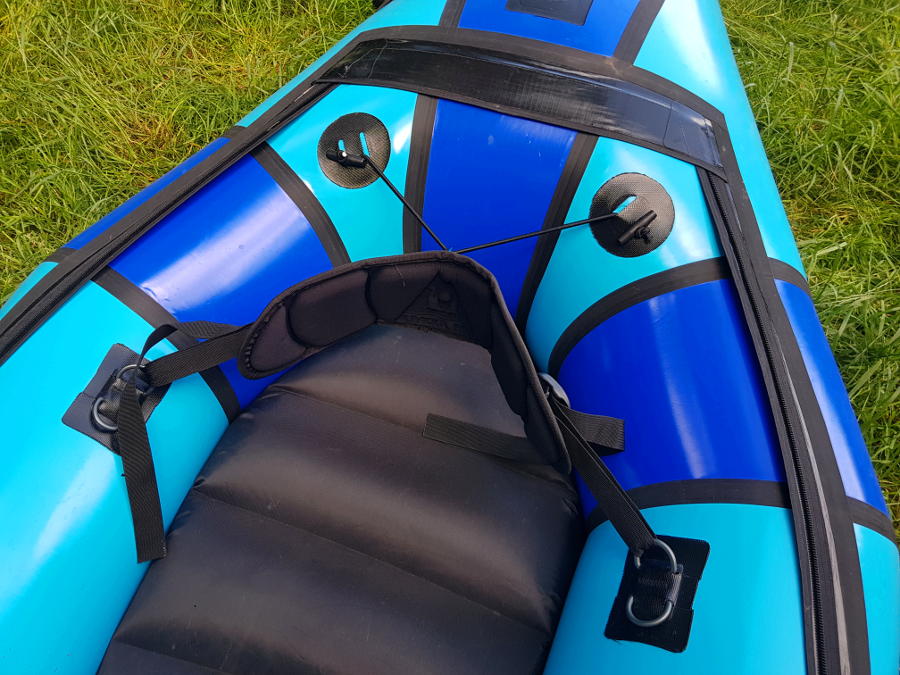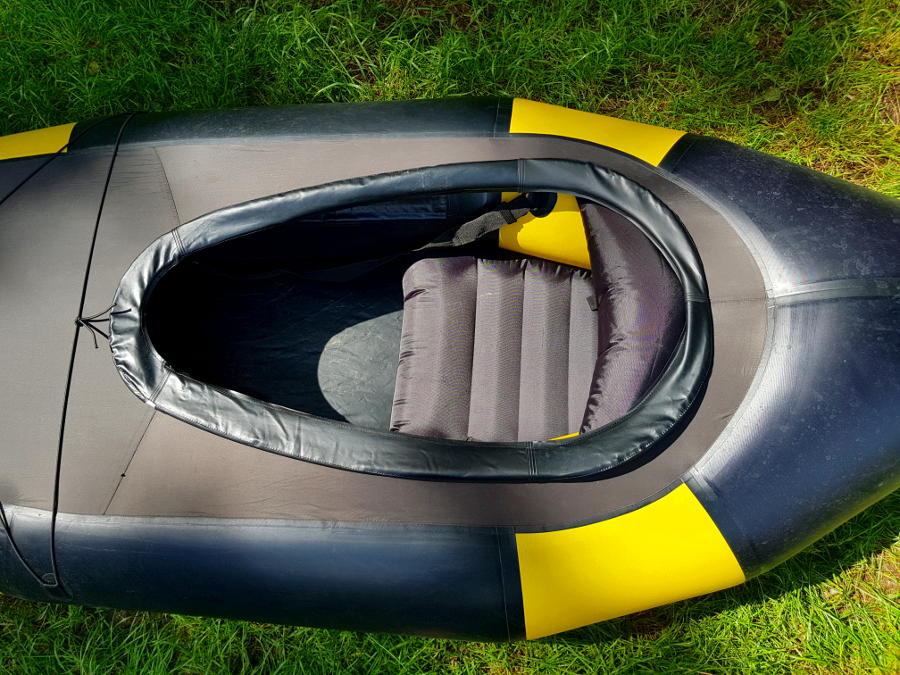 Interior luggage compartment: Due to their small size, Packrafts offer little space to store luggage inside. Luggage must usually be secured to the bow or stern with straps or cords. Especially the bow offers space for a large backpack (up to about 60L or more). This is quite enough for a day trip. If you're on multi-day trips, additional storage space can be a big advantage. Additional storage space (depending on the model 100 – 140L) is provided by internal luggage compartments, where you can store your luggage safely and dryly in the air tube of the packraft. During the ride, however, you can not get to your luggage, unless you let the air out. There are different names for the internal luggage compartments depending on the manufacturer (e.g. Cargofly for Alpacka, TubeBags for Anfibio, ISS [Internal Storage System] for MRS, T-Zip for Kokopelli and Mekong). Where T-Zip refers to the waterproof and airtight zipper. Internal luggage compartments can also be another security feature. Manufacturers offer special dry bags for the luggage compartments, which can also be used as air bodies. Interior luggage compartments always come at an extra cost and increase the weight of the packraft. An interesting alternative would be a larger Packraft, so you can stow your luggage in the footwell. Because of the length, the packraft also runs better.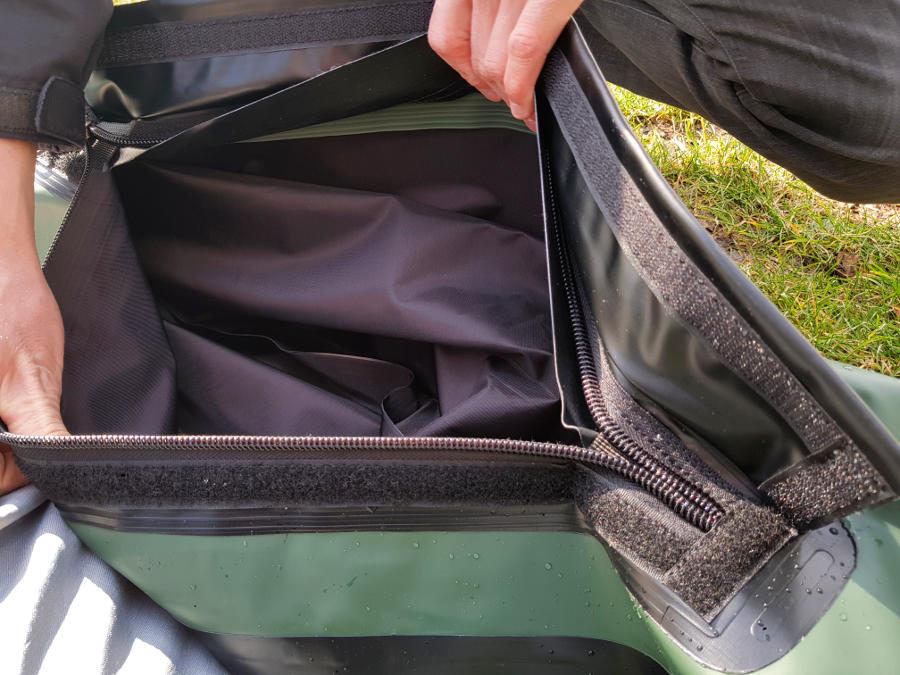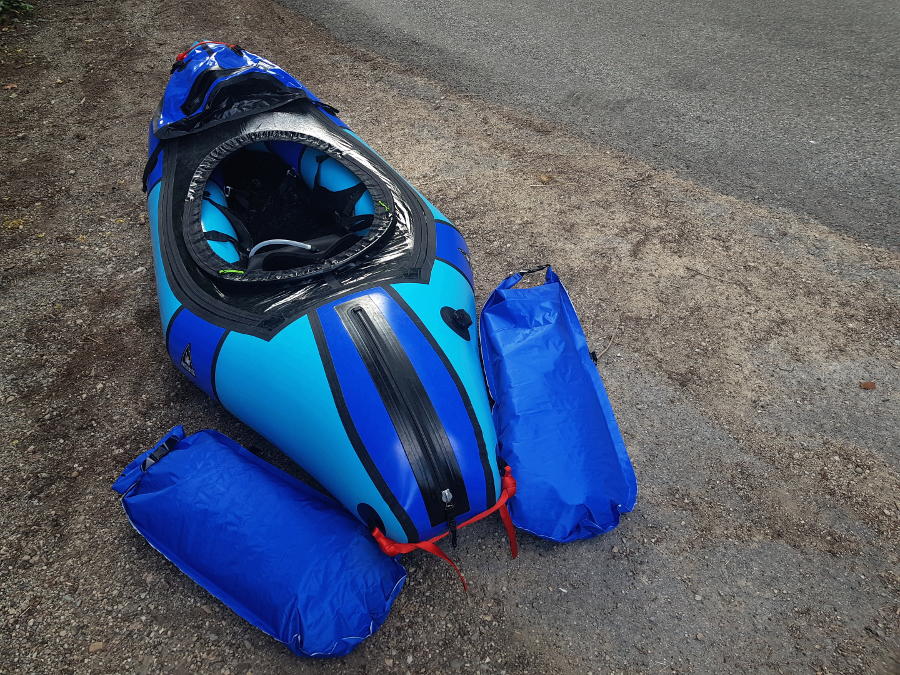 Deck: If you're paddling whitewater or in the colder months, a deck is almost essential (unless you're paddling with a drysuit in a self-bailing packraft). A deck protects you from weather, splashing water and waves. Very common is the deck with a seat hatch and coaming, to which a splash skirt can be attached. This way the packraft is completely sealed like a whitewater kayak and keeps you very well dry from waves in whitewater. In calm waters, it can be paddled without a splash skirt, and still keeps the interior dry from splashing water. In addition to the deck with seat hatch, there are also decks with an integrated spray skirt. For entry and exit, these have a zipper and Velcro closure, so they don't seal completely. They still protect you well from cold, splash water and dirt. The zip and Velcro fasteners allow the deck to be rolled up. So you have an open packraft in no time. If you want to go paddling regularly in white water, we recommend a deck with a seat hatch. There are now also variants that can be reconfigured as an open and closed packraft with a zipper.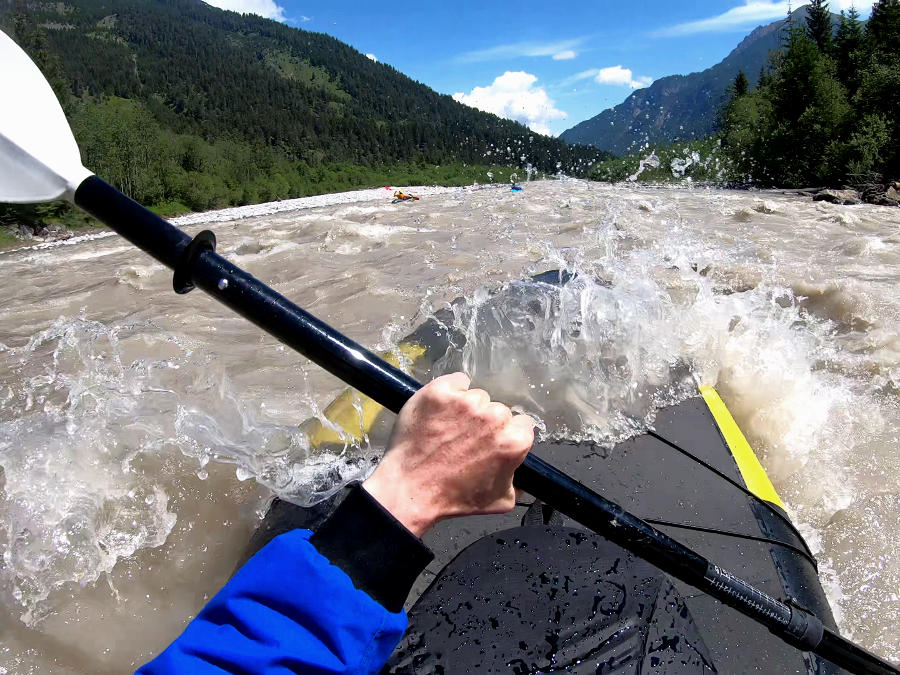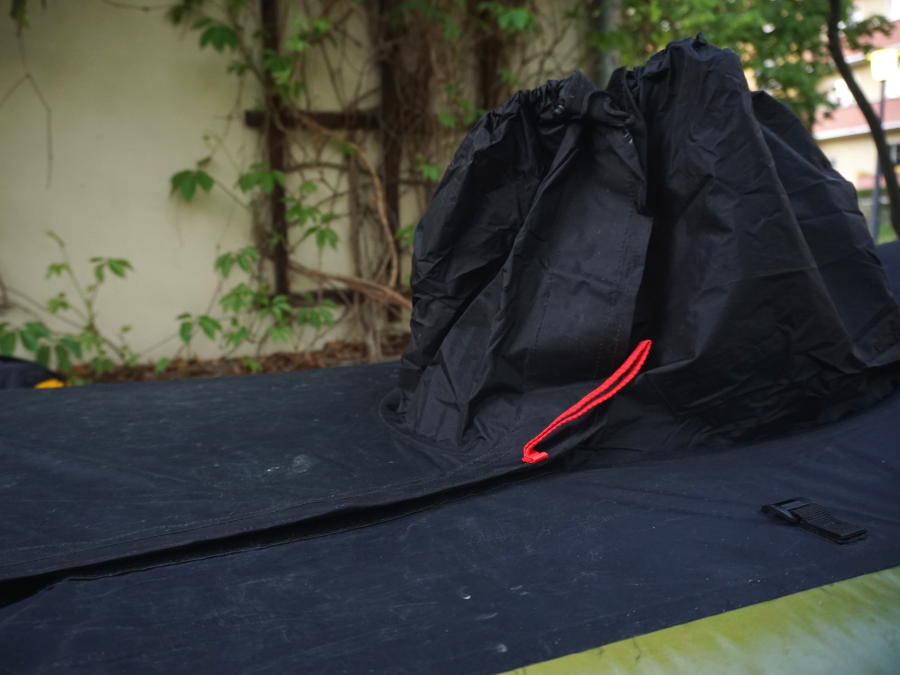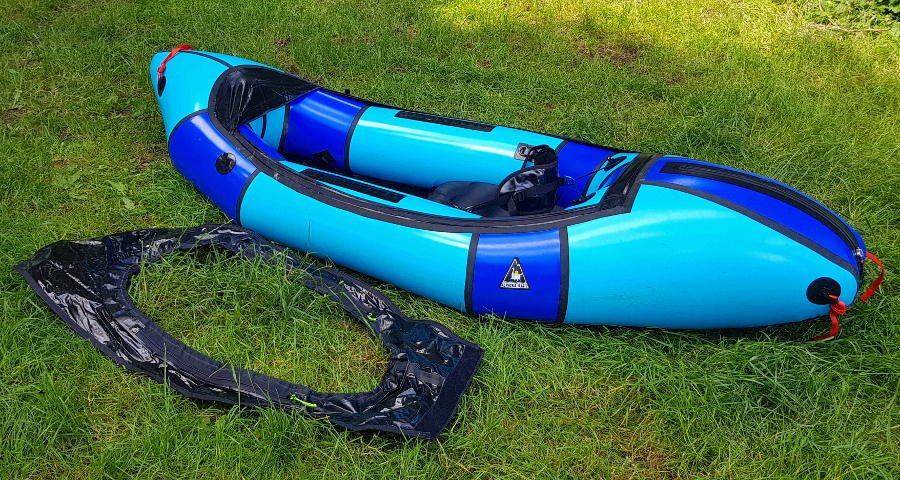 Fin: Still little established but very practical is an attachable fin. Some models from Anfibio (e.g. Anfibio Delta MX or Rebel 2K) and MRS have a fin holder included to attach a directional fin. A skeg noticeably improves the directional stability of the packraft and thus increases paddling efficiency. The packraft is less likely to turn, so it is ideal on rivers with sufficient water depth and lakes. Regardless of the model, you can also install a fin yourself. Taking pictures in a packraft with a fin is much more comfortable. The boat drifts slower when you stop paddling. Fins are not suitable for whitewater use, as they reduce maneuverability. Also, depending on the water level, you would unnecessarily touch down with a fin.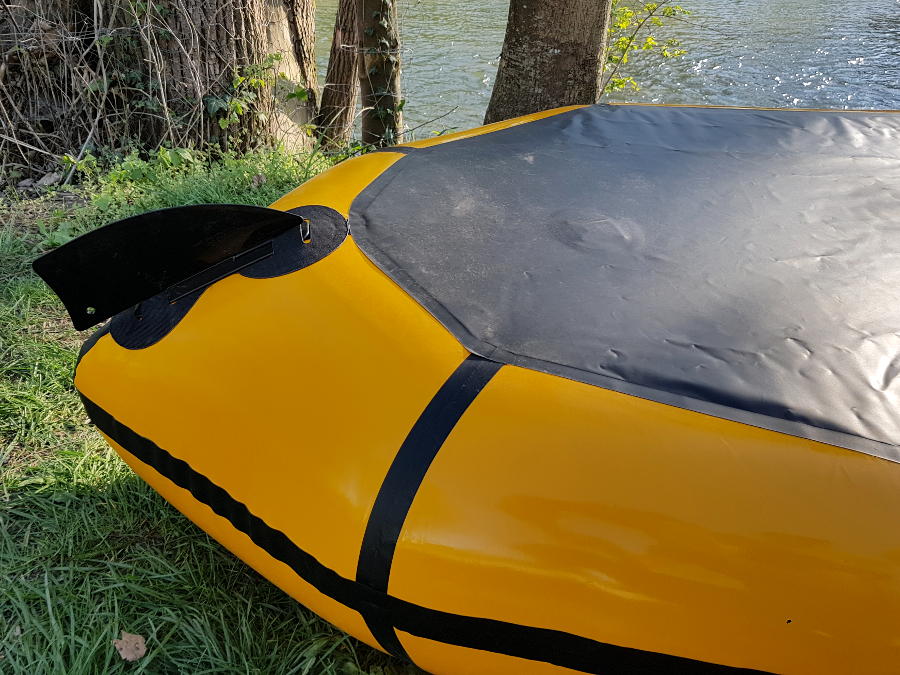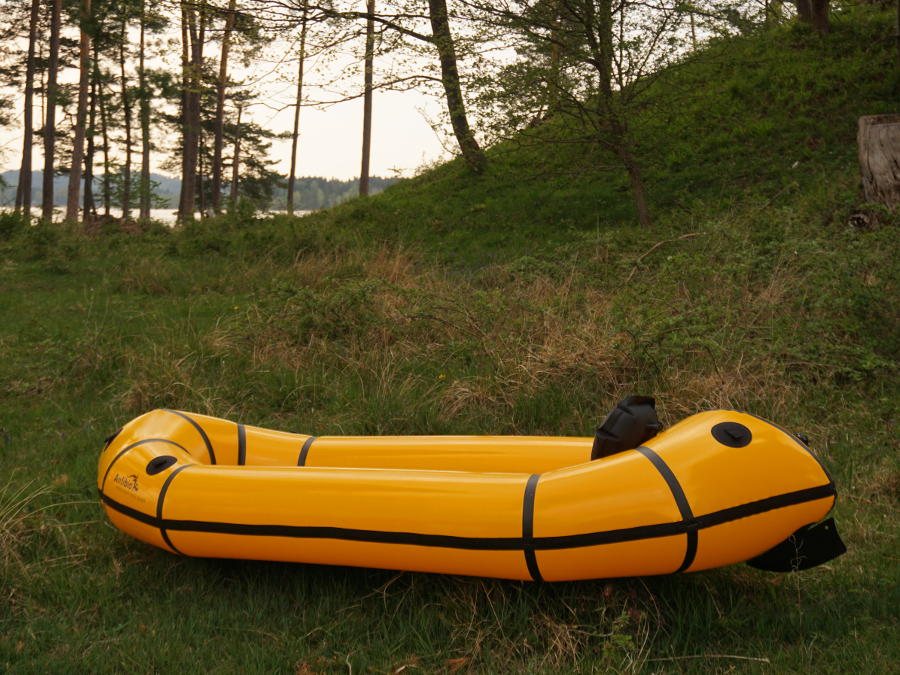 Materials and workmanship
At first glance, you might think that the boat material of a packraft can't be very durable, as it feels relatively thin. However, the material of a packraft has nothing to do with the cheap PVC inflatable boats you can buy in supermarkets. Packrafts can be used in white water, and for that reason alone must be able to resist high stresses.
In principle, there are two main elements: a bottom hull and an outer tube. The outer tube goes all the way around the boat and is inflated with the help of an inflation bag and by mouth. The floor, on the other hand, is not inflated, but is simply a strong tarpaulin.
Materials used: For the boat skin of packrafts, usually a coated fabric material (polyester or nylon) is used. Rarely, packrafts are made of PVC film, which is much heavier and less tear-resistant.
Material thicknesses: The strength from the fabric material is expressed in denier (abbreviated as D). The higher the denier number, the thicker the fiber and the more durable the fabric. For example, a 420D nylon is more abrasion resistant and sturdy than a 210D material, but the 210D packraft is lighter. The bottom has the highest stress, so this is usually made of a stronger material than the side tube. Nevertheless, the robustness can be derived not only from the material thickness, but from other factors (eg coating, processing, construction, …).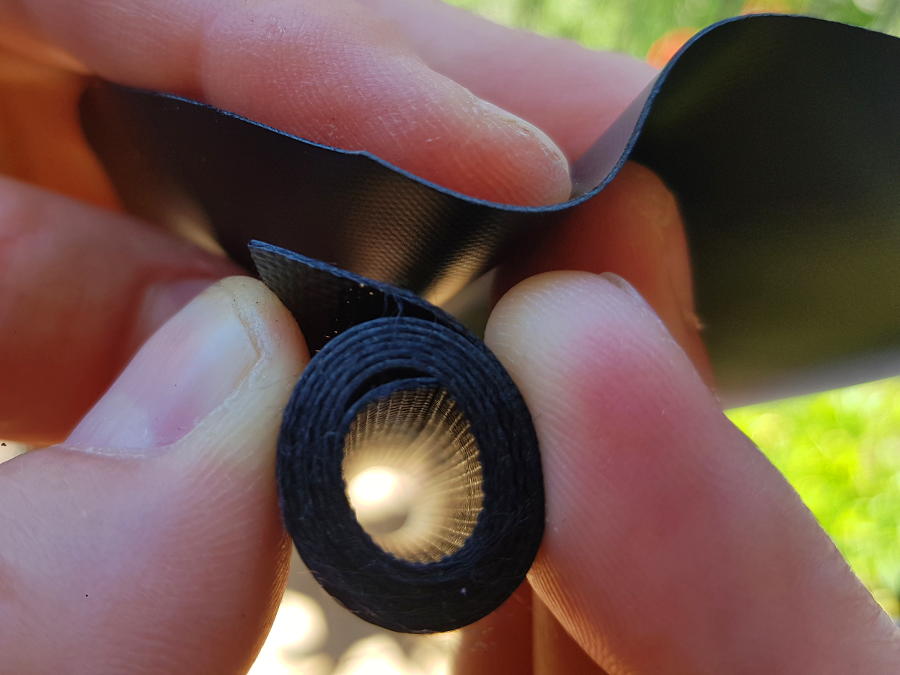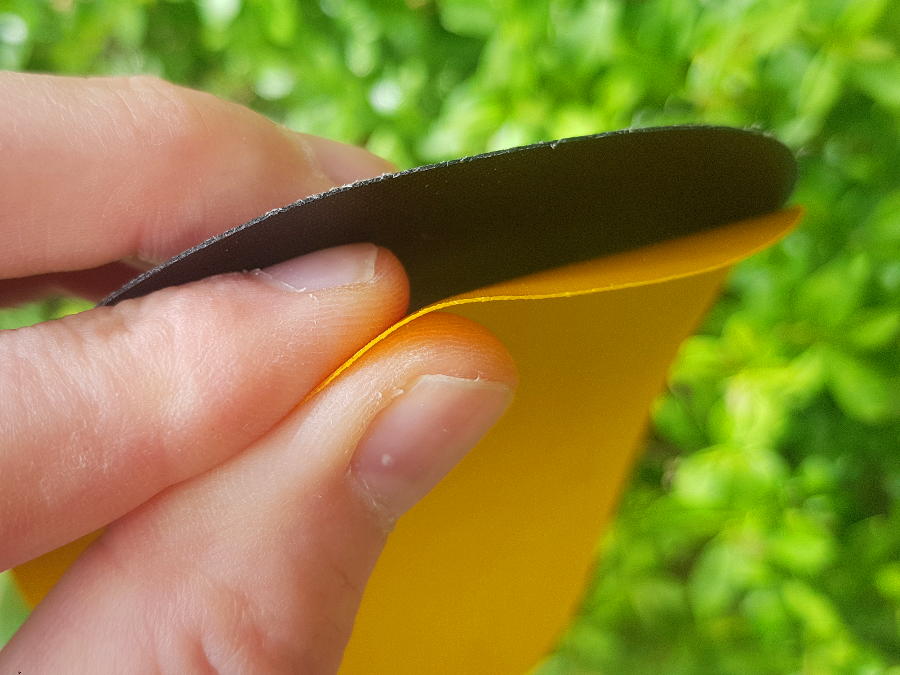 Coatings: Urethane, polyurethane (PU) or thermoplastic polyurethane (TPU) are usually used as coatings. The thickness of the coating is specified in g/m². The floor is coated from both sides, as it is subjected to stress from both outside and inside the footwell. For the tube, it differs depending on the manufacturer. Some manufacturers coat the tube on both sides so that if the outer coating is damaged, the material will still hold tight thanks to the inner coating. Other manufacturers, on the other hand, coat the tube on one side because this allows the fabric material to yield better and distribute the "tearing stress" over several fibers when stressed. As a result, the fabric material remains more tear-resistant.
Packraft manufacturers
There are now many manufacturers in the niche market of packrafts. To make your research easier, we would like to introduce some of the most important manufacturers here.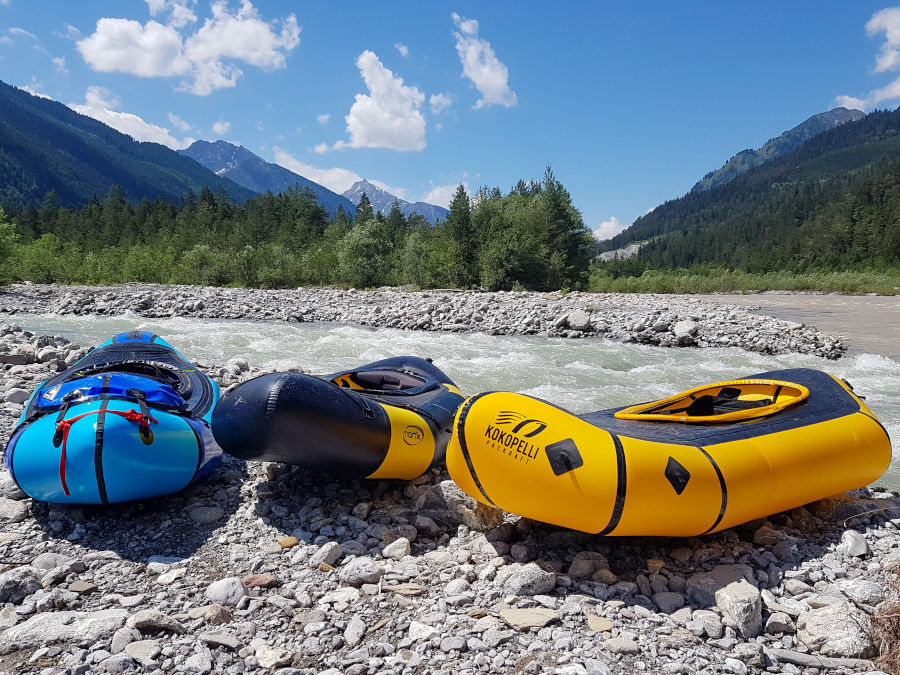 ITIWIT PACKRAFT 100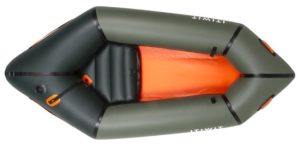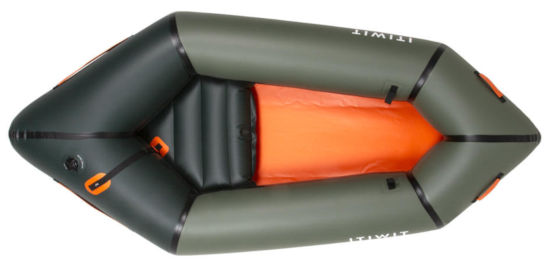 Weight: 2 kg | 4.4 lbs
super light and compact
very affordable
ITIWIT PACKRAFT 500

Weight: 3.8 kg | 8.4 lbs
ideal for bikerafting
many features like T-Zip
ALPACKA EXPEDITION

Weight: 3.8 kg | 8.4 lbs
high-quality packraft
Made in US
Do It Yourself (DIY) Packrafts
The biggest cost factor for packrafts does not come from the materials used, but in the manufacturing process itself. Packrafts are handmade, and that makes a big part of the costs. DIY packraft sets offer you the possibility to build your own packraft at low cost. The kits contain the pre-cut materials that need to be ironed together to make a packraft. Prior experience is not required for the DIY Packraft. Depending on experience and kit, it can take over 40 hours to build. Compared to the packrafts from big-name manufacturers, the DIY do not sew the tubes and bottom together.
DIY Packraft
DIY Packraft is not a manufacturer of packrafts, but makes you the manufacturer of your own packraft. Only the materials, such as valve and boat skin, must be purchased. Thereby the components of the boat skin are already pre-cut. The main tool is a special welding machine, with which you close the seams. Step by step videos then explain how you can then make your own packraft. And when you look at the results, you have to say that the boats look like they were bought from the store. This does not only fills you with a lot of pride at the end, but also saves you quite a bit of money. The material for the cheapest model currently costs about 180€. They ship worldwide and takes between 15 and 25 hours to build the packraft, according to the site.
Long-term experiences can be found on the English-language blog michaeldeckebach.com. After numerous uses of the self-built Packrafts, the blogger is convinced of the construction and the material of the boat. At the same time, however, he points out that the seams are the packraft's weakest point and that the boat therefore needs to be repaired at regular intervals. For a professional sealing of the seams you would need, according to the opinion of the blogger, a high-performance iron, which packraft manufacturers use but for the construction of one or two boats that would be too expensive.
Iron Raft
The British supplier Iron Raft also offers a kit to build a packraft yourself. The kit is available in three different sizes, depending on the size of the paddler. To assemble the packraft, the company recommends an iron that can apply a constant heat of at least 220°C.
Strengths and weaknesses of packrafts
The great strength of packrafts is undoubtedly the extraordinary flexibility thanks to the small packing dimensions and low weight. However, since most packrafts are quite wide and short, they don't have the best straight-line characteristic and don't reach the speeds as conventional kayaks.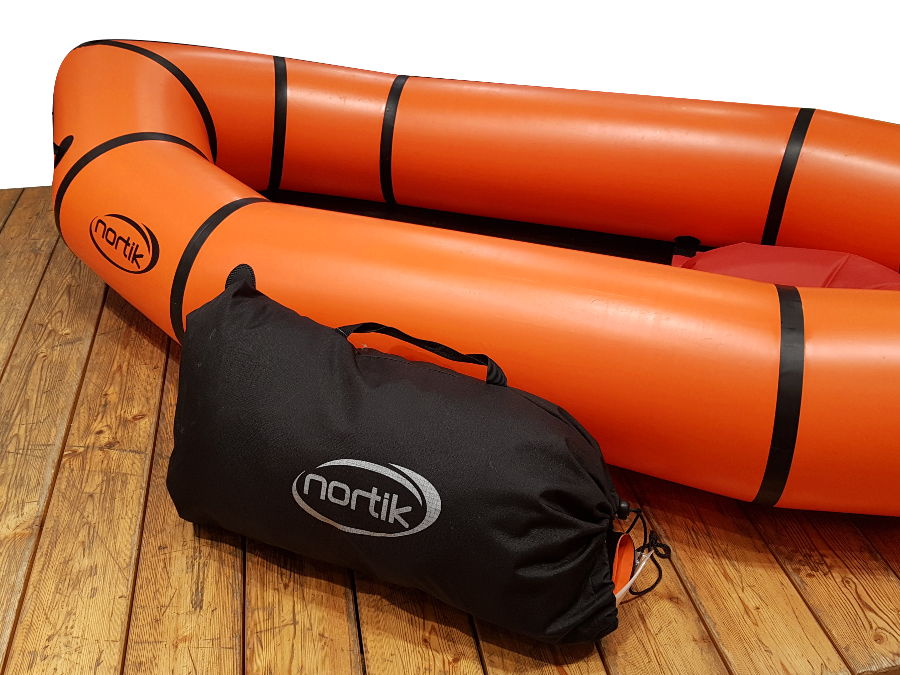 Advantages
+ ideal for long tours thanks to high payload + extremely light and compact + very easy as well as quick assembly and disassembly + very robust boat skin
Disadvantages
– high purchase price – vulnerable to wind – most models are rather slow and do not have the best directional stability
Inflatable and folding kayaks as alternatives
Have you always wanted to buy a kayak or canoe, but you just don't have the space to store it or the car to transport it? A packraft would eliminate all of that and allow you to enjoy your paddling hobby. But not only packrafts offer you this possibility. If you want to use your boat exclusively for touring on lakes and rivers, without combining it with hiking or biking, then conventional inflatable kayaks or folding kayaks may be a better choice.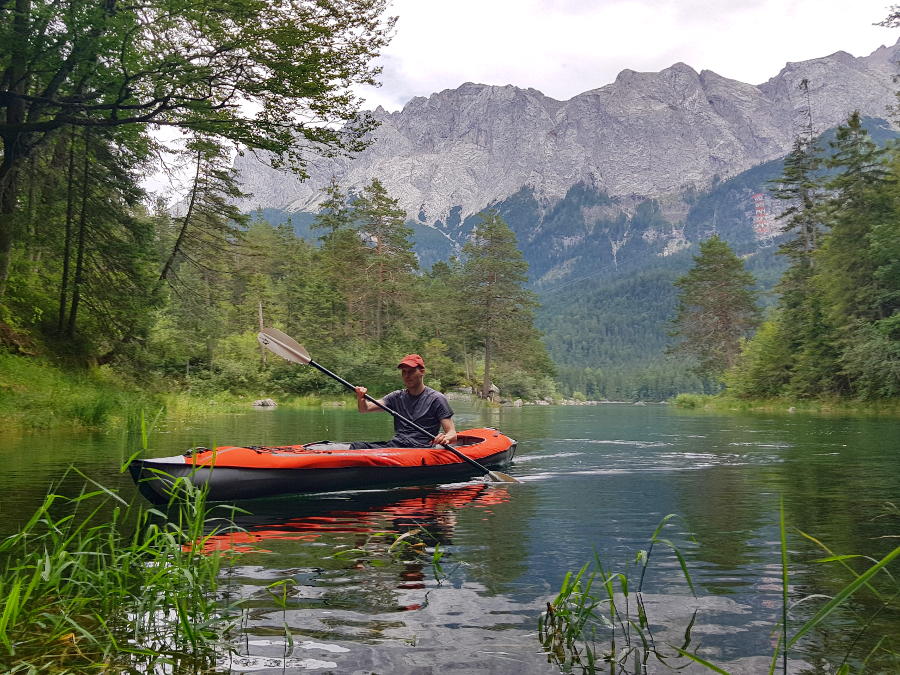 Inflatable kayaks or inflatable canoes are the same in shape as the rigid-hull variants. They are definitely heavier than packrafts, but can still be transported on buses or trains with a backpack. They have the better running characteristics and more comfort, especially on lakes. In addition, there are high-quality models that are far cheaper than packrafts and are therefore more affordable for most beginners.
Those who attach great importance to the fact that the handling of their boat is close to that of a solid kayak should go for a folding kayak or folding canoe. Such boats have a very good stiffness and really good paddling characteristics. In terms of price, most folding boats are more expensive than inflatable boats.