Ocean kayak is a big kayak manufacturer with an excellent reputation for hard-shell kayaks on the US market. I have had already several times the opportunity to paddle a kayak from ocean kayak and in this article I would like to review their bestselling two person kayak the Malibu two. If you are looking for a 1 person sit-on-top kayak, then you should take a look at the Ocean Kayak Frenzy.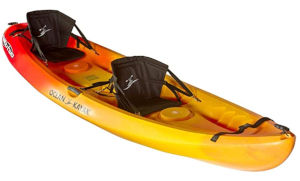 Technical Specs
Max. paddlers:
Length:
Width:
Capacity:
Material:
2
370 cm | 12'1"
86.4 cm | 2'8"
193 kg | 442 lbs
Single layer polyethylene
First Impressions of the Ocean Kayak Malibu Two
The ocean kayak Malibu two is a tandem sit-on-top kayak. However, it can also be paddled solo. You can easily remove the seats and put one of it in the middle of the kayak. When paddled as a tandem kayak, you will still have some space in the middle for a small child or a pet like a dog.
Sit-on-top kayaks are the best choice if you are new to kayaking. As the name says, you sit on the top of them rather than inside them. Sit-on-tops are very good at staying upright and afloat. They are a good choice for lakes, calm rivers and coastal bay waters on nice summer days.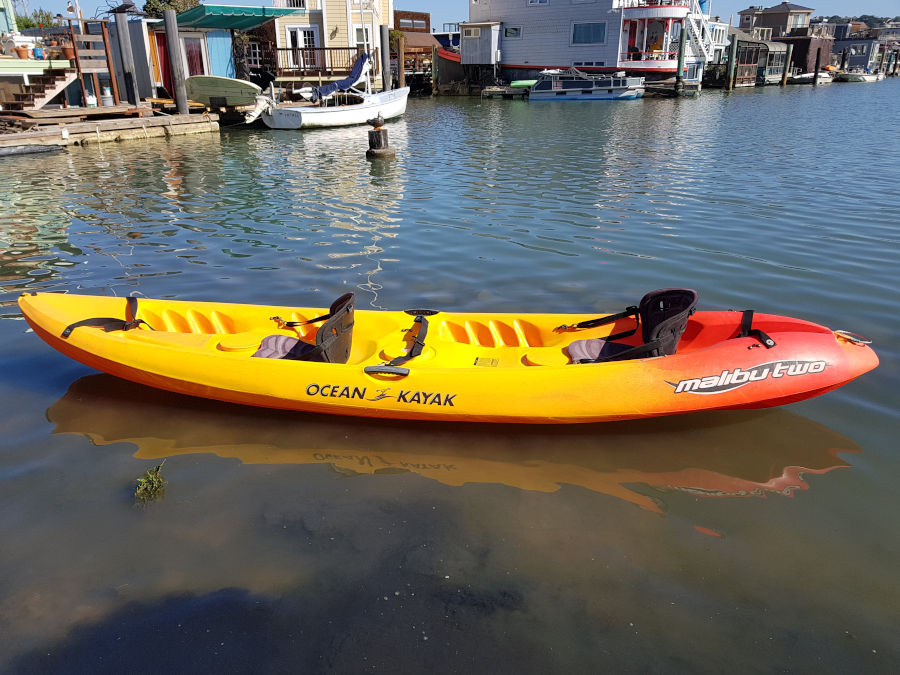 Traditional kayaks in contrast require to inside instead on top. This has some decent advantages but it requires some kayak experience. One advantage is that you are kind of covered from splashing water.
It can be paddled solo or tandem. It fits two adults and one small child or a pet like a dog.
Storage is one of the downsize of this compact kayak. It has only limited space on the bug and stern. For a little day touring it's absolutely enough space. But if you want to go kayaking for several days or with quite a lot of gear and luggage, then it's definitely not your kayak. You can store a backpack or some dry bags on bow, stern and center with gear straps. The straps are good to fix dry bags on them but otherwise I didn't find them very useful. They are quite short to hold bigger stuff. A net would have been much better for.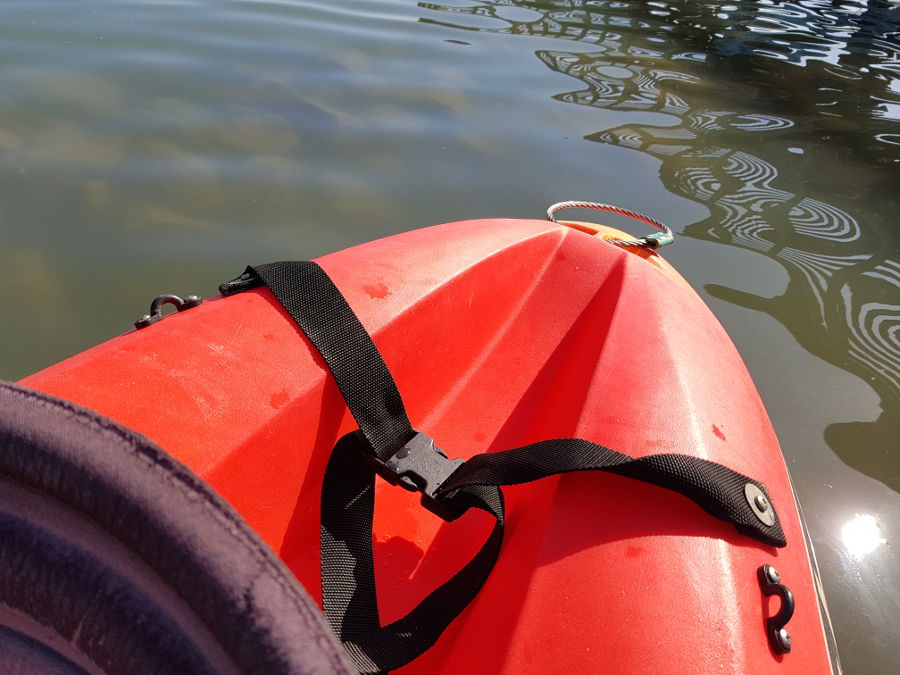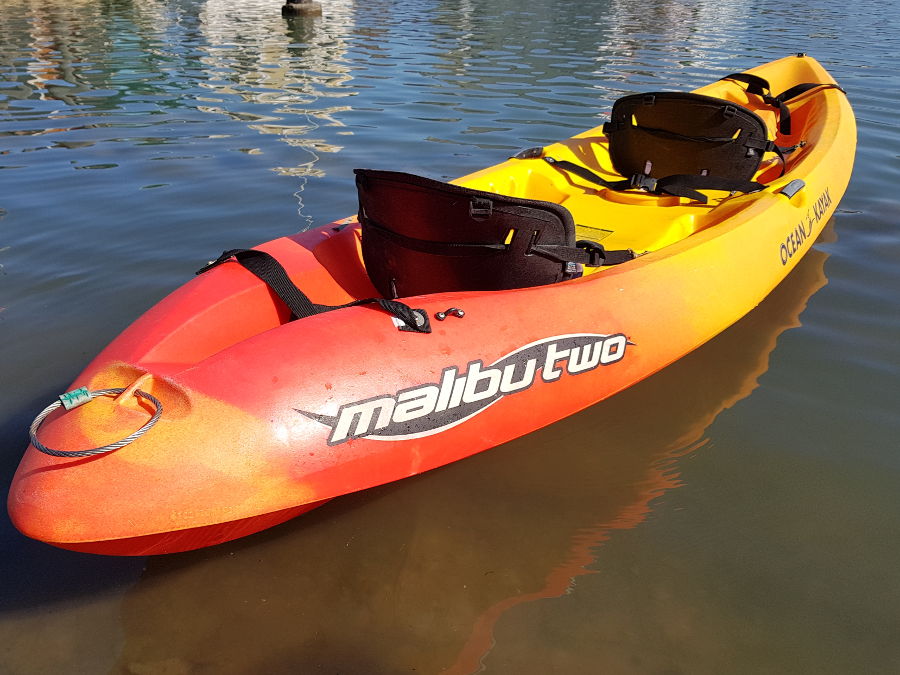 There are carry handles on the bow and stern which makes it very easy to carry this boat with two persons. I also found the handles on the sides very useful. In that way it's very easy to hold the boat on the landing stage when the other person gets in.
Optionally, you can use up to three ground Gaspachi hatches but they are not included in the delivery. Unfortunately, they are quite costly.
Rewiew on the water with the Ocean Kayak Malibu Two​
The big advantage of the ocean kayak Malibu two is definitely its stability. We have never had the feeling of skipping when the water got a bit rougher. Getting in and out of the kayak was also no problem at all. The wider design of the boat provides a stable platform.
Most of the kayak, which have a wide shape lack of speed. In terms of physics this is absolutely normal but Ocean Kayak seemed to have found the right balance. We had a good speed on the water without any big efforts. We had the impression that boat is smoothly gliding on the water. Sure, we had often really good water and weather conditions but also when the water got a bit rougher we still moved forward easily. It is easy to track and it maneuvered really well. I have to admit that I was positively impressed by its performance on the water. Our average speed when paddling without any big effort was about 5km/h. When we tried to be as fast as we could, we reached 7.5km/h (4.7 mph).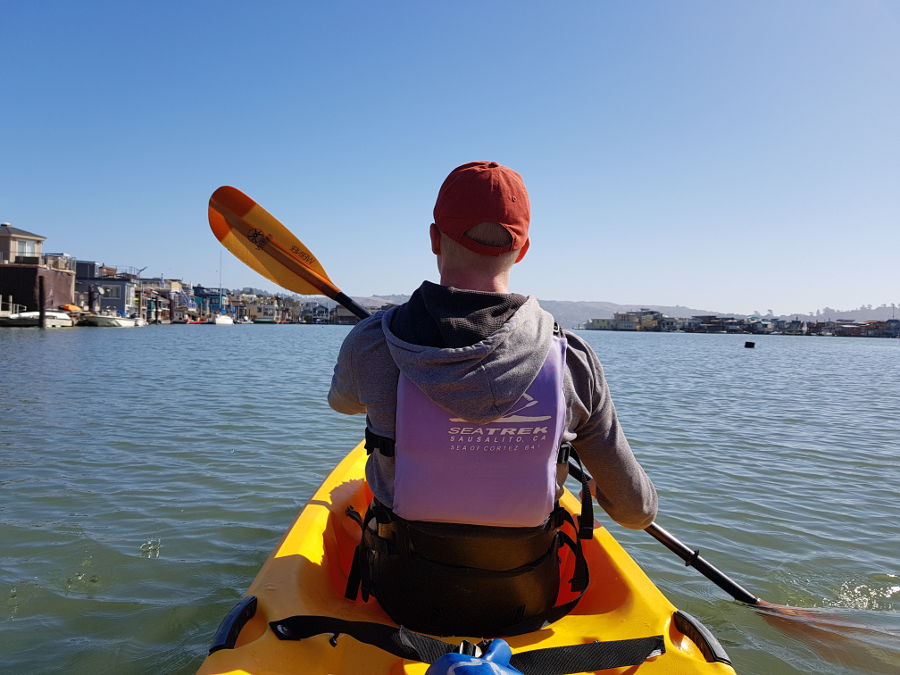 I am quite tall and there are some kayaks where I wouldn't fit in. So, I paddled the kayak while sitting in the front as well as in the back. I definitely have more space for my legs in the front. I can really stretch them out if I want to. Although, I had less space for my legs in the back, it was still comfortable. I think this is mainly due to the overlapping foot wells. Thanks to them you have multiple foot positions and you can take the one that fits you the best. They give your feeds and legs really good stability.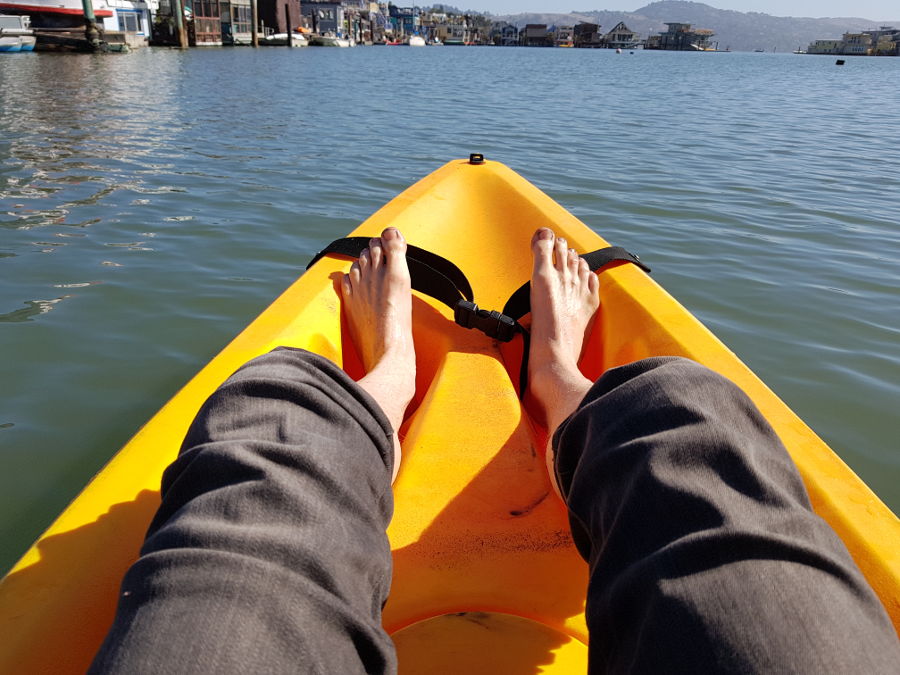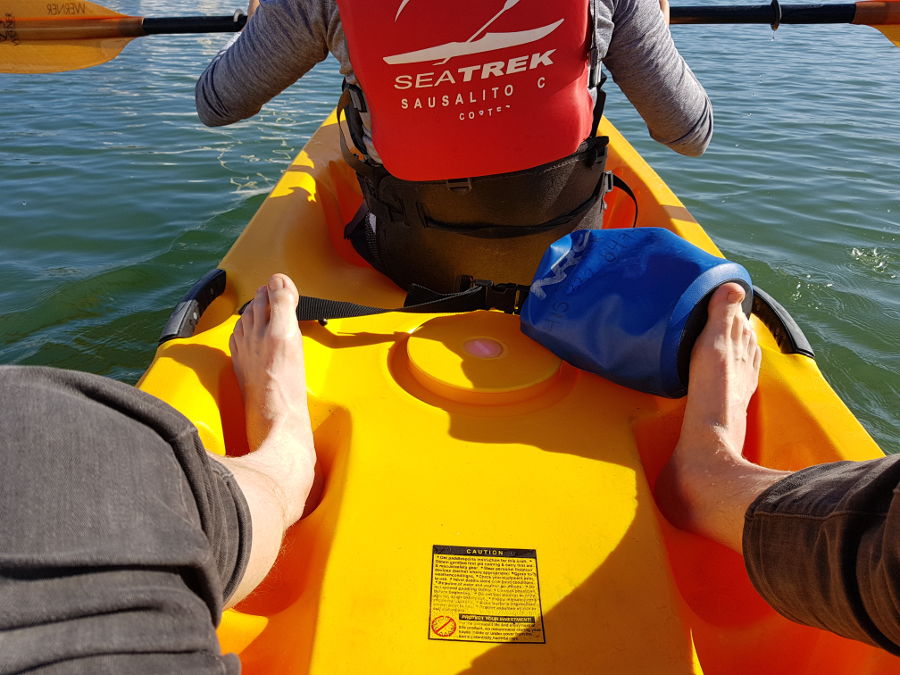 I liked the seats that comes with the kayak. They are comfortable and you can easily adjust them. Of course, comfort is always very subjective and everybody will judge it differently but I have nothing negative to mention about the seats. If you like softer seats I could recommend you getting an inflatable outdoor seat pillow and just put it on the seat. I have even paddled this kayak without any seats near the beach and it was absolutely alright for me.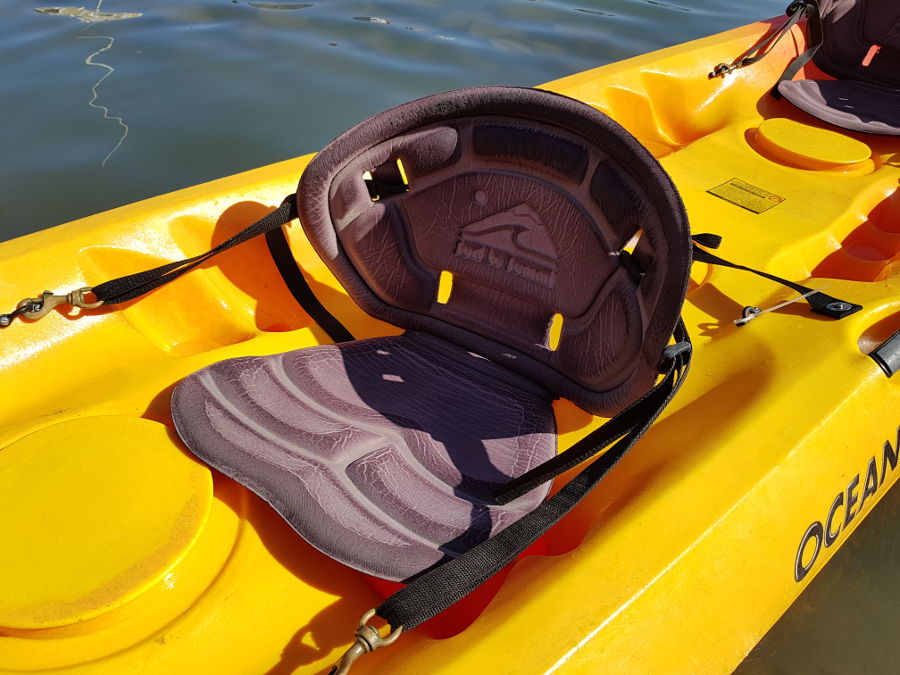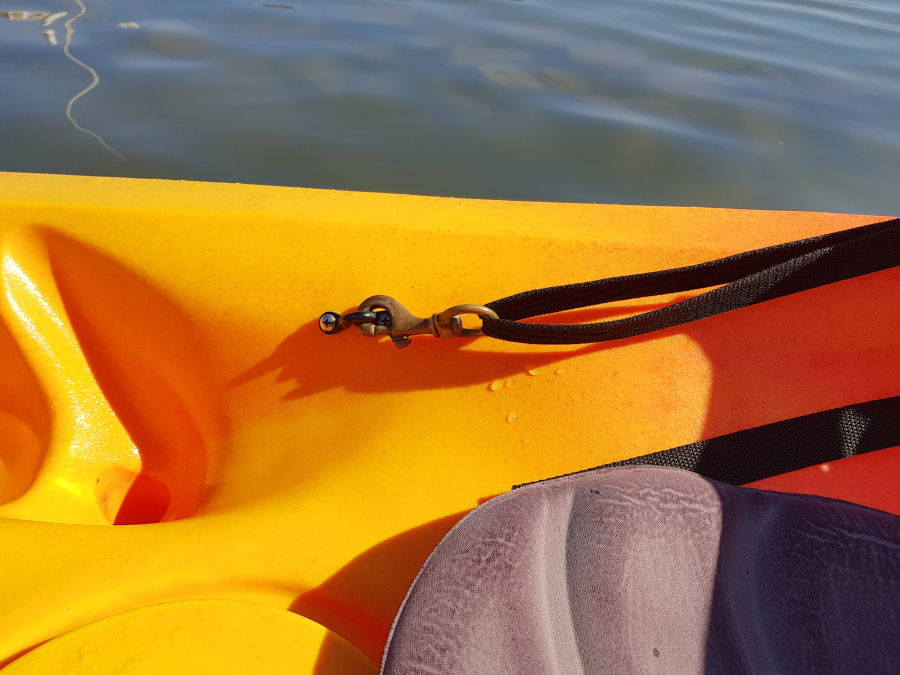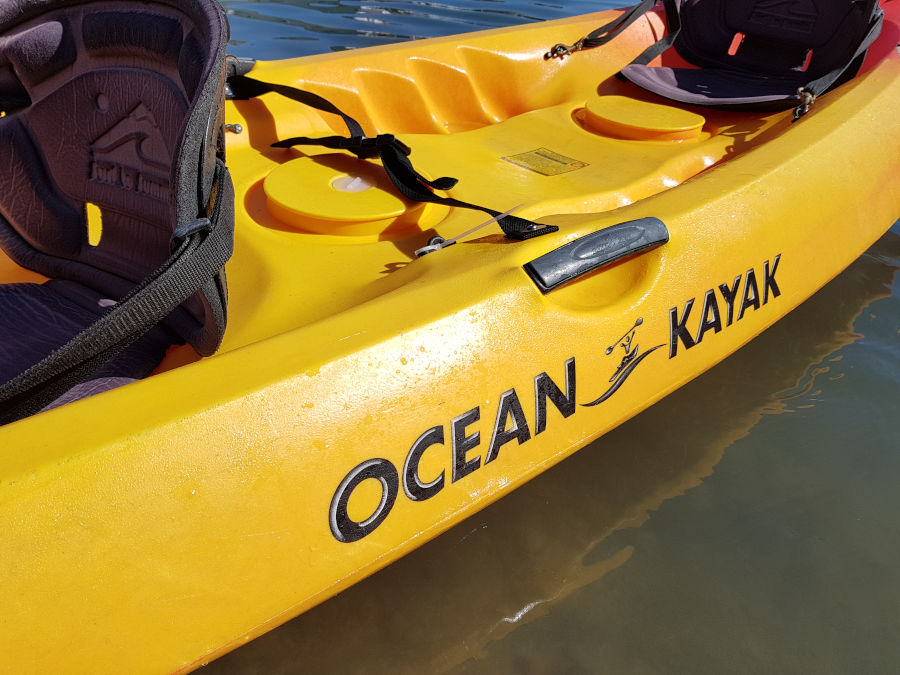 Final notes on the Ocean Kayak Malibu Two
The Malibu Two is another great example how a long lasting and well-performing kayak should look like. Ocean kayaks can last for decades if you properly take care of it and the Malibu two seems no different. It's always a great feature if you can transform a two person kayak into a one person kayak. It's not only a compact kayak but also a flexible kayak. It works well for touring as well as for fishing and small to moderate surf.