Sevylor is one of the best-known inflatable kayak manufacturers and has made a name for itself among many people, especially with its entry-level models. The Sevylor Riviera is the cheapest inflatable kayak from this manufacturer, which promises a lot of paddling fun at the first glance. We had the possibility to review this kayak and want to tell you in this article what impression the boat has made on us and whether we would recommend it to you as a beginner kayak or rather as a simple fun boat.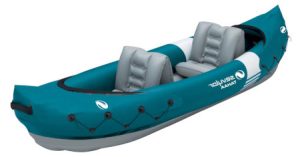 Technical Specs
Max. paddlers:
Length:
Width:
Capacity:
Packed size:
1
315 cm | 10'3"
92 cm | 3′
159 kg | 200.4 lbs
61 x 41 x 24 cm |
2′ x 1'3" 8"
Material:
Weight:
Pressure:
Produced in:
PVC
8.8 kg | 19.4 lbs
0.06 bar | 0.88 PSI
China
Which model has been reviewed?
Sevylor Riviera from 2018
How did we organize the review?
We have purchased the Sevylor Riviera ourselves.
How intensively has the product been tested?
high 1 bar = 1-3 km paddled (first impressions)
2 bars = min. 1 day/ 2 half-day tours
3 bars = min. 4 tours
4 bars = min. 8 tours
5 bars = min. 12 tours (very intense)
Where have we tested the product?
Product update of the Sevylor Riviera!
The Sevylor Riviera has been renamed to Sevylor Tahaa. Nothing else has changed on the kayak otherwise, which means that the Riviera and Tahaa are the same boats.
Set-up and first impressions
Already during the set-up it was remarkable how light and compact the Riviera is. It seems quite astonishing that a 2 person kayak can weigh less than 10 kg (22 lbs). Inflatable boats are basically quick to set up and this also turns out with the Riviera. All you have to do is to pump up the two side chambers as well as the floor chamber and the boat is almost ready to use. Only the front splash guard is needs to be attached easily over the bug and the two seats in the inside of the kayak, which are inflated with the mouth. In addition to that, we should mention that Sevylor has come up with a rather clever concept for the spraydeck. You can use it as a kind of backpack for the rolled-up boat.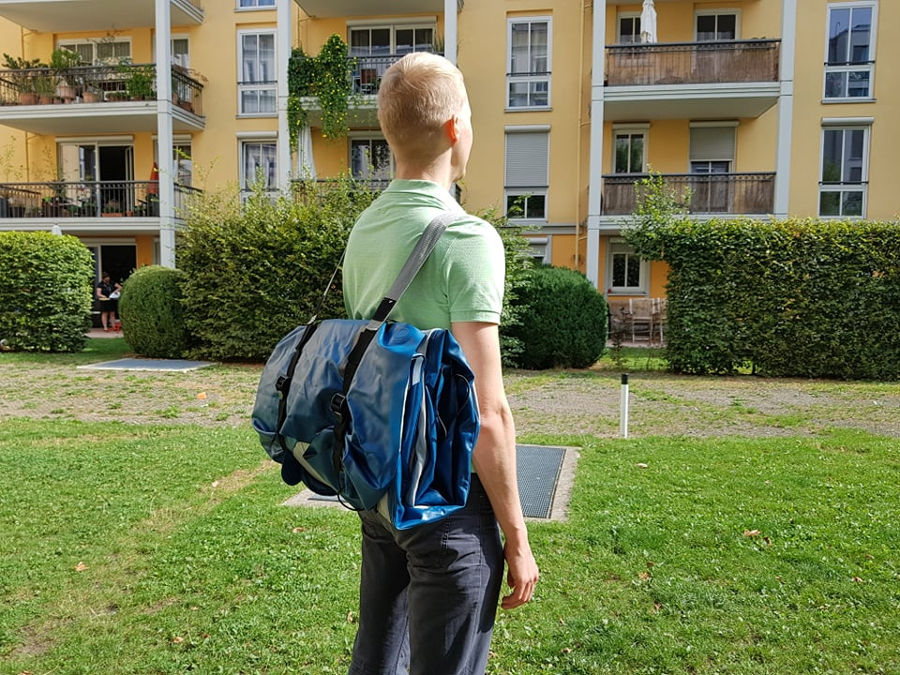 The air pressure displays on the side chambers are also a really clever idea from Sevylor and they are very practical. If the bar is in the green area, you know that the chamber has the ideal pressure. In that way, you don't need a manometer for the air pressure control. However, there is no such pressure indicator for the floor chamber. Here, you need to compare the air pressure by hand pressure with one of the side chambers.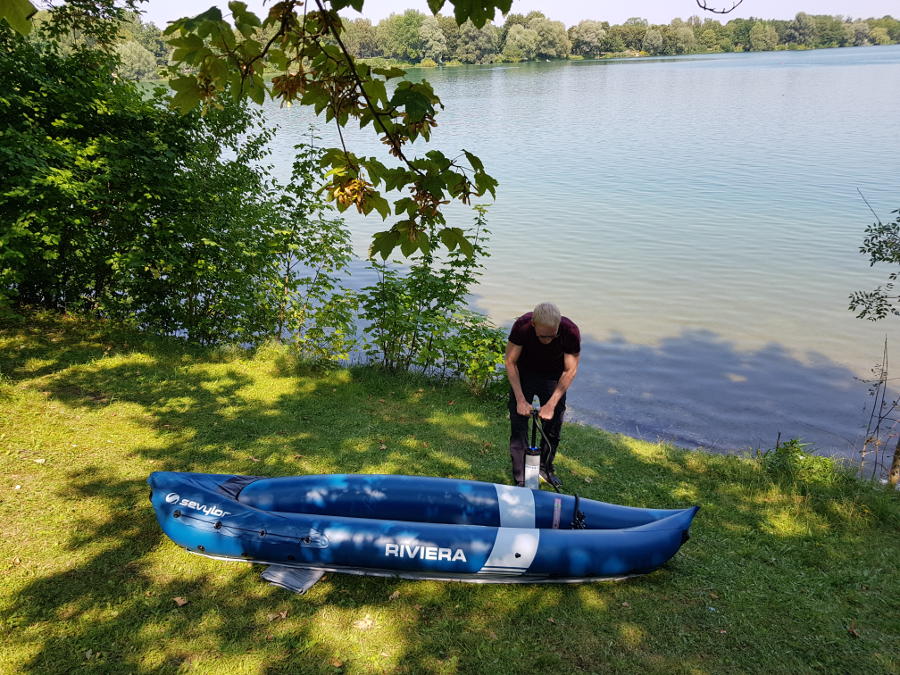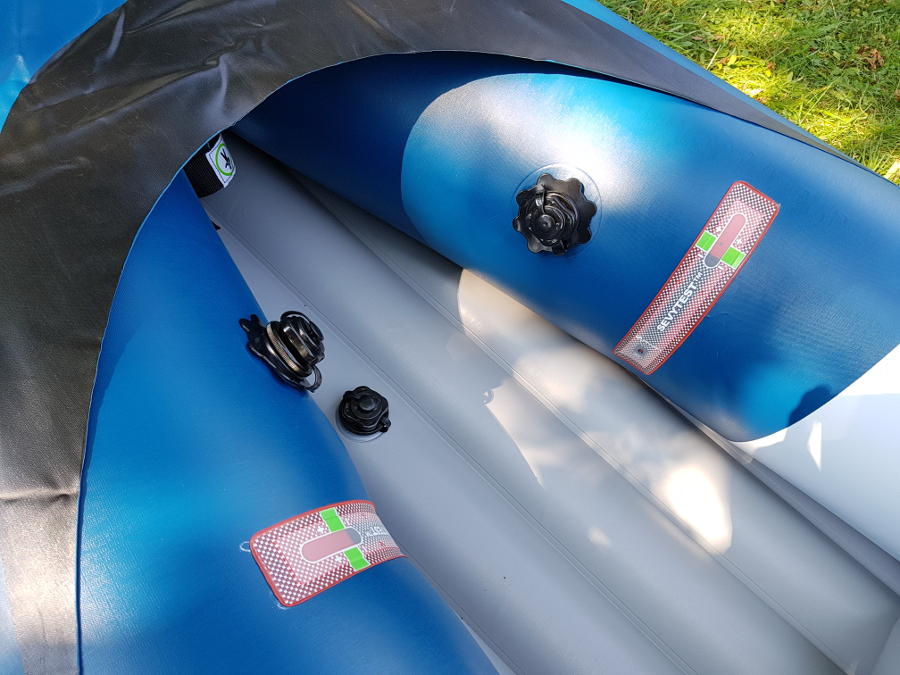 As a newcomer to inflatable kayaking, you can quickly get the impression of having a high-quality inflatable kayak in front of you. Not only does it look like a real kayak, but the design also makes it look really nice and professional. All the features give the impression that every detail has been taken into consideration.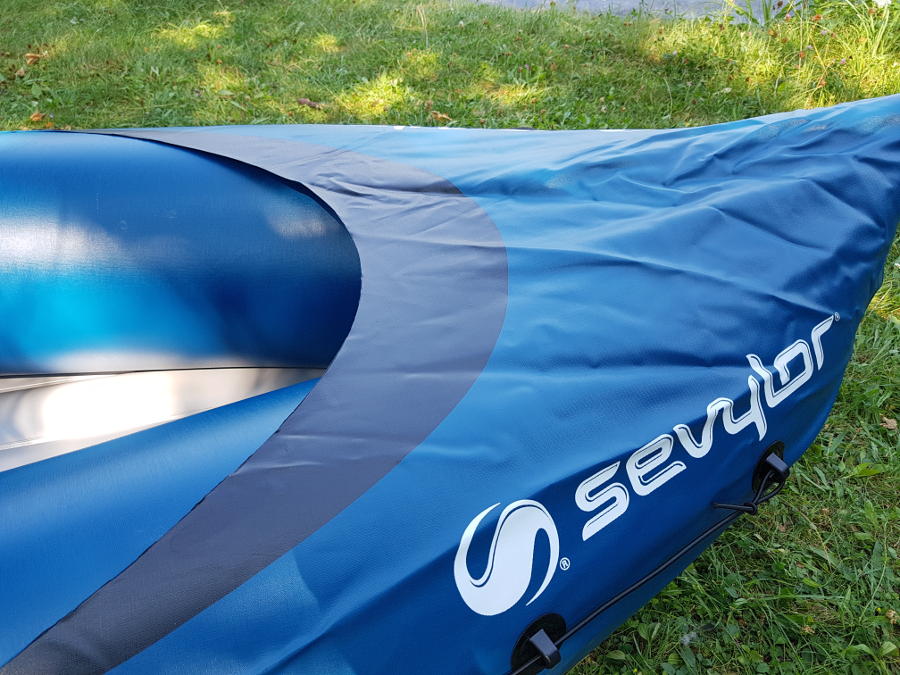 However, someone who already has some experience with inflatable boats will immediately notice that the Sevylor Riviersa is clearly nothing more than a beginner kayak and if not even a better fun boat. The kayak doesn't make a really robust impression either in terms of material or workmanship. Compared to more expensive inflatable boats, the boat skin is quite thin and therefore more susceptible to damage. Already when setting up the boat you should pay attention to a surface without pointed or angular stones. When putting the boat into the water, you should try to avoid any contact with the boat, especially not on stony ground.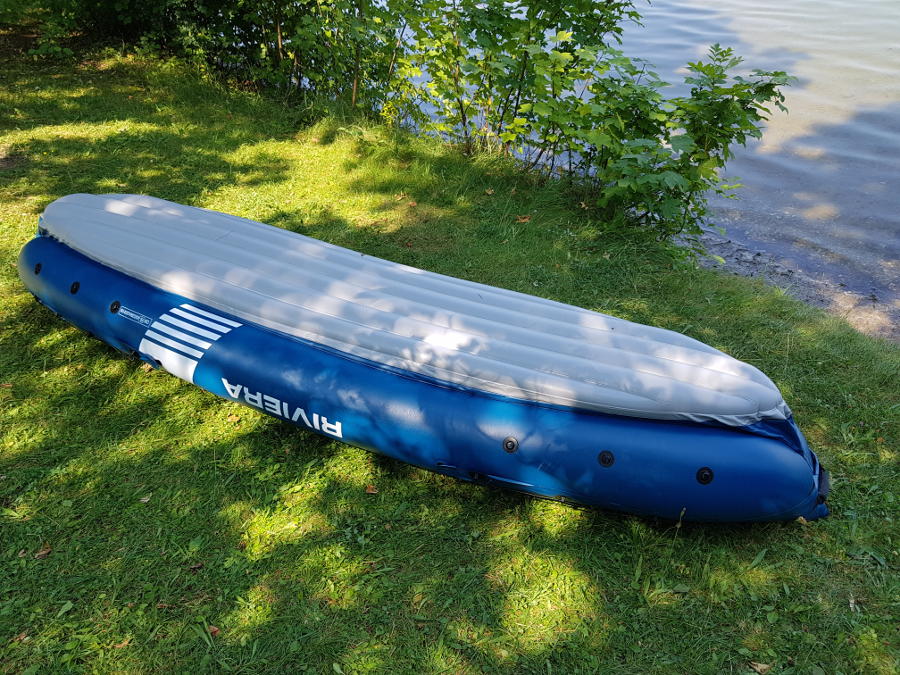 The incredibly light weight of 23.3 lbs for a 2 person kayak is clearly at the expense of robustness. For a kayak just over $100 you can honestly expect nothing else. The quality difference to a higher quality 2 person kayak like a kayak from Advanced Elements cannot be overlooked in such a comparison.
Thanks to the flexibly placeable seats, the Riviera can be quickly converted from a 2 person kayak to a 1 person kayak. The seats are placed inside the boat without fixation. They find support by the fact that they are wider than the boat interior. In this way, they are simply pressed into place. Another practical feature are the carrying handles at the back and front, which make a quite stable impression.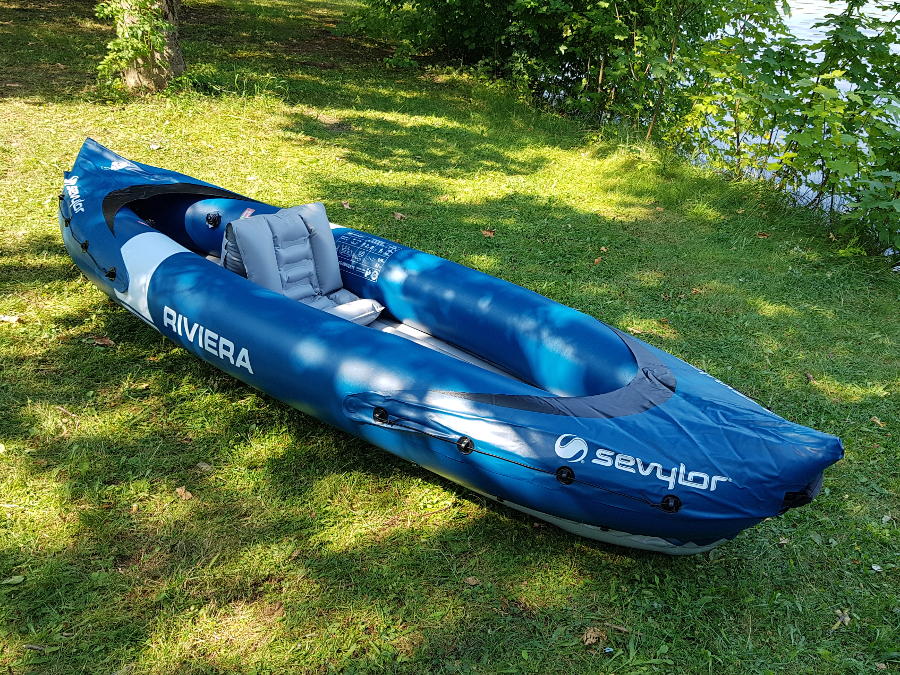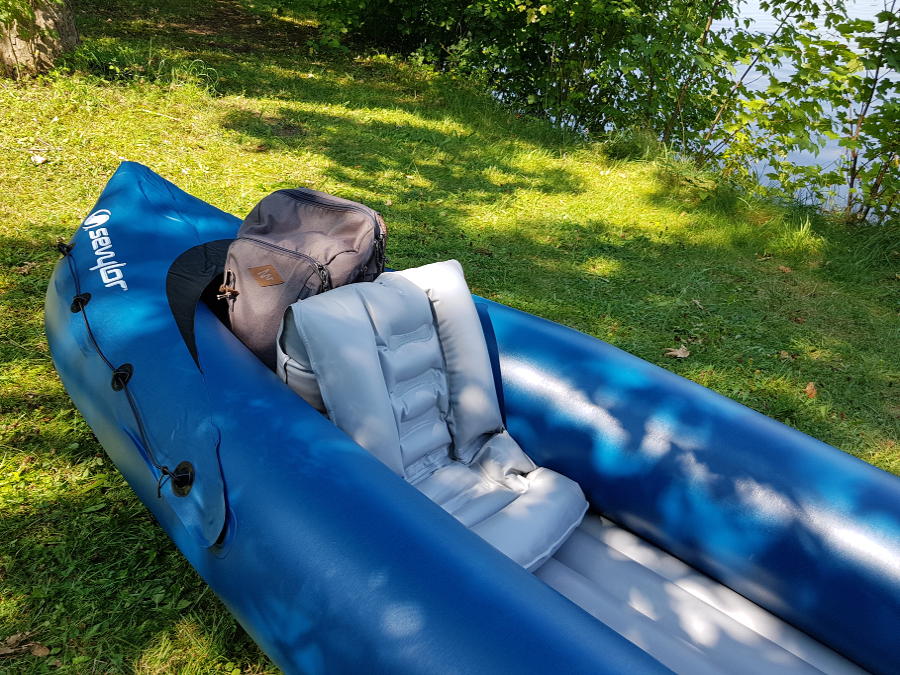 There are not many ways to stow your luggage. It would be handy to have luggage nets on the splash guard behind and in front in order to fasten a pack bag or a small backpack. Depending on how you place the rear seat, you can also place the air pump or a backpack behind the seat. If you paddle the boat as a 1 person kayak, you can stow more behind your seat and even in front of your feet.
Review of the Sevylor Riviera on the water
Thanks to its low weight, the boat can easily be put into the water even by one person. However, the cordes on the front and rear splash guards are not really suitable for carrying the boat because they are only thin rubber cords. They can only be used to pull the boat towards a landing stage when nobody is sitting in it. The use of proper ropes would have been desirable.
If you buy the Sevylor Riviera, you should definitely buy a fitting fin because this is not included in the scope of delivery. Without a fin, the boat has almost no real straight-line stability and it quickly moves sideways. So paddling is not much fun and as a beginner you might ask yourself if there is something wrong with your paddling technique. The more likely problem, however, is the missing fin, because with it the straight line clearly improves, and at the same time the riding fun as well.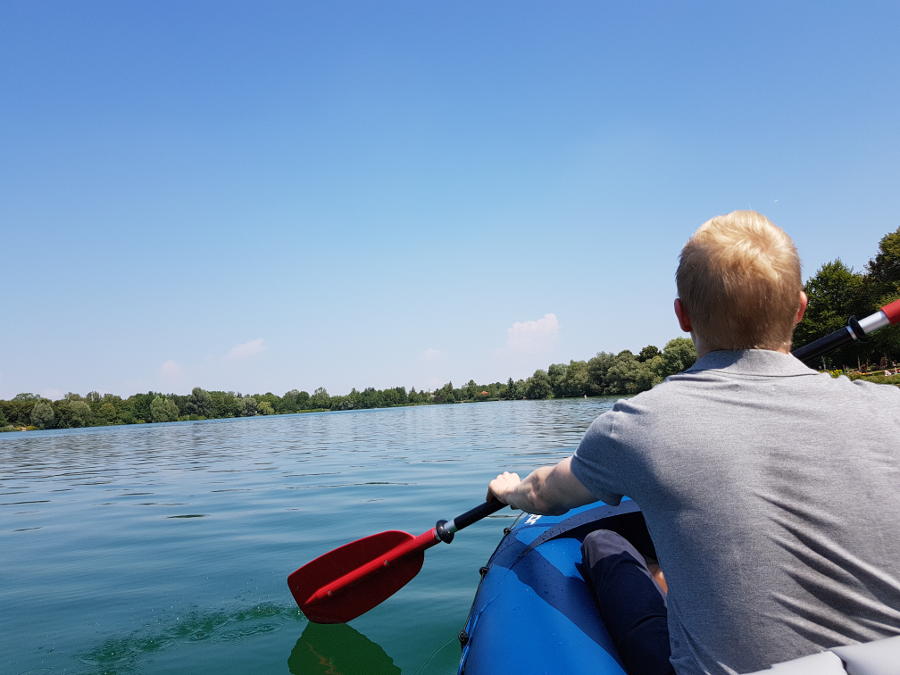 The supplied paddle also didn't convince us when we used it on the water. Firstly, the paddle with its plug-in system does not look very stable and secondly, what is much more important, the paddle surfaces are simply much too small compared to conventional kayak paddles. This means that you displace less water with each stroke and you drive much slower. The purchase of a better paddle is highly recommended.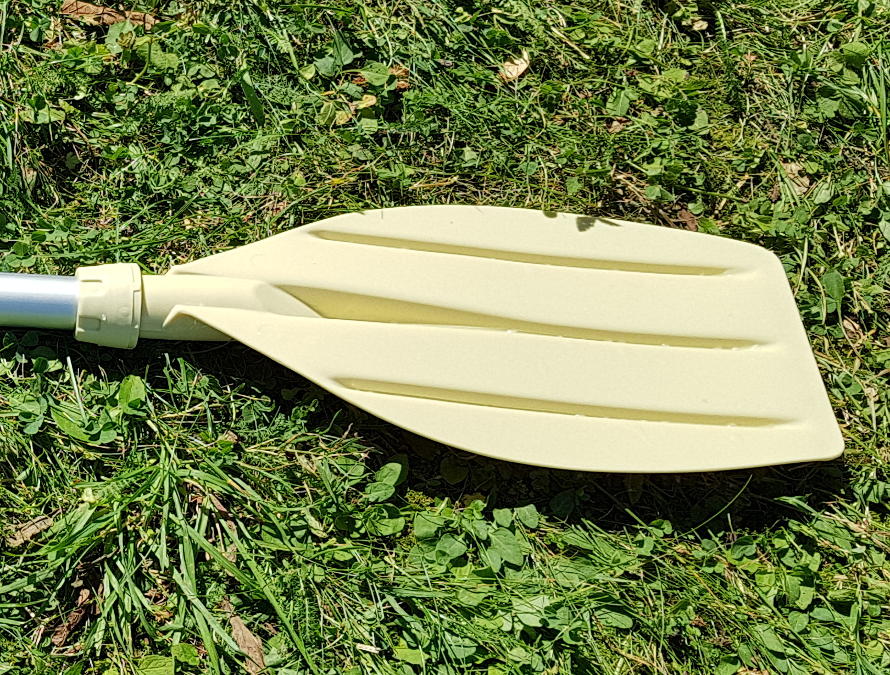 The seating system also has its disadvantages. Although the seats don't slip noticeably when paddling, they offer little support on the back, especially when paddling more powerfully. They are comfortable and certainly quite well designed for people who prefer to go paddling in order to relax in the sun, but we were not convinced by the seats for ambitious paddling.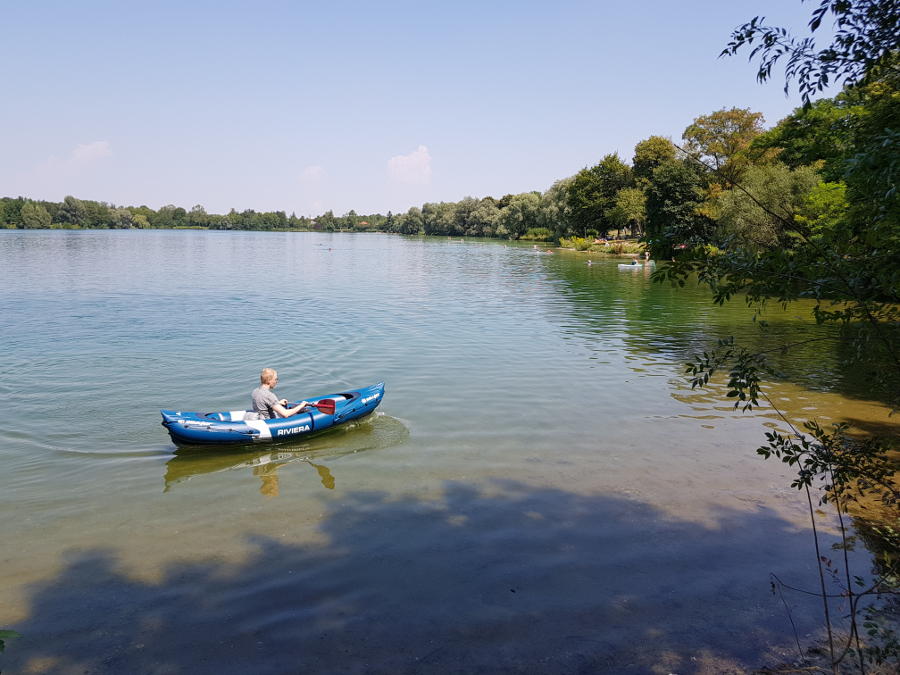 If you paddle the Riviera alone, the is enough space for your legs, because you can place the seat as you like. In addition to that, there is plenty of room for luggage, but which cannot be fastened. With 2 persons the space is still completely ok, but not immensely and particularly for tall persons with longer routes quite unsuitable.
With an operating pressure of 0.06 bar (0.88 PSI) and a rather wide boat shape, it is also not surprising that you are not so fast on the water with the Riviera. But for small comfortable tours on lakes, the speed is still completely sufficient. With the low air pressure, the air chambers feels also quite soft. However, you should follow the manufacturer's instructions and not simply inflate more air, as the pressure in the chambers can quickly rise, especially in high sunlight. And finally, the material is not designed for higher pressures.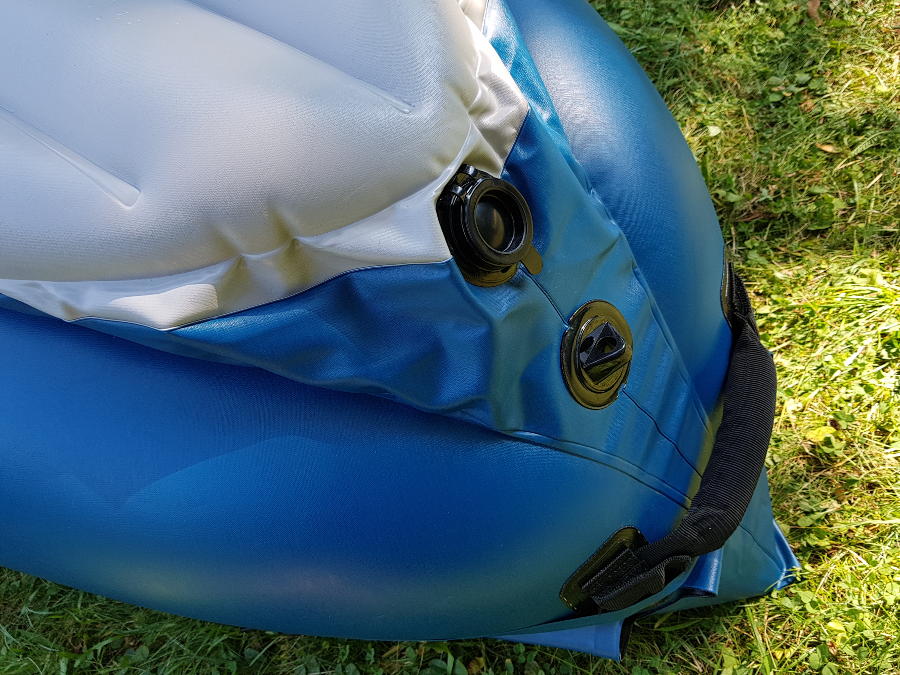 The Sevylor Riviera is from our point of view especially suitable for calmer lakes and rivers, where you can avoid ground contact. Certainly there are also some who would use this kayak for the open sea, but we would not recommend it. The kayak is also not made for multi-day trips, nor for sporty and ambitious trips. It is a inflatable kayak rather for quiet and comfortable short tours.
Strengths and Weaknesses of the Sevylor Riviera
The biggest selling point of the Sevylor Riviera is certainly the price. For a little more than 100$, you get a inflatable kayak that is worth its money at first glance. But everyone should be aware that in this price category you can't expect a high quality kayak. Although the kayak impresses with its low weight and compact packing dimensions, it comes with poor material quality. A stable boat skin is especially important for an inflatable boat if you want to devote yourself intensively to your paddling passion and enjoy your boat for a long time.
A little budget should be planned in any case additionally for a fin and a higher-quality paddle. If you want to paddle it in pairs, you will have to buy a second paddle as well. These two things will upgrade the boat without a doubt.
Advantages
+ very light for a 2 person kayak + small packing size + quick and easy assembly + easily convertible into 1 or 2 kayak + appealing design + integrated backpack system
Disadvantages
– little robust material and no high-quality finish – little space for 2 tall people – poor directional stability – delivered without a fin – seats give little back support – low-quality paddle in scope of delivery
Conclusion on the Sevlor Riviera
The Sevylor Riviera can only be recommended for absolute beginners with a limited budget or for those who are looking for a better fun boat. Although the Riviera looks nice and professional and at first glance it can give a high-quality impression to beginners, it cannot compete with higher quality boats in terms of robustness and driving characteristics. Those who are serious about kayaking should rather look for a higher quality inflatable kayak from Sevylor or another manufacturer like Advanced Elements. If you want to buy the Riviera, you should also invest in a fin and better paddles.